As the action returns to the field with the Eagles getting back to work on Wednesday, here are the 5 Things To Know Today for July 30 ...
1. Live Coverage Begins Today At 11:15 AM
After a day off on Tuesday, the Eagles are back at the NovaCare Complex on Wednesday for another training session. Head coach Chip Kelly will hold a press conference that fans can watch live online or on our app beginning at 11:15 AM. Following the training session, quarterback Nick Foles and linebacker DeMeco Ryans will hold press conferences at around 2 PM. Throughout the day, we'll post highlights from the field and interviews leading up to Inside Training Camp presented by Xfinity, our wrap-up show following each training session.
2. No Touch Count For LeSean McCoy
Running back LeSean McCoy had a league-high 366 touches (314 carries, 52 receptions) in 2013. That doesn't include an additional 25 touches in the playoffs. With the addition of Darren Sproles and the emergence of Chris Polk, the Eagles have the luxury of reducing McCoy's touches in 2014 if they choose to do so. But the 26-year-old is in the prime of his career and head coach Chip Kelly isn't going to put any sort of strict limit on McCoy's workload.
"I don't know if there's a set number. Some guys can handle it, but our strength and conditioning staff and our athletic trainers do an unbelievable job of evaluating our players weekly," Kelly told SiriusXM NFL Radio. "There's times where I say, 'Hey, do we need to back off?' They're like, 'No, we can even go harder with him,' because all of our players are investing in themselves. They're getting the proper amount of sleep. They're eating the right way. They're doing what we've asked them to do. They understand it because they feel really good."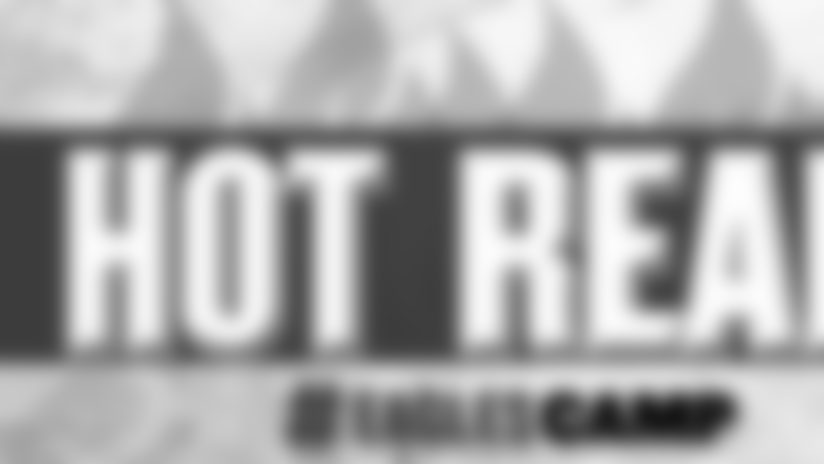 3. Another Blow For The Dallas Defense
The Dallas Cowboys already lost their best player on defense in linebacker Sean Lee to a torn ACL during Organized Team Activities this offseason. On Tuesday afternoon, rookie defensive end DeMarcus Lawrence, the team's second-round pick, suffered a broken foot, according to multiple reports, and could be sidelined through the first month of the regular season. Lawrence was selected to help replace the production left by the departure of DeMarcus Ware in free agency. For the latest news, make sure to check out Hot Read, which is updated with not only Eagles-related items, but important news and notes from around the division and the Eagles' opponents for 2014.
4. The Biggest Obstacle For Jordan Matthews
Second-round draft pick Jordan Matthews has impressed teammates and coaches with his size, athleticism, work ethic and maturity since arriving in Philadelphia. The Eagles have worked him exclusively in the slot thus far to take advantage of his 6-foot-3, 212-pound frame against typically smaller slot cornerbacks. Eagles Hall of Fame wide receiver and current Eagles Radio analyst Mike Quick explained what Matthews will need to do in order to help out in his first year.
"First, you have to know defenses," Quick said. "That's going to be his biggest curve, knowing the defenses and knowing what to do against those different defenses. To me, for a guy to play in the slot, he's got to be tough, he's got to be smart and he's got to realize that when he catches the ball, he's going to get hit nearly every time. You've got to know where the hits are coming from. You've got to know defenses and that's the biggest part of it."
5. Today: Twitter Takeover With Donnie Jones
EaglesCamp social media takeovers are back and kicking things off today following the training session around 2 PM is punter Donnie Jones. Although he does not have a presence on Twitter, he will get a taste of it when https://twitter.com/eagles. Get to know your favorite punter and start tweeting him questions using #AskAnEagle.