Perhaps the most disturbing trend in an Eagles season that has had a lot of them has been the lack of Brian Westbrook's involvement over the past three games. As a whole, the Eagles have experienced the widest of disparities in those games (one win, loss and tie), but Westbrook's role in each has been marginal, at best.
He's contributed 226 total yards from scrimmage with no touchdowns in those last three games, the three games following a 209-yard, two-score performance against Atlanta in Week 8 where the banged-up superstar screamed, "I'm back."
Westbrook's called for more carries, but he's been unable to establish a rhythm for close to a month. For a team that desperately needs his normally obscene production, worry might begin to set in.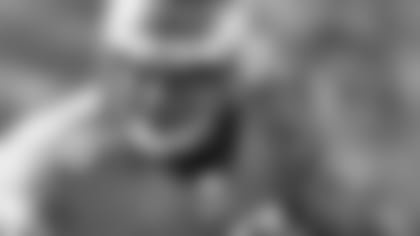 RB Brian Westbrook rushed for a career-high 167 yds. on 22 carries and 2 TDs in a win vs. Atl. back on Oct. 26
"We have to try to find something that's going to work," Westbrook said, "and stick with it."
Granted, there's little chance that Westbrook is fully healthy, and he won't try to admit that he is. He's suffered an ankle strain, fractured ribs and multiple dents that come with his job, and he's had to miss two games because of injury.
But there hasn't yet been a clear answer as to why the Eagles have been largely ignoring the run game early, especially against a Cincinnati defense that ranked so poorly against it prior to Sunday's 13-13 tie. Westbrook averaged 4.3 yards per carry, gaining 60 yards on 14 rushes, an average more in line with his career numbers.
But his touches seemed to come few and far between, as the Eagles threw 58 times as opposed to 18 runs.
"It was one of those things. Coach looks at the tape, he looks at the defense, he makes the call," Westbrook said. "It's one of those things; just go with the flow."
The unfortunate thing is that there seems to be little flow to ride at this point. During recent games, the Eagles have offered more nagging questions than answers to season-long issues, more head-scratching moments than nods of affirmation and more drives flickering out than light bulbs turning on.
Still, the Eagles sit just one-half game out of second place in the NFC East, but Sunday's tie, coupled with an 0-3 divisional record, assures they still have some work to do.
"Everybody out there has to put everything on the line every single game," Westbrook said. "Right now, we're not good enough. We didn't do the things we need to do."
Traditional wisdom says that the Eagles need to get the ball into the hands of their biggest playmaker, one that led the NFL in yards from scrimmage a season ago.
One would assume, though, that there are multiple reasons why he isn't getting the ball into his hands.
It is probable that Westbrook's obscurity is contributing to the team's offensive woes. But if there's anyone that can get them out of a hole, it's probably him, too. But how deep, now, is that hole?
"It's deep, but it was deep before (the Cincinnati) game," Westbrook said. "But we have the talent that can (get out of) it. We have to stay upbeat, we have to stay encouraged that we can go out there and win a football game."