Watching defensive linemen go through drills is one of my favorite parts of the Combine, particularly when it comes to the edge rushers. This year's group will be no different, as this group has one of the best prospects in the country regardless of position in Will Anderson, along with a bunch of other really intriguing players that come in a variety of different body types. Let's take a look at the names to know.
These are the players who analysts expect to perform best in the athletic testing portion of the workout.
Will Anderson (Alabama) – Regarded by some as the top prospect in the draft, Anderson's measurables (listed at just 6-foot-4, 243 pounds this season) may be a topic of conversation, but his play on the field doesn't present too many big questions. If you're a believer in pass rush production transferring from college to the NFL, Anderson has been insanely impactful for the Tide over 41 starts in his career, posting over 200 tackles (58.5 of them for a loss), 34.5 sacks, and a whopping 134 hurries in his career despite almost always being the center of attention for opposing protection schemes. His athleticism numbers should pop if he participates.
Myles Murphy (Clemson) – A popular Top 10 selection in many mock drafts, Murphy really looks the part at 6-foot-5, 275 pounds, but his movement skills at that size are impressive as well. Ranked as the No. 3 Freak in College Football by Bruce Feldman last summer, it's expected that Murphy will break 4.60 in the 40-yard dash, which would make his Speed Score one of the best of any edge rusher in recent memory. Murphy's explosiveness shows up for him on contact as well, where the power in his lower half allows him to push tackles around consistently off the edge on his way to the quarterback.
Keion White (Georgia Tech) – At just under 6-foot-5 and 280 pounds, White is a hybrid body type with the ability to win both outside at end and inside at tackle, which he's done over the course of his time with Georgia Tech. He's got long arms, huge hands, and an explosive first step that puts immediate stress on blockers up and down the line. Checking in at No. 20 on Feldman's Freak List last summer, White should drop some jaws with his 40-yard dash time, and the former tight end should impress with his jumps and shuttles as well, especially when you factor in his weight. Expect the hype train to build up steam for the former Old Dominion tight end (oh yeah ... he's only been playing defense full-time for two full seasons) in the coming weeks.
Nick Hampton (Appalachian State) – Hampton has been a terror in opposing backfields for the majority of his career, posting 26.5 sacks and 40 tackles for loss during his time in Boone, NC. Built very similarly to Eagles star pass rusher Haason Reddick, Hampton (6-foot-3, 235 pounds) has a lot of those same explosive traits as the former first-round pick. He has a track background in high school, and based off Feldman's Freak List from last summer, he should jump through the roof in Indianapolis ... but I expect his testing to be strong across the board based on what he's put on tape.
Will McDonald (Iowa State) – McDonald is built differently than Hampton, with a 35-inch wingspan that paints him more like a small forward for an NBA squad. The fellow senior has been crazy productive over the course of his career for the Cyclones, posting 34 sacks during his time on campus while being named First-Team All-Big 12 each of the past three seasons. The converted linebacker didn't play football until his junior year in high school, so he's still a bit rough around the edges ... but that's what makes his production so enticing. McDonald won the state championship throwing the discus in high school while wearing a pair of Chuck Taylors, and placed third in the high jump at the same event. He makes athletic events look easy, and I expect that to continue even on this large stage.
The Combine is always trying to roll out different drills to challenge prospects at every position, and my favorite recent addition is the Figure 8 drill, featuring a pair of large hoops placed on the ground to form the shape of the number eight. The pass rushers will be asked to run both hoops consecutively, tracing the number and finishing well through a final cone to close it out. Things you may notice in this drill:
Can the prospects both stay low and keep their balance while running the hoops?
A huge positive is being able to see the prospect accelerate while running the hoop. Not only do these players keep their balance and stay low, but they're able to build up speed and keep gaining ground before finishing strong through the cone.
Here are the players who have a chance to shine in these drills:
Isaiah Foskey (Notre Dame) – Foskey has good size at just under 6-foot-5 and over 260 pounds, has impressive athleticism at that size, and has been productive with two straight double-digit sack seasons for the Irish. The All-American should surprise people with how he runs the hoop, because guys with his body type don't often bend the way he can. I expect Foskey to get a bit more Round 1 buzz when the week's festivities conclude (he was in many mock drafts throughout the spring and summer).
BJ Ojulari (LSU) – Ojulari, whose older brother, Azeez, is a pass rusher for the New York Giants, has some freaky flexibility turning the corner. Listed at 6-foot-3, 250 pounds, the Georgia native has loose hips and impressive lower-body bend that allowed him to finish second only to Anderson amongst SEC defenders in pressure percentage this fall. This drill is made for Ojulari to shine.
Andre Carter (Army) – Carter happens to be one of the best stories in the draft class as well, but he's much more than that. The athletic 6-6, 252-pound pass rusher with a pterodactyl-like wingspan has 18 sacks in the last two years because of his explosiveness and ability to turn the corner. He's still raw and will benefit from being able to focus full time on football in the NFL, but Carter has legitimate tools to work with. He should test well and look good in most of the bag drills, but this one in particular should be good for him.
Isaiah Land (Florida A&M) – Land is undersized, coming in at just 226 pounds down at the Senior Bowl, but don't let his school or frame fool you. Land led the nation with 19 sacks and 25.5 tackles for loss in 2021, and backed it up with another productive season this fall while every offense dedicated extra resources to stopping him. An explosive speed rusher who turns the corner very well, look for the All-American to show up well in this drill.
All of these players have great stories to tell, but who has taken the most unique journeys to get to this point?
Nolan Smith (Georgia) – The Eagles took a pair of Bulldogs a year ago, and Smith carried the mantle this season as the leader of that football team until suffering a mid-season pectoral injury that cost him the rest of the year. A former five-star recruit as one of the top two or three players in the country coming out of high school, Smith comes in a small package at a listed 6-foot-3, 235 pounds, but he's loaded with power, quickness, and explosiveness. The senior was on his way to a career year, production-wise, until the injury, but his off-field presence is just as important as what he does between the lines. One could argue that few in this class represent their university and their team as well as Smith, who should impress in every interview and media appearance he does in Indianapolis.
Habakkuk Baldonado (Pitt) – Nolan Smith was viewed as a prodigy coming out of high school, and Baldonado was anything but. A three-star recruit despite playing just one year of high school football here in the United States, Baldonado grew up in Italy, where he was first introduced to the game just three years earlier. Before that, the budding pass rusher starred in the pool as a swimmer and practiced Mixed Martial Arts. He's still a bit of a work in progress, but this big-bodied athlete has a ceiling as high as his journey has been winding.
DJ Johnson (Oregon) – You'll often see some pass rushers with unique backgrounds and position changes as teams try to convert athletes into quarterback hunters at every level of the game. Well, Johnson fits the bill there. The sixth-year senior played tight end for the Ducks just two seasons ago after transferring in from the University of Miami, catching 10 passes and three touchdowns as a sophomore. He dabbled on offense in 2021 as well before making the move full time to defense as a super senior, posting six sacks and 21 hurries (according to Pro Football Focus) in his final season on campus.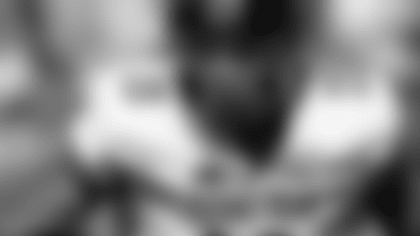 These are the players of note with a special statistic or measurement that sets them apart from their peers.
Tyree Wilson (Texas Tech) – Tyree Wilson comes straight out of central casting; he's exactly what you want your star defensive end to look like in the NFL. Standing 6-foot-5-plus with a 270-pound frame and a wingspan that will put stress on your tape measure, Wilson is what scouts call "body beautiful." His play backs it up too. The senior led all edge rushers in the country in PFF's "pass rush win rate" stat this season (22.6), racking up seven sacks and 14 TFLs for the Red Raiders.
Lukas Van Ness (Iowa) – Van Ness looks like a pickup truck coming off the edge at 6-foot-5, 275 pounds with explosive power and violent hands on contact. A versatile player who lined up both outside and inside at tackle, Van Ness posted 10.5 tackles for loss and six sacks this year on his way to being named Second-Team All-Big Ten. The most impressive number attached to his name, though? Zero. That's how many starts Van Ness had in his Hawkeye career. The Iowa coaching staff believes in playing their upperclassmen in the starting lineup, meaning that Van Ness (a third-year sophomore) did his work coming off the bench for one of the best defenses in football. Van Ness is unlikely to be kept on the sidelines for long once he reaches the NFL.
Viliami Fehoko (San Jose State) – Fehoko has been a disruptive source for the Spartans in each of the past two seasons, and was named the Mountain West Defensive Player of the Year this fall after a nine-sack performance as a senior. At just under 6-4 and 267 pounds, Fehoko has lined up inside and outside and has displayed a knack for the big play with five forced fumbles the last two seasons. But how disruptive has he been on a snap-by-snap basis? Fehoko has generated 121 quarterback hurries over his four-year career. That's more than any edge rusher drafted in the last decade by PFF's charting.
Caleb Murphy (Ferris State) – Last year, it was Jackson State's James Houston sending shock waves through the NFL as an explosive, productive rookie for the Detroit Lions. Could that be Murphy this year? The senior finished his career off with a bang last fall, posting a record 25.5 sacks in 15 games JUST LAST SEASON, giving him a career total of 40. He also racked up 60.5 tackles for loss over his time with Ferris State. The dominant D-II dynamo will hope to make his mark during the workouts.
Everyone else who will take part in the events in Indianapolis (in alphabetical order):
Yasir Abdullah (Louisville), Felix Anudike-Uzomah (Kansas State), Robert Beal (Georgia), YaYa Diaby (Louisville), Ali Gaye (LSU), Derrick Hall (Auburn), Zach Harrison (Ohio State), KJ Henry (Clemson), Nick Herbig (Wisconsin), Dylan Horton (TCU), Thomas Incoom (Central Michigan), Andre Jones (Louisiana), Eku Leota (Auburn), Ochaun Mathis (Nebraska), Isaiah McGuire (Missouri), Lonnie Phelps (Kansas), Jose Ramirez (Eastern Michigan), Tavius Robinson (Ole Miss), Noah Taylor (UNC), Tuli Tuipulotu (USC), Tyrus Wheat (Mississippi State), Byron Young (Tennessee)
We get to read all about the measurements for all these players over the next few weeks ... but wouldn't it be nice to have some context? What is considered a "good" 40-yard dash time? What about arm length? The broad jump? Here's what the average player drafted at each position has looked like over the last decade (based on my own personal research).
Arm Length: 3348 (33 1/2'')
Wingspan: 8028 (80 1/4'')
Unofficial 40-Time (Stopwatch): 4.69
Official 40-Time (Laser): 4.72