A position with a wide variety of unique body types and skill sets, the interior defensive linemen will once again be interesting to watch in Indianapolis. With a group of players earning Round 1 notoriety, with the potential No. 1 pick in tow, there will be a lot of eyes on them as they take the field on Thursday afternoon.
These are the players who analysts expect to see perform best in the athletic testing portion of the workout.
Jalen Carter (Georgia) – The potential No. 1 pick in this draft class, Carter earned headlines a year ago in that vaunted defense that featured two future Eagles in Jordan Davis and Nakobe Dean. Listed at 6-foot-3, 310 pounds, the junior boasts a lightning-fast first step, loose hips, and explosive bursts to close in pursuit. His production in 2022 nearly mirrored that of his breakout campaign in 2021 despite all of the extra attention. Carter has the look of a future interior disruptor and a menace inside for his future defense. (UPDATE: Carter was booked and released in Athens, Georgia on Wednesday for reckless driving and racing related to a fatal crash in January.)
Mazi Smith (Michigan) – One of my favorite pieces to read every summer when preparing for the college football season is Bruce Feldman's annual Freak List, listing out the top athletes in the nation. This year's No. 1 player? Smith, and for good reason. Listed at a hulking 337 pounds, the two-year starter reportedly vertical jumped 44 inches! For some context, the highest recorded vertical among all interior linemen drafted in the last decade is current Eagle Milton Williams, who jumped 38.5 inches coming out of Louisiana Tech. Smith would beat that by almost half a foot. His reported shuttle times (6.95 in the 3-cone and 4.41 in the short shuttle) are extremely impressive as well. Last year's top "freak" was Smith's former teammate, Aidan Hutchinson, who tested well at Lucas Oil Stadium and went on to be the second pick in the 2022 NFL Draft and finished second in Defensive Rookie of the Year voting.
Adetomiwa Adebawore (Northwestern) – His name (pronounced add-E-TOMMY-wah add-E-BAR-eh) is a mouthful, but his game is a handful. The senior defensive lineman has lined up both inside and outside for the Wildcats over the course of his career, where he's played almost 2,000 snaps (one of the highest numbers in the class). Another "Freak List" name (No. 30 last summer), Adebawore's reported testing scores are a thing of legend (his 6.90 3-cone and 4.05 short shuttle would be tops of any interior lineman drafted since at least 2013). He's going to blaze in the 40-yard dash. He's going to jump out of the gym. Word out of his pre-Combine training facility is that his numbers should pop, so get ready to say his name plenty in the coming weeks.
Gervon Dexter (Florida) – Another member of Feldman's famous "Freak List" (checking in at No. 83 last summer), Dexter has "dancing bear" qualities with his 310-plus-pound frame and light feet. He should look great navigating the bags in position drills, but I would expect him to test well to boot. The powerful pocket pusher reminds me a lot of a player who I watched play every game in his college career here in Philadelphia in former Temple star Muhammad Wilkerson, who went on to be a first-round pick in 2011. Dexter has those kinds of tools.
The Combine is always trying to roll out different drills to challenge prospects at every position, and in 2020 one of the new drills was called the Run and Club drill, where players are asked to run through bags in a straight line and string together a series of pass rush moves consecutively while navigating the bags. Defensive linemen have to deal with a lot of traffic on the inside, and often deal with multiple blockers on any one given play on their way to the football. Things you may notice in this drill:
Which of these prospects eat up ground while executing their moves? You want to see the players go through the bags with speed and not have to slow down too much to get through each bag.
Here are the players who have a chance to shine in these drills:
Colby Wooden (Auburn) – Wooden's position flexibility at a listed 6-foot-5, 284 pounds is one of his best assets. The junior began his career with the Tigers as an outside linebacker before adding on more weight and becoming a full-time line of scrimmage player without losing much athleticism. His explosive first step should look good in this drill, but his various heavy-handed pass rush moves should put a hurting on those bags as well.
Jalen Redmond (Oklahoma) – I've had my eyes on Redmond for a few years now, and the disruptive lineman's explosiveness should shine in this drill. A slightly undersized 3-technique tackle, the senior has posted at least three sacks in each of his last three seasons on the field (he chose to opt out for the entire 2020 season during the COVID-19 pandemic). His fast get-off and quick hands will serve him well in these reps against the bags.
Mike Morris (Michigan) – At 6-foot-6, 292 pounds, Morris is another player who is viewed as having inside-out versatility moving onto the NFL. The Big Ten's Defensive Lineman of the Year led the Wolverines with 7.5 sacks this season on his way to being named first-team all-conference after his first year as a starter. His skill set should show well in this drill as well.
These players have great stories to tell, but who has taken the most unique journey to get to this point?
Bryan Bresee (Clemson) – Bresee's story is that of heartbreak and mental toughness. The potential first-round pick not only bounced back from a 2021 season-ending injury last summer, but he also dealt with the tragic loss of his younger sister, Ella, who passed away from cancer this September at just 15 years old. The former No. 1 recruit in the entire country coming out of Damascus, Maryland, Bresee has been often projected to be selected in the Top 15 picks in "expert" mock drafts.
Jerrod Clark (Coastal Carolina) – Clark's story is more about his development as a player since arriving on campus as a tight end. The hulking 343-pound nose guard arrived on campus at just 230 pounds back in 2018, but has beefed up into one of the more prolific run stuffers in the draft class. It's hard to believe that this monstrous human being ran around in 7-on-7 tournaments coming out of high school, but those light feet do show up at times as well as he had 3.5 sacks this year for the Chanticleers.
Dante Stills (West Virginia) – It's always fun to check in on the "legacy" players who come from football families, and a big one to monitor in this class is Stills. The fifth-year senior has been incredibly productive as a pass rusher over the course of his career, posting a whopping 24.5 sacks and 53 tackles for loss in 38 starts and nearly 2,400 snaps. Don't forget that his father, Gary Stills, played in the league for 12 years and went to the Pro Bowl in 2003 as a member of the Kansas City Chiefs after being taken in the third round back in 1999.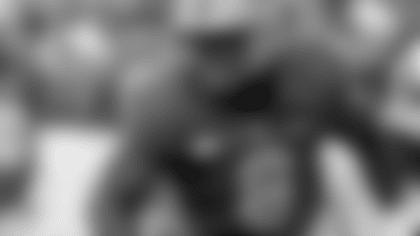 These are the players of note with a special statistic or measurement that sets them apart from their peers.
Calijah Kancey (Pittsburgh) – The junior defensive tackle will have one of the most important weigh-ins during the week, as the potential first-rounder is listed at a mere 6-foot, 275 pounds for the Panthers. Don't let that frame fool you, though, because Kancey gets after it. Not only should he be one of the best athletic testers at the event, but those movement skills carry over to the film. According to Pro Football Focus, Kancey had a pass rush win percentage of 22.2. Not only is that the highest number of any defensive tackle in attendance this year, but it's higher than any tackle drafted in the last 10 years that PFF has charted. Milton Williams is currently No. 1 at 21.4 percent.
Siaki Ika (Baylor) – While Kancey is one extreme size wise, Ika is on the opposite end of the spectrum. Listed at 6-foot-4, 354 pounds, the Mississippi native would be the heaviest tackle drafted in the last 10 years if that number checks out. Dan McCullers was 352 pounds coming out of Tennessee back in 2014. Last year, Eagles defensive tackle Jordan Davis stole the show with his athleticism at his raw size (6-foot-6, 341 pounds). Could Ika do the same?
Moro Ojomo (Texas) – Ojomo only started five of the 12 games he played in this season, but a look into some of his metrics will tell you a story of a very intriguing prospect moving onto the NFL. The redshirt senior has an incredible wingspan of 83 3/8 inches (measured from the Shrine Bowl last month), giving him the broadest frame of any tackle in the senior class heading to Indy. Diving into his Pro Football Focus numbers, he was a terror on third down, generating a pressure rate of 17.2 percent and a pass rush win rate of 24.1 percent (the only tackle at the Combine to match both of those numbers this fall was Kancey). Ojomo is no one-trick pony though, because he also posted a positive grade on 30 percent of his run defense snaps, the second-highest number of any defensive tackle in the trip (behind only Jalen Carter). Ojomo is in good company ... now let's see how he tests!
Everyone else who will take part in the events in Indianapolis (in alphabetical order):
MJ Anderson (Iowa State), Keeanu Benton (Wisconsin), Keondre Coburn (Texas), DJ Dale (Alabama), Tyler Lacy (Oklahoma State), PJ Mustipher (Penn State), Zacch Pickens (South Carolina), Jaquelin Roy (LSU), Nesta Jade Silvera (Arizona State), Byron Young (Alabama), Cameron Young (Mississippi State)
We get to read all about the measurements for all these players over the next few weeks ... but wouldn't it be nice to have some context? What is considered a "good" 40-yard dash time? What about arm length? The broad jump? Here's what the average player drafted at each position has looked like over the last decade (based on my own personal research).
Arm Length: 3328 (33 1/4'')
Wingspan: 8018 (80 1/8'')
Unofficial 40-Time (Stopwatch): 5.00
Official 40-Time (Laser): 5.04