Athleticism is at a premium in NFL secondaries, particularly at the cornerback spot. One could easily argue that no position is affected more by good and bad workouts than that one. Who will stand out in this deep class of cover corners? It's going to be fun to watch!
These are the players who analysts expect to see perform best in the athletic testing portion of the workout.
Christian Gonzalez (Oregon) – Listed at 6-foot-2, 201 pounds, Gonzalez made the most of his lone season in Eugene this fall, recording the first four interceptions of his career while being named First-Team All-Pac-12 after transferring from Colorado. The junior has all of the tools of a top-shelf cover corner in the NFL with his length, speed, quickness, and change of direction ability. The high school track star ran a 21.6 in the state championship 200-meter dash, but track stardom is in his blood. Both of his older sisters were All-American sprinters in college, with one of them running for Columbia in the Olympics. He'll be ready for this event.
Kelee Ringo (Georgia) – One of the biggest corners in the draft, listed at 6-2, 210 pounds, Ringo is an intimidating presence on the perimeter, but also has impressive movement skills. The sophomore checked in all the way up at No. 6 on Bruce Feldman's Freak List last summer in his look at the top athletes in college football, citing a 22 MPH sprint on the GPS down in Athens with Ringo's name on it. Described as a "legit 4.3 guy," Ringo could tear up the 40-yard dash in what many describe as a "stopwatch position," which could cement what many analysts believe is a first-round grade for the gifted corner.
DJ Turner (Michigan) – Turner turned up on Feldman's Freak List as well (at No. 31) with an even faster GPS number than Ringo (23.07 MPH). Listed at 6-feet, 180 pounds, Turner is lighter than most corners, but when you turn on the film, his ease of movement is apparent right away. He has some reported testing numbers that back that up, as Feldman reported that Michigan coaches had Turner at 6.29 in the 3-cone drill (measuring quickness and change of direction). If he turned in that time in Indianapolis, it would be the fast 3-cone time of any corner drafted in the last decade. Pair that with potential 4.2 speed? That's a dynamic athlete. Turner could be the most impressive athlete of this entire bunch.
Riley Moss (Iowa) – A "super senior," Moss nearly entered the 2022 draft before deciding to go back to Iowa for an extra season, where he was once again named First-Team All-Big Ten. Another Feldman Freak List selection, Moss' numbers in the jumps and agility drills will certainly shock some people out on the field when the DBs work out. Moss was a state champion hurdler coming out of high school, when he walked on as a member of the Hawkeyes' football team before earning a scholarship after his freshman season. This 2022 season was the first time in his storied five-year career that he didn't have multiple interceptions – Moss is a ball magnet.
Terell Smith (Minnesota) – Smith is a big corner at a listed 6-1, 215 pounds, but his track background tells the story of an explosive athlete. Growing up in Georgia, Smith won the state title in the 100-meter as a junior (with a time of 10.39 seconds) after winning the 200-meter title as a sophomore (21.26) the year before. He came to the Gophers and played right away as a true freshman, but has been in and out of the lineup since that point before becoming a full-time starter as a senior this year when he turned in two picks and five pass breakups as well as a couple of sacks for good measure. He's one of the guys flying under the radar who I expect to test very well this week in Indy.
One of my favorite drills for the DBs is called the Box Drill, where a player will backpedal, drive forward, come to balance, run back as if he's reacting to a vertical route, then break again to find the football. A couple of things to note in this drill:
As always, these drills are designed to put stress on the prospects. After executing a couple of athletic moves on command from a coach on the field, can the player find the ball and finish at the catch point for an interception? This will indicate his comfort in reeling in any pass that comes their way in coverage.
Before that point, however, you want to see easy change of direction and body control. Can the prospects execute these movements with good pad level; light, active feet; and a change in speed on the break. This all speaks to a player's overall athleticism, which is obviously very important when it comes to his ability to stay in a receiver's hip pocket in man-to-man coverage.
Here are the players who have a chance to shine in these drills:
Cam Smith (South Carolina) – Smith, listed at 6-feet, 188 pounds, is a physical press corner who likes to mix it up with receivers throughout the route, but his quickness and fluidity stand out as well. Those traits will serve him well in this drill, as will his natural ability to track the football and finish down the field. Smith has been one of the most productive corners in America on a down-by-down basis over the course of his career.
Clark Phillips (Utah) – Phillips has a smaller frame, listed at 5-foot-10, 184 pounds, but the All-American has been productive on the ball (including six interceptions this fall as a junior) and has silky-smooth athleticism that figures to show well on the Lucas Oil Stadium turf.
Tre'vius Hodges-Tomlinson (TCU) – The nephew of former TCU great and NFL Hall of Famer LaDainian Tomlinson, Tre'vius is extremely undersized – and that will be a huge question mark for his projection – but there's no doubting his quickness, tenacity, and ball skills. This year's Thorpe Award winner as the top defensive back in the nation should look good in this drill.
These players have great stories to tell, but who has taken the most unique journey to get to this point?
Kyu Blu Kelly (Stanford) – The corner with the unforgettable name (pronounced "kigh-yew"), Kelly is one of a handful of corners in this class with NFL bloodlines. His father, Brian, was an 11-year NFL veteran who spent most of his time patrolling the back end of the Tampa Bay Bucs secondary alongside all of those Hall of Famers. A four-year starter for the Cardinal, Kelly will look to follow in his dad's footsteps and stick in the league thanks to his toughness and instincts on the back end.
Darius Rush (South Carolina) – A tall, long cover corner who has been overshadowed by a teammate (Cam Smith) getting headlines in mock drafts, Rush is no slouch. The senior made sure people knew that after having a standout week at the Senior Bowl in the first week of February. Rush turned in a pair of interceptions and seven pass breakups this year despite only being targeted on just over 12 percent of his coverage snaps (so when teams tried him, he made them pay)! Rush's route instincts showed up on tape at South Carolina, and after his Senior Bowl week people are excited to see how he tests. What's most impressive about his journey? He's only been playing corner full time for a couple of seasons! He moved over from playing wide receiver during the Gamecocks' 2019 Training Camp.
Mekhi Blackmon (USC) – There aren't as many roundabout journeys to Indianapolis that are quite as winding as Blackmon's, a sixth-year senior who went out with a bang this season in his final year of college football. The California native (and cousin of former Eagle KeeSean Johnson) began his career in junior college at the College of San Mateo in 2017 before earning a scholarship offer from the University of Colorado. Blackmon spent four seasons in Boulder, including a medical redshirt in 2019 due to mid-season shoulder surgery. Colorado had a down season in 2021 and ended up losing both of their starting corners to the Transfer Portal. Gonzalez (above) ended up at Oregon, and Blackmon ended up at USC, where he posted as many picks with the Trojans (3) in one season as he had with the Buffaloes. Blackmon was named First-Team All-Pac-12 and was tabbed as an All-American in December for his efforts.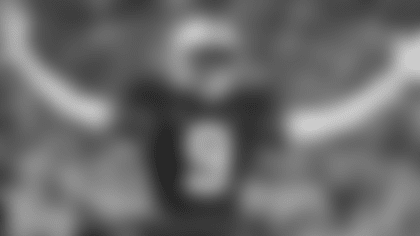 These are the players of note with a special statistic or measurement that sets them apart from their peers.
Joey Porter Jr. (Penn State) – Porter's dad was an All-Pro pass rusher for the Pittsburgh Steelers, but junior has been a disruptive shutdown corner throughout his college career. Listed at 6-2, 198 pounds, Porter is extremely aggressive at the catch point which resulted in getting a ton of footballs on the ground. According to Pro Football Focus, Porter forced an incompletion on 38.2 percent of the throws where he was targeted in coverage this season. Looking back through my notes, that is the highest number of any corner that PFF has charted in his final season before being drafted into the NFL.
Devon Witherspoon (Illinois) – After a dynamite senior season, Witherspoon could potentially be the first corner off the board in April. The All-American was all over the field for the Illini this fall, racking up interceptions, pass breakups, and big hits along the way, while showing off his tenacious play personality between the lines. Listed at 6-feet, 180 pounds, Witherspoon is a bit undersized, but he is not to be trifled with in coverage. According to Pro Football Focus, amongst draft-eligible corners this year, no one allowed a lower percentage of his targets to be caught (31.6) and no one forced a lower passer rating for opposing quarterbacks when he was the primary coverage defender (45.3).
Emmanuel Forbes (Mississippi State) – Forbes owns the FBS record with six career pick-sixes. That's the stat. A three-year starter for the Bulldogs, Forbes has a wiry 180-pound frame but has been a huge playmaker ever since he stepped on campus in Starkville. His ability to read routes from off coverage before jumping throws and getting the ball back for his offense will make him a valuable commodity on draft weekend.
Garrett Williams (Syracuse) – Williams was a popular name on the back end of mock drafts for much of the season until an injury ended his season in November. A three-year starter with good athleticism, recovery speed, instincts, and ball skills, the North Carolina native checks a lot of boxes. One stat that I loved from his profile, however? In the last two seasons, he's played over 800 snaps and doesn't have one penalty, despite netting 12 pass breakups and a pair of interceptions. That's impressive.
Everyone else who will take part in the events in Indianapolis (in alphabetical order):
Alex Austin (Oregon State), Deonte Banks (Maryland), Jakorian Bennett (Maryland), Lance Boykin (Coastal Carolina), Julius Brents (Kansas State), Myles Brooks (Louisiana Tech), Cameron Brown (Ohio State), Arquon Bush (Cincinnati), Kei'Trel Clark (Louisville), Mekhi Garner (LSU), Anthony Johnson (Virginia), Jaylon Jones (Texas A&M), Nic Jones (Ball State), Darrell Luter (South Alabama), Cameron Mitchell (Northwestern), Eli Ricks (Alabama), Tyrique Stevenson (Miami), Cory Trice (Purdue), Carrington Valentine (Kentucky), Rejzohn Wright (Oregon State)
We get to read all about the measurements for all these players over the next few weeks ... but wouldn't it be nice to have some context? What is considered a "good" 40-yard dash time? What about arm length? The broad jump? Here's what the average player drafted at each position has looked like over the last decade (based on my own personal research).
Arm Length: 3148 (31 1/2")
Unofficial 40-Time (Stopwatch): 4.46
Official 40-Time (Laser): 4.48