Watching defensive linemen go through drills is typically one of everyone's favorite positions to study at the Combine, particularly the edge rushers. This year's group will be no different, as this position is one of the deepest in recent memory and has a number of prospects who figure to improve their stock in Indianapolis with impressive showings.
These are the players who analysts expect to see perform best in the athletic testing portion of the workout.
Aidan Hutchinson, Michigan – Regarded by some analysts as the top prospect in the draft, Hutchinson blew up with an outstanding senior season that saw him reel in All-American honors as well as the Big Ten Defensive Player of the Year Award. At 6-foot-6, 269 pounds, Hutchinson's buzz started to build back in the summer, when The Athletic's Bruce Feldman tabbed him as the No. 2 athletic "freak" in college football. In that piece, Feldman said Hutchinson has clocked 6.54 in the all-important 3-cone drill. That would be the best time of any pass rusher drafted in the last decade if he could turn in that number at the Combine.
Kayvon Thibodeaux, Oregon – Thibodeaux's explosiveness pops on film, and it's a big reason why he was not only the No. 1 recruit in the country coming out of high school, but also viewed as one of the top prospects in the nation this fall. At 6-foot-5, 250 pounds, the tests that measure speed and explosiveness should be impressive for the California native.
David Ojabo, Michigan – Ojabo played all of 26 snaps in his entire career before exploding onto the scene in 2021 for the Wolverines opposite Hutchinson. At 6-foot-5, 250 pounds, Ojabo put up 11 sacks and 12 tackles for loss this fall to go along with five forced fumbles as a big-play machine. The redshirt sophomore is hoping to parlay that performance into being named a first-round pick, and his athleticism will be a big reason why that is likely to happen.
Boye Mafe, Minnesota – Mafe is a freak athlete who flashed from the moment he stepped on campus in Minneapolis. A two-year starter for the Gophers, Mafe boasts a crazy first step and explosiveness in the open field. He should test well across the board in Indianapolis.
Alex Wright, UAB – At a listed 6-foot-7, 270 pounds, Wright is a sight to behold when he steps on the field before you even see him take a snap. When the action begins, that's where the fun really starts. Wright is an explosive terror off the edge with shocking closing speed for that size. If he can test that way in Indianapolis, expect the hype train to build for the powerful edge rusher.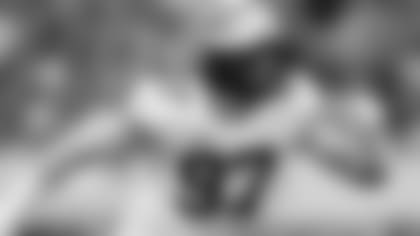 The Combine is always rolling out different drills to challenge prospects at every position. One that was added to the most recent event in 2020 was the Figure 8 Drill, where a pair of large hoops are placed on the ground to form an 8. The pass rushers will be asked to run both hoops consecutively, tracing the number and finishing through a final cone to close it out. Things you may notice in this drill:
1. Can the prospects both stay low and keep their balance while running the hoops?
2. A huge positive is being able to see the prospect accelerate while running the hoop. Not only do these players keep their balance and stay low, but they're able to build up speed and keep gaining ground before finishing strong through the cone.
Here are the players who have a chance to shine in these drills.
Jermaine Johnson, Florida State – After spending the previous two seasons as a backup at Georgia, Johnson transferred to Florida State this season and became the Defensive Player of the Year in the ACC, racking up 11.5 sacks and 17.5 tackles for loss in 12 games. After a strong performance at the Senior Bowl, expect Johnson to keep the momentum rolling in Indianapolis, where he should shine both in the athletic testing and position-specific portion of the workout.
Nik Bonitto, Oklahoma – Bonitto is undersized at 6-foot-3, 240 pounds, but he is an explosive, fluid athlete who truly played from sideline to sideline at Oklahoma. A four-star recruit out of high school power St. Thomas Aquinas in Florida, Bonitto put up 19.5 sacks over the course of his career, in large part due to his ability to turn the corner as he flew by offensive tackles. That flexibility should show up in this drill.
DeAngelo Malone, Western Kentucky – A four-year starter who racked up a whopping 349 tackles, 59 tackles for loss, 32.5 sacks, and 103 quarterback hurries over the course of his career, Malone absolutely terrorized opposing quarterbacks over the course of his career. At 6-foot-3 and just 234 pounds, he is a loose, fluid athlete who should blow this drill away with his flexibility and acceleration turning the corner.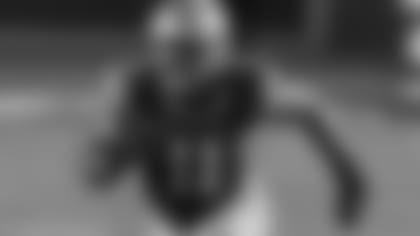 All of these players have great stories to tell, but who has taken the most unique journey to get to this point?
George Karlaftis, Purdue – Karlaftis' football journey began in 8th grade when he came to America from Athens, Greece, as a foreign exchange student. He arrived in the state of Indiana, became a state champ in the shot put, started for three years on their basketball team, and emerged as a star pass rusher. Despite getting offers from all of the blueblood programs in college football, Karlaftis decided to stay close to "home" for the Boilermakers, instantly drawing comparisons to a former first-round pick from Purdue in Eagles defensive end Ryan Kerrigan.
Dominique Robinson , Miami (Ohio) – Robinson arrives in Indianapolis having started just as many college football games as I have (that answer is zero), but don't let that fool you. The 6-foot-5, 254-pound pass rusher is oozing potential after converting from the wide receiver position before 2020. Robinson played just 540 snaps in college on the defensive side of the ball, but put up 6.5 sacks and 11 tackles for loss in that time. The athletic tools are there, and Robinson showed great flashes in Mobile at the Senior Bowl.
These are the players with a special tie to the City of Brotherly Love or to the Eagles that you should keep a close eye on.
Drake Jackson, USC – At 6-foot-4, 255 pounds, Jackson has played up and down the line for USC over the course of his career, adding and dropping weight in the process while putting his versatility on display. Jackson came on the scene as a true freshman in 2019, when he posted a career-high 5.5 sacks for the Trojans while playing alongside current Eagles defensive tackle Marlon Tuipulotu.
Arnold Ebiketie, Penn State – Ebiketie set the Big Ten on fire this season with 9.5 sacks while being named first-team all-conference, but he began his college career right here in the City of Brotherly Love playing up on North Broad Street for the Temple Owls. Ebiketie, who should test well at the Combine, played with Eagles linebacker Shaun Bradley at Temple before eventually transferring last offseason.
Jeffrey Gunter, Coastal Carolina – Gunter, a three-year starter for the upstart Chanticleers, has been known as a long, powerful pass rusher off the edge throughout his career. Twice named first-team All-Sun Belt, Gunter put up 6.5 sacks and a whopping six forced fumbles in 2020 playing opposite of Eagles defensive end Tarron Jackson while presenting a very similar skill set to last year's sixth-round selection.
Myjai Sanders, Cincinnati – Sanders has been one of the top players for the Bearcats defense over the course of his career as a speedy edge rusher, and he should test very well in Indianapolis. Sanders, a Florida native, graduated from Camden County High School in Jacksonville ... but he only played there for his senior season. Before that, Sanders attended the famed Raines High School, the high school alma mater for Eagles legends Brian Dawkins, Harold Carmichael, and Lito Sheppard.
Everyone else who will take part in the events in Indianapolis (in alphabetical order):
Christopher Allen (Alabama), Amare' Barno (Virginia Tech), Michael Clemons (Texas A&M), Kingsley Enagbare (South Carolina), Tyree Johnson (Texas A&M), Jesse Luketa (Penn State), Tyreke Smith (Ohio State), Myron Tagovailoa-Amosa (Notre Dame), Cameron Thomas (San Diego State), Isaiah Thomas (Oklahoma), Travon Walker (Georgia), Sam Williams (Ole Miss), Tre Williams (Arkansas)
We get to read all about the measurements for all these players over the next few weeks, but wouldn't it be nice to have some context? What is considered a "good" 40-yard dash time? What about arm length? The broad jump? Here's what the average player drafted at each position has looked like over the last decade (based on my own personal research).
Arm Length: 3348 (33 1/2")
Unofficial 40-Time (Stopwatch): 4.69 seconds
Official 40-Time (Laser): 4.73 seconds
10-Yard Split: 1.62 seconds
3-Cone Drill: 7.17 seconds
Short Shuttle: 4.37 seconds