Philadelphia Eagles Hometown Hero 2021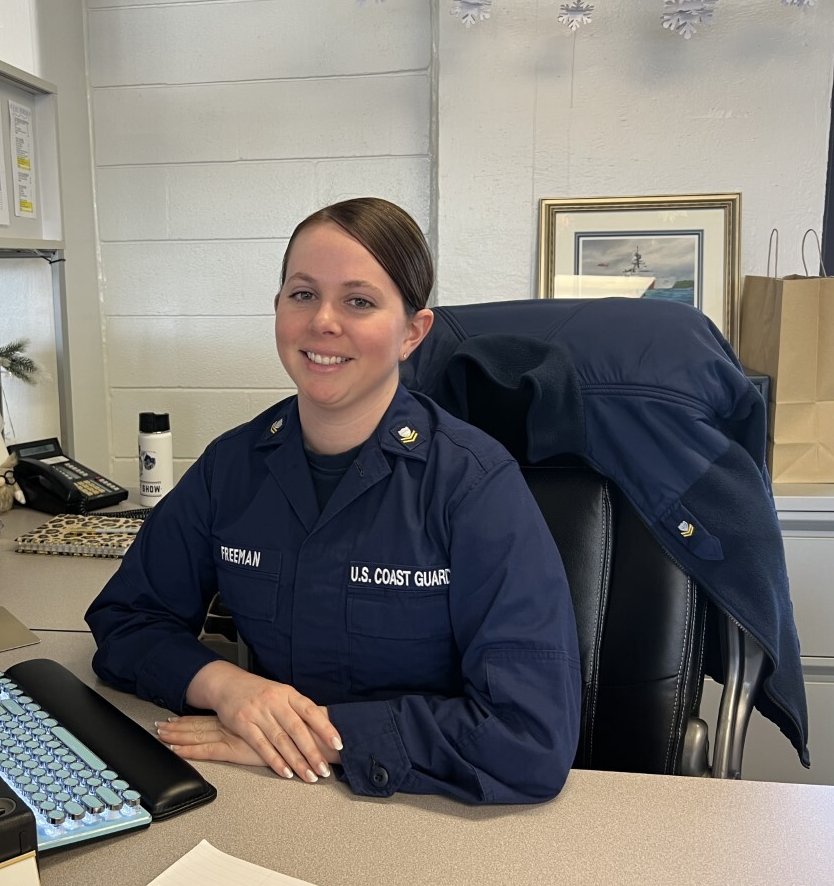 Petty Officer Melanie R. Freeman Yeoman Second Class USCG TRACEN, Cape May, NJ
January 29th
Eagles vs. 49ers
Melanie Freeman joined the Coast Guard in 2011. After completing basic training, she kicked off her military career by reporting to Station Rockland, Maine, a Search and Rescue small boat station, where she became a qualified boat crew member in order to successfully be able to perform Search and Rescue missions.
Following graduation from Yeoman Class "A" School, Petty Officer Freeman reported to the Mobile Training Branch at Training Center Yorktown, where her job was to provide admin services for the roughly 30 deployable team members, working on travel orders, travel claims, and passport and visa applications. As her six-year initial enlistment was coming to a close in 2017, Freeman decided to release from active duty to affiliate with the Select Reserves. Upon her affiliation with the Reserves, she was stationed at SECTOR Buffalo, New York in the admin office and remained attached to that unit until she returned to active duty in 2020, being transferred to TRACEN Cape May, New Jersey.
Petty Officer Freeman is currently a Yeoman Second Class (YN2) stationed aboard the United States Coast Guard Training Center in Cape May. She serves as a Pay Auditor within the Servicing Personnel Office (SPO), a billet usually designated for a First-Class Petty Officer. Her primary duties include the meticulous management of more than $11 million in base pay and entitlements monthly, as well as more than $2 million in travel expenditures. Her job also entails reviewing and approving pay transactions for the permanent party members on the base as well as reserve members and members stationed at SECTOR Delaware Bay in Philadelphia and AIRSTATION Atlantic City, New Jersey.
Petty Officer Freeman serves as the treasurer for the Coast Guard Enlisted Association, where, on her own time, she selflessly provides support and resources for the entire Training Center enlisted staff. Petty Officer Freeman is also an essential part of the Training Center's Leadership Diversity Advisory Council (LDAC), providing mentorship to newly minted recruits. For her professionalism, expertise, and selfless actions while fulfilling her duties, Petty Officer Melanie Freeman was recently selected as the Training Center's newest Enlisted Person of the Quarter.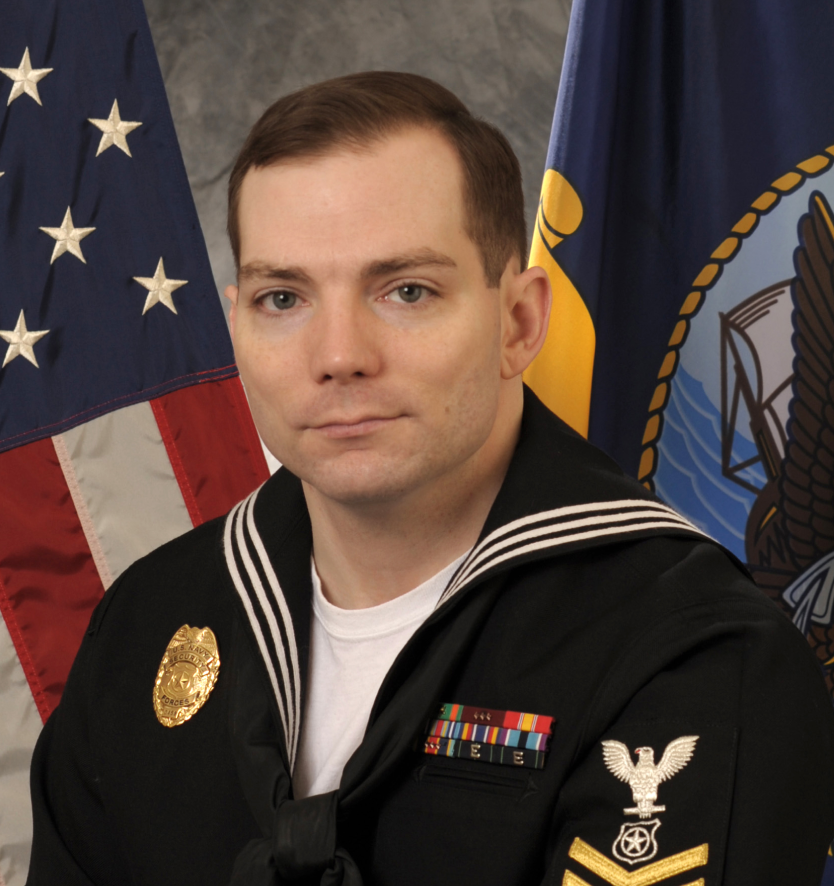 Master-at-Arms Richard Clement Flight Sergeant, Air Force 87th Security Forces Squadron, JBMDL United States Navy
January 21st
Divisional Round
Richard Clement of Magnolia, New Jersey enlisted in the United States Navy in August of 2005. The following year, his military career kicked off with his enrollment at the United States Naval Academy in Annapolis, Maryland where he would serve as a Patrol Officer, graduating in 2009.
Following his time at the Academy, MA1 Clement began his first overseas assignment as a Security Squad Leader for Naval Support Activity Bahrain in Manama, Bahrain. After a short time in the Middle East, Richard began the first of two assignments in Japan. He served as the Watch Commander for Naval Air Facility Atsugi, Japan from 2010-12, and returned to the country as Security Department Leading Petty Officer at Misawa Air Base from 2016-19. During his first stint, MA1 Clement took part in Operation Tomodachi, aiding recovery efforts in the wake of the earthquake and tsunami that struck Japan in the spring of 2011. MA1 Clement was involved with helping divert aircraft landing from Narita Airport in Tokyo, as well as assisting the evacuation process for military family members returning to the US.
In between his stations in Japan, MA1 Clement spent half a decade at Naval Air Station Pensacola, Florida, where he served as Watch Commander. After a several years-long stint at Naval Station Everett, Washington, where he also served as Watch Commander, Richard returned to the Greater Philadelphia area. He is currently stationed at Joint Base McGuire-Dix-Lakehurst in New Jersey. As Masterat-Arms First Class, he works as a Flight Sergeant for the Air Force 87th Security Forces Squadron.
Always willing to put others before himself, MA1 Clement has volunteered with numerous organizations, including the Special Olympics, the American Red Cross, PAWS Animal Shelter, and Volunteers of America. While stationed overseas, Richard volunteered his time with the Japanese Red Feather Association and the Biko-en Orphanage in Shichinohe, Japan. For his dedication to service, he was awarded the Military Outstanding Voluntary Service Medal. Additional awards and accommodations include four Navy and Marine Corps Achievement Medals, as well as two Humanitarian Service Medals, one for assisting the post-tsunami relief efforts in Japan, and one for service during the COVID-19 pandemic.A self-described "die-hard" Eagles fan, Richard Clement hopes his favorite team can recapture some of the magic from their previous Super Bowl run as they enter this year's playoffs.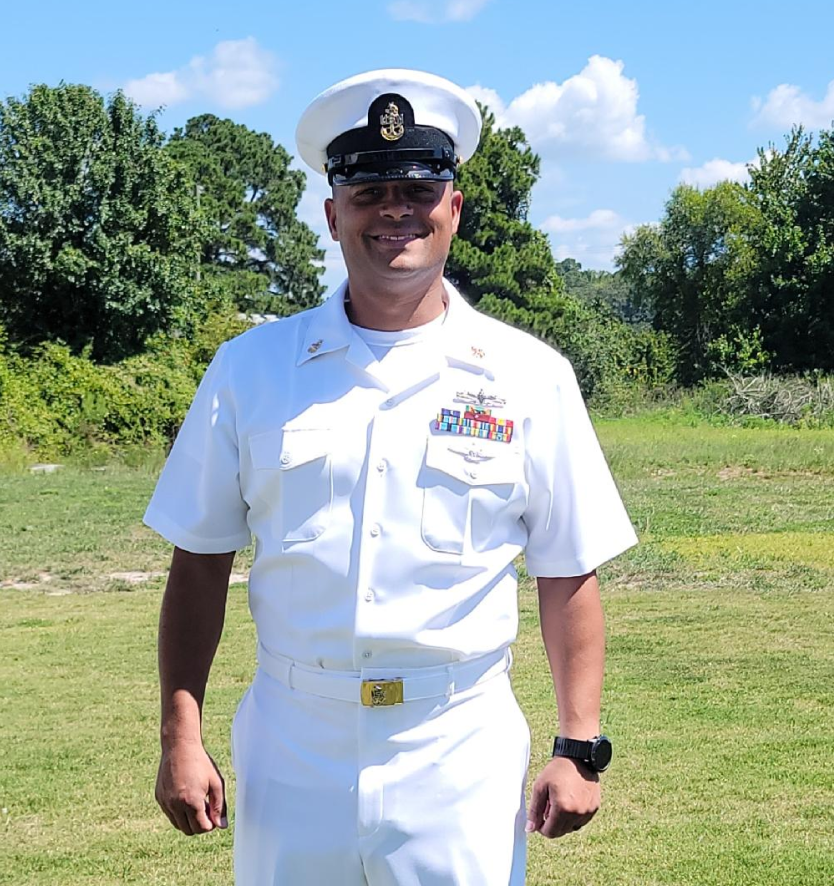 Machine Repairman Senior Chief Petty Officer Clint E. Thompson NAVSUP Weapons Systems Support, Mechanicsburg, PA United States Navy
January 8th
Giants vs. Eagles
Clint Thompson grew up in Shippensburg, Pennsylvania where he attended school at Shippensburg Area Senior High School, graduating in June of 2000. A few years after graduation, Clint enlisted in the United States Navy, reporting to Recruit Training Command in Great Lakes, Illinois in August of 2004. Upon completion of Recruit Training Command and Machine Repairman "A" School, Thompson reported to USS Boxer LHD-4, located in San Diego, California. While stationed there, Thompson was deployed on four different occasions, twice in support of Operation Iraqi Freedom and twice to support humanitarian efforts in South America and Japan.
In July of 2009, as a Second Class Petty Officer, Thompson returned to Great Lakes, Illinois to be a Machine Repairman Instructor for new recruits in the MR "A" School, a role he served in for several years. After advancing to the rank of First Class Petty Officer, MRCS Thompson reported to Mayport, Florida, and served on several frigate class ships, as this class of ships began their decommissioning process from the United States Navy. MRCS Thompson's service would keep him on the move over the course of the next decade, including stints in Portsmouth, VA, and Jacksonville, FL. MRCS Thompson would eventually settle in Norfolk, VA where he reported to the USS George Washington CVN-73.
While onboard the USS George Washington, now Machine Repairman Chief Petty Officer Thompson served as a Leading Chief Petty Officer of the Repair Division, Damage Control Division, and Engineering Department. His steadfast attitude to support mission readiness exemplified his personal attributes to mentor junior sailors, plan and execute task orders, and support command functions. This led to his most recent promotion, one of eleven in the entire U.S. Navy taskforce, to Machine Repairman Senior Chief. Currently, MRCS Thompson is stationed at Naval Supplies Systems Command, NAVSUP, in the Weapons System Support division in Mechanicsburg, Pennsylvania. He serves as the Leading Chief Petty Officer, functioning as a liaison between the fleet of ships and supply services.
Over an 18-year career, MRCS Thompson has earned eight Navy and Marine Corps Achievement Medals, one Navy and Marine Corps Accommodation Medal, one Army Achievement Medal, and multiple Good Conduct Medals. During his free time, Machine Repairman Senior Chief Petty Officer Clint Thompson enjoys volunteering with youth sports programs, traveling, hunting, and spending time with his family and friends. He is a lifelong Eagles fan and never hesitates to shout a friendly, "GO BIRDS!" whenever he spots another fan adorned in Eagles gear.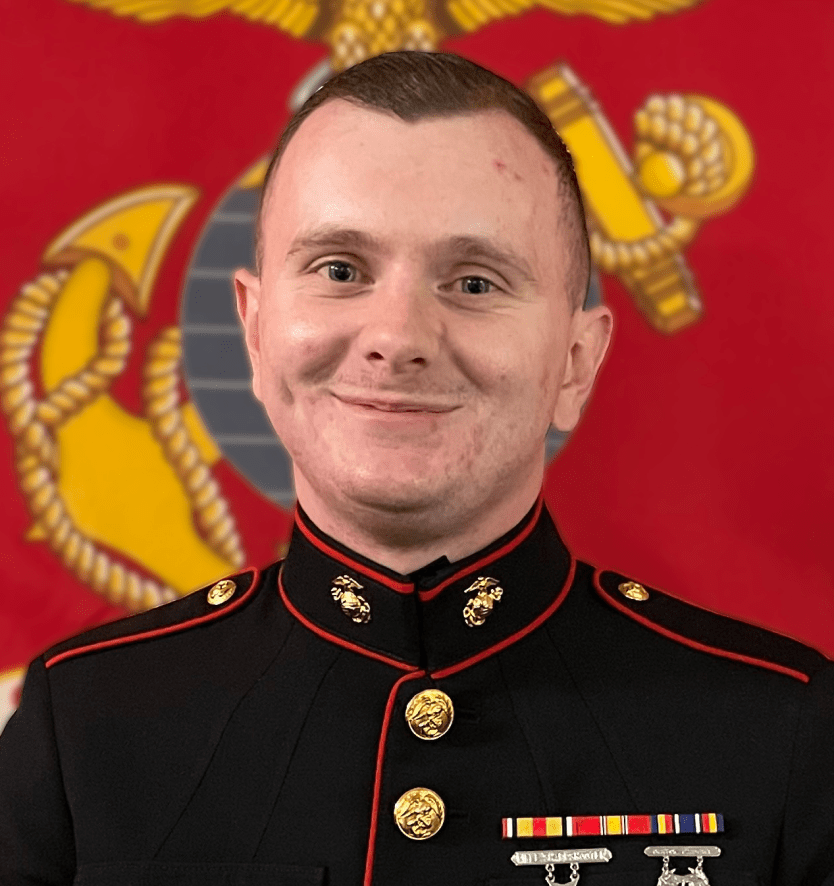 Lance Corporal Joseph F. Leto Marine Aircraft Group 49, Fort Dix, New Jersey United States Marine Corps
January 1st
Titans vs. Eagles
Joseph Leto grew up in Clementon, New Jersey where he attended school at Gloucester Catholic High School, graduating in June of 2014. After high school, Joseph worked as a carpenter for four years before beginning his military career. He enlisted in the Selected Marine Corps Reserve out of Burlington Township, New Jersey and reported to Marine Corps Recruit Depot, Parris Island, South Carolina in March of 2018. He would graduate June of that year with Delta Company, Platoon 1042. 
Upon completion of Marine Corps Combat Training at Camp Geiger, North Carolina, and Marine Corps Logistical Supply Training at Camp Johnson, Lance Corporal Leto reported to Marine Aircraft Group 49 in March of 2019, located at Fort Dix, New Jersey, where he is currently stationed and attached to Ground Supply. LCpl Leto serves as a Supply Chain Management Clerk. 
While LCpl Leto awaits his first deployment assignment, he has been commended by his superiors for his enthusiastic spirit and unrelenting dedication to serve, distinguishing him above and beyond his peers. His awards and accommodations include the National Defense Medal, Global War on Terrorism Medal, Selected Marine Corps Reserve Medal, and over ten Letters of Appreciation. 
Mature beyond his years, LCpl Leto has demonstrated throughout his career a can-do attitude by accomplishing all tasks assigned to him in a timely manner with no supervision required. He has often spent time the past three years volunteering his service, and holds a record for his unit by supporting over fifty Toys for Tots events. Lance Corporal Joseph Leto resides in the Philadelphia region where he proudly roots for his hometown Eagles.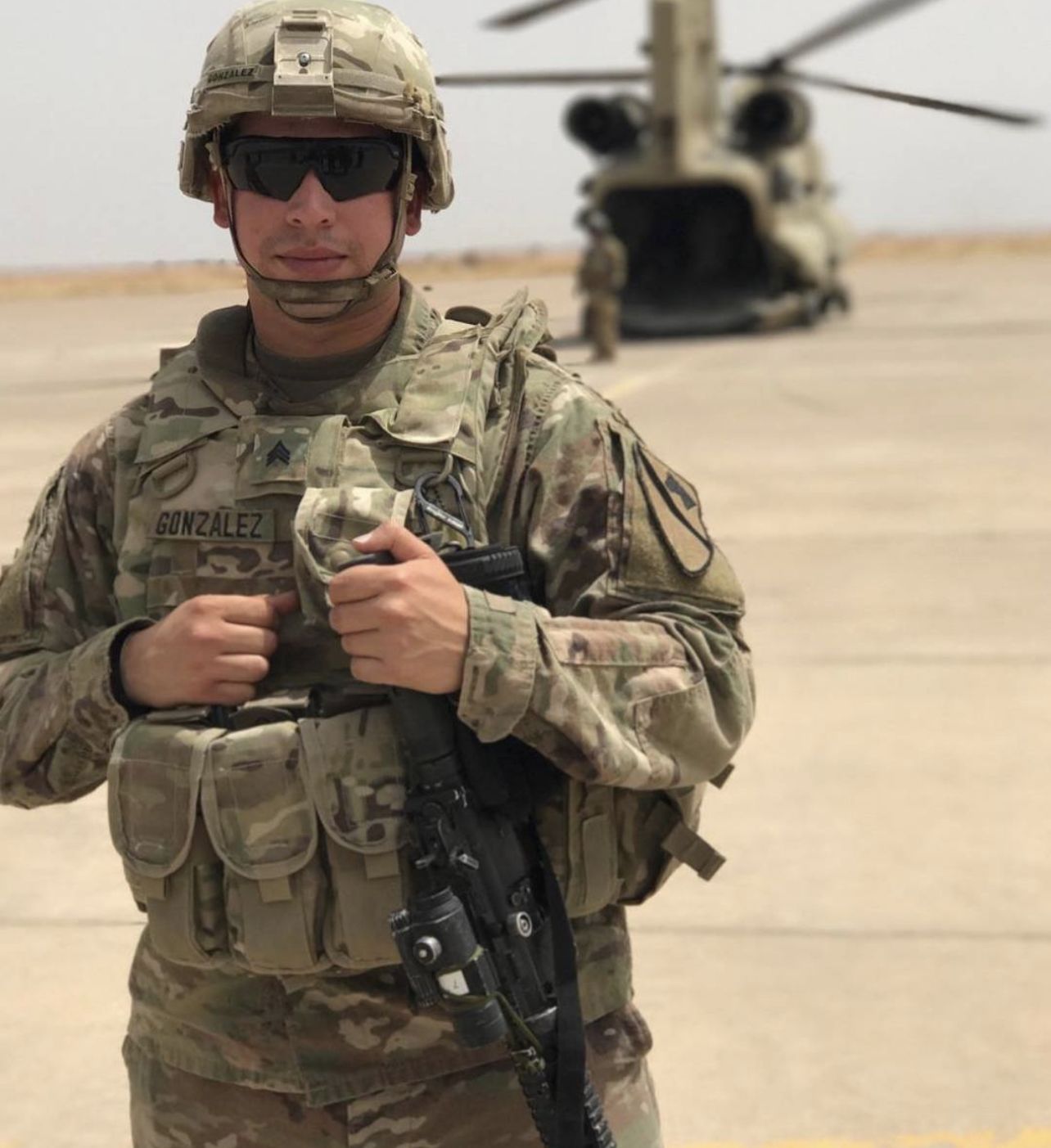 Staff Sergeant Jose A. Gonzalez 3-314 Field Artillery Battalion, 174th Infantry Brigade Joint Base McGuire-Dix-Lakehurst, NJ United States Army
December 2nd
Titans vs. Eagles
A native of Philadelphia, Jose A. Gonzalez enlisted in the United States Army in the summer of 2012, completing basic training the following January. After basic, Gonzalez was stationed in Fort Carson, Colorado as a Fire Control Specialist before moving to Fort Hood, Texas where he served as a Fire Control NCO. After several deployments, Gonzalez returned home to the East Coast in 2019, where he landed at his current station at Joint Base McGuire-Dix-Lakehurst in New Jersey. 
During his nine-year career, Staff Sergeant Gonzalez twice deployed for combat assignments to the Middle East. He first deployed in 2015 in support of Operation Spartan Shield (OSS), following that up with a second deployment in 2017 in support of Operation Inherent Resolve (OIR). His role during both assignments was as a Fire Control Sergeant, working to strategically coordinate and integrate field artillery weapons operations. During his 2017 deployment to Iraq, SSG Gonzalez delivered 937 live rounds in combat to support the Iraqi Security Forces (ISF) during the fight to re-capture the city of Mosul from ISIS. In addition to his multiple combat deployments, SSG Gonzalez served a single overseas tour when he was stationed in South Korea, serving as a Battalion Fire Control NCO. 
Currently, SSG Gonzalez is stationed at Joint Base McGuire-Dix-Lakehurst, New Jersey. He serves as an Observer Coach & Trainer for First Army Division East, assigned to 3-314 Field Artillery Battalion, 174th Infantry Brigade. His duties include providing training support for all National Guard Field Artillery units throughout the Northeast Region of the United States. During his free time, SSG Gonzalez enjoys volunteering, performing charity work for communities and veterans in need throughout the greater New Jersey / Philadelphia region. SSG Gonzalez has participated in food drives for the Red Cross and this past month volunteered for a USO Thanksgiving food drive. Gonzalez recently took part in a boxing match to raise funds for the family of a teenager whose life was tragically lost to gun violence. 
Awards and accommodations include 4 Army Commendation Medals (1 with a Combat Device), 2 Army Achievement Medals, 3 Overseas Ribbons, 1 Combat Action Badge, 3 Army Good Conduct Medals, 1 Global War on Terror Expeditionary Medal, 1 Global War on Terror Service Medal, and 1 Operation Inherent Resolve Medal. 
A life-long Eagles fan, Staff Sergeant Jose Gonzalez fondly remembers watching on his phone during a 24-hour duty shift as the birds captured their first World Championship.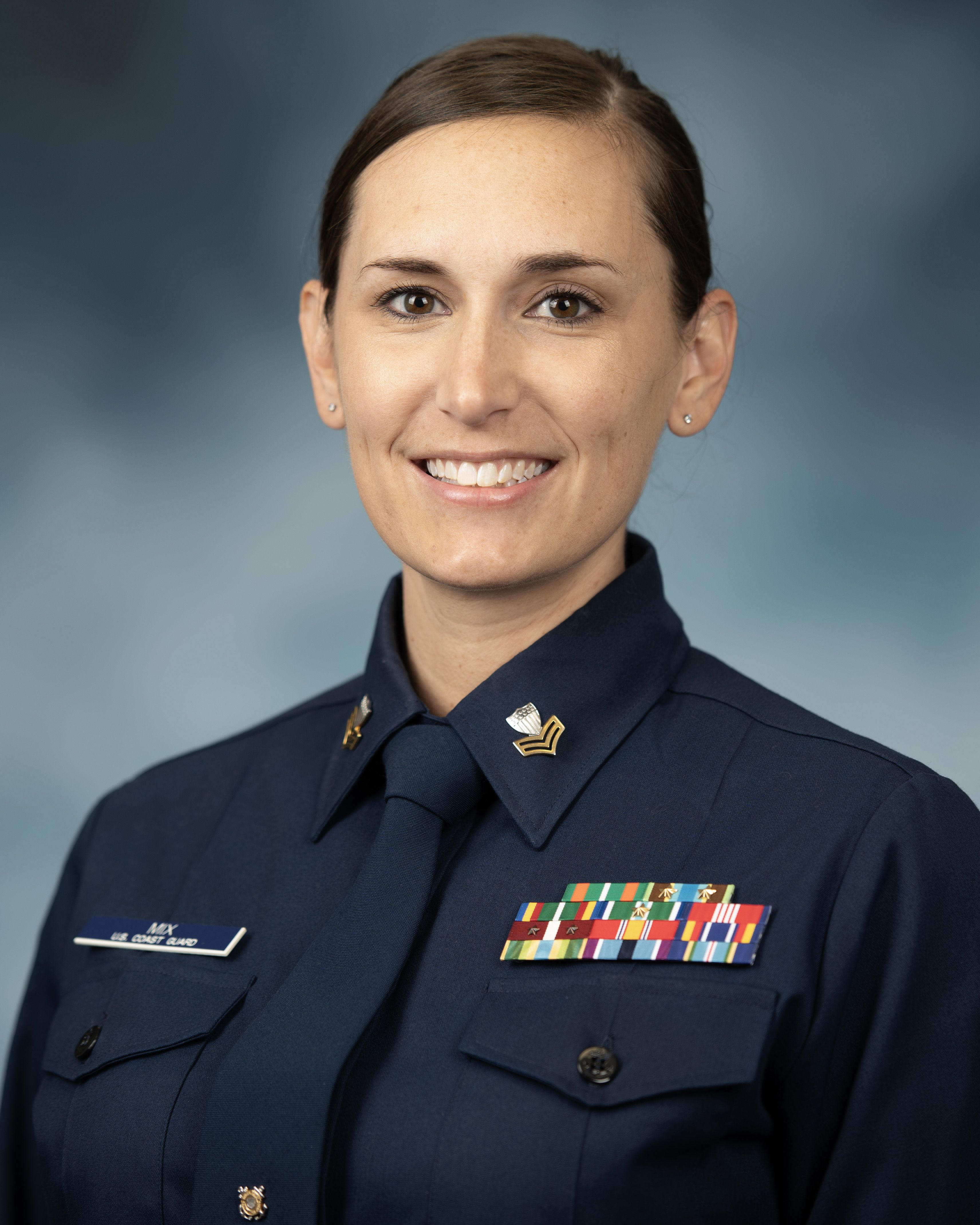 Petty Officer First Class Abigail Mix Recruit Training Instructor, Instruction & Design Branch USCG TRACEN, Cape May, NJ
November 27th
Packers vs. Eagles
A native of Michigan, Petty Officer First Class Abigail Mix enlisted in the United States Coast Guard in February of 2012, graduating from Recruit Basic Training at Training Center Cape May in Cape May, New Jersey, with India Company 186. After graduation, she was stationed at the U.S. Coast Guard Air Station Atlantic City, where she gained her rating as a Storekeeper. While stationed there, she assisted with recovery efforts after Hurricane Sandy and supported the National Capital Region Defense operations.
In June 2013, Petty Officer Mix transferred to Base Kodiak in Kodiak, Alaska, where she assisted in managing multiple Coast Guard and Navy financial accounts. While stationed in Kodiak, she advanced to Petty Officer Third Class while acting as a member of the Base Color Guard, then advanced to Petty Officer Second Class while in support of U.S. Coast Guard Operation Arctic Shield. Petty Officer Mix transferred in 2016 to the Coast Guard Maritime Force Protection Unit on Kings Bay Naval Submarine Base in Kings Bay, Georgia. At this unit, she processed all Coast Guard purchases and finances to support the safe transit of United States Navy Submarines. She also assisted with the mobilization of several Coast Guard assets during hurricane response throughout this tour. While assigned to the Maritime Force Protection Unit, Mix advanced in 2019 to Petty Officer First Class before receiving orders to return to the Garden State and Training Center Cape May.
Currently, Petty Officer Mix serves as a Recruit Instructor and handles the financial budget for her entire training division. She was recently named the Enlisted Person of the Quarter for Training Center Cape May. This honor recognizes the contributions of individual service members not only for their outstanding job performance and support of the Coast Guard and its missions, but also for supporting fellow service members and enhancing the lives of others. A great teammate and role model, Petty Officer Abigail Mix is the proud mother of three young children.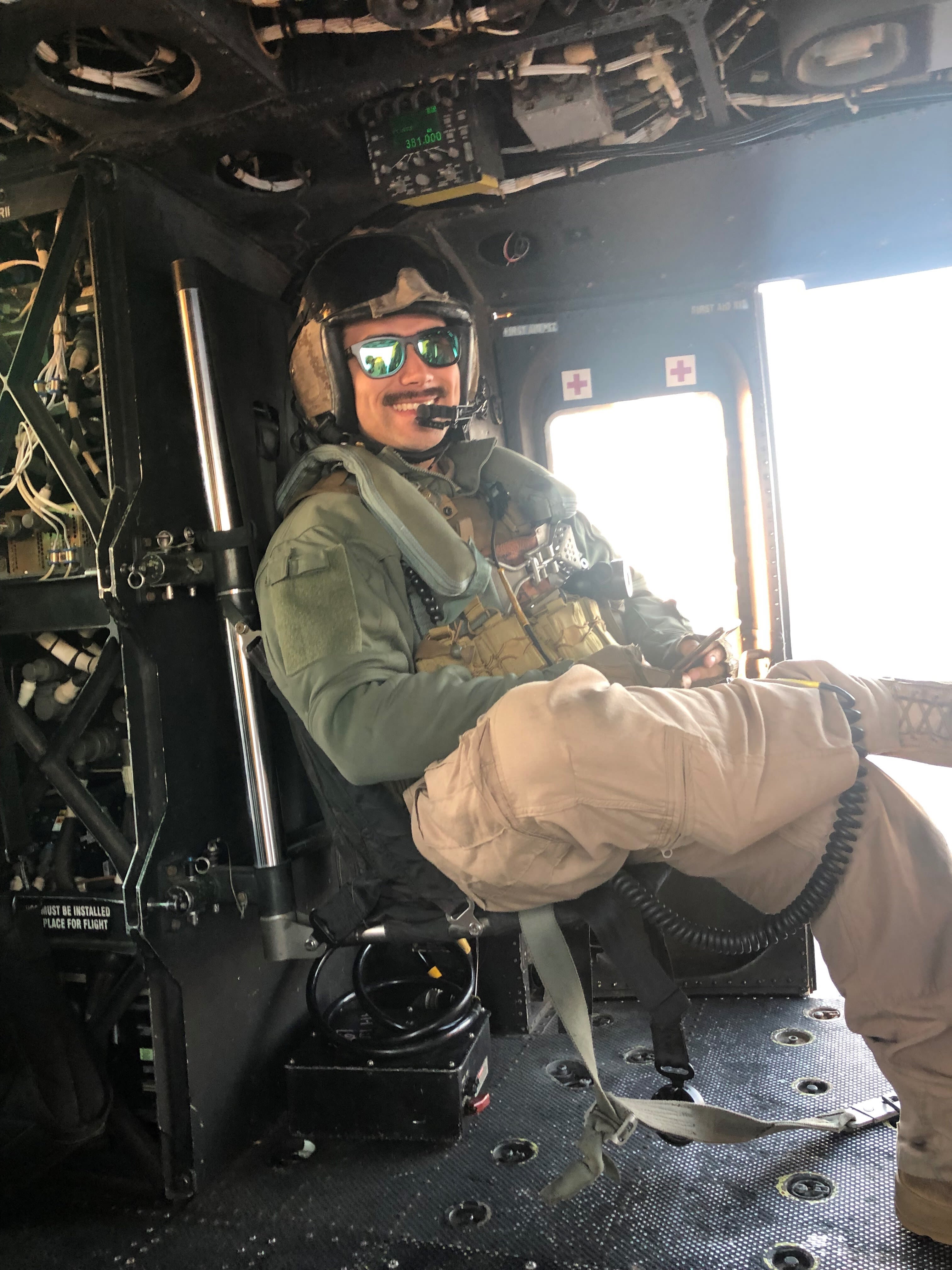 Staff Sergeant Hector L. Rivera Station Commander, RS Harrisburg, RSS Reading United States Marine Corps
November 14th
Commanders vs. Eagles
Staff Sergeant Hector L. Rivera enlisted in the United States Marine Corps in April of 2014 and attended Recruit Training at Marine Corps Recruit Depot, Parris Island, South Carolina, where he was assigned as a recruit at Second Battalion, Fox Company, Platoon 2052. Following Recruit Training, Staff Sergeant Rivera successively attended Marine Combat Training, Water Survival Training, Central Naval Aviation Technical Training Marine Unit, and Crew Member Training. While attending Crew Member Training in Camp Pendleton, California, Staff Sergeant Rivera was promoted to Private First Class.
Upon completion of training in May of 2015, Staff Sergeant Rivera checked into 2nd Marine Aircraft Wing, Marine Aircraft Group 29, Marine Light Attack Helicopter Squadron 467, Marine Corps Air Station New River. During his assignment, Staff Sergeant Rivera was promoted to Lance Corporal and deployed as part of Air Combat Element for the 22nd Marine Expeditionary Unit from December 2015 until January of 2017 in support of Operation ODYSSEY LIGHTNING. Staff Sergeant Rivera was promoted to the rank of Corporal during this assignment.
Upon his return, Corporal Rivera was promoted to the rank of Staff Sergeant. In the spring of 2020, Staff Sergeant Rivera was detached to 1st MCD, RS Harrisburg, RSS Capital City. He would serve as a Canvassing Recruiter for RSS Capital City in Harrisburg, Pennsylvania, before proceeding to RSS Lancaster and eventually being elevated to the Station Commander billet. Staff Sergeant Rivera successfully led RSS Lancaster up until September 2022 when he was moved to his current billet of Station Commander of RSS Reading.
Awards and achievements attained over the course of his nearly 10 years of service include three Navy and Marine Corps Achievement Medals and two Good Conduct Medals. An Eagles fan, Staff Sergeant Hector Rivera lives with his wife and two young children in Strasburg, Pennsylvania.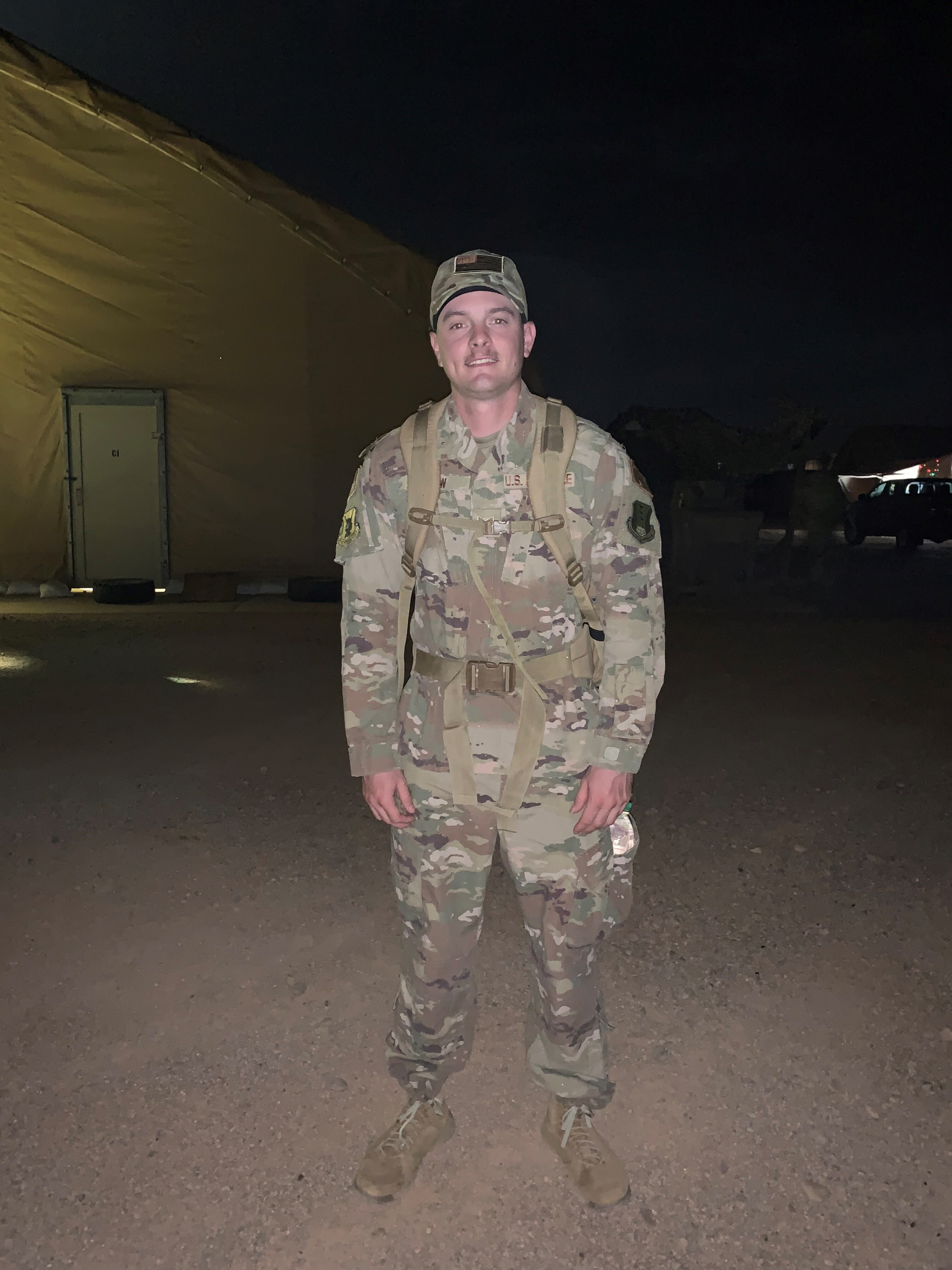 Technical Sergeant Robert A. Fow III Joint Base McGuire-Dix-Lakehurst, NJ 87th Security Forces Squadron, Air Force
October 30th
Steelers vs. Eagles
Hailing from the small town of Eastampton, New Jersey, Robert Fow III enlisted in the United States Air Force and completed basic training in 2010, followed by technical training later that year.
Throughout his 12-year career serving in the Air Force, Sergeant Fow has deployed numerous times in support of various missions. These include a 15-month deployment to Turkey beginning in 2014 in support of Operation Inherent Resolve, where TSgt Fow started out dual certified as a Base Defense Operations Controller and Alarm Monitor before finishing as a Security Forces Evaluator. Sergeant Fow would later deploy to Niger, Africa in 2021 in support of Operations Juniper Shield, Juniper Micron, and Inverted Light. There he worked as a Quick Reaction Force Member and served as a liaison for his squadron when interacting with all outside agencies. Before returning home, TSgt Fow led a humanitarian mission to gather 2,500 pounds of clothing, medical supplies, and water for a key leader engagement in a local village.
More recently, Tech Sgt Fow directly supported Operations Allies Welcome/Allies Refuge in which the United States government provided support to vulnerable Afghans in an effort to safely resettle them in the United States, including many who worked alongside U.S. and NATO Forces over the past two decades in Afghanistan. For his achievements, actions, and contributions while deployed and serving at home in the military, TSgt Fow has been awarded multiple Air Force Commendation medals, Air Force Achievement medals, a Navy and Marine Commendation medal, and a Navy and Marine Achievement medal.
Having recently been promoted to Technical Sergeant, TSgt Fow currently serves as a Security Forces Instructor for the 87th Security Forces Squadron out of Joint Base McGuire-Dix-Lakehurst in New Jersey. In that role, TSgt Fow is not only involved with training of personnel newly inbound to the unit, but he is also responsible for executing over 219 hours of annual training for over 450 personnel individually.
Always quick to lend a hand, Fow has volunteered with numerous non-profits throughout his military career, including Habitat for Humanity, Ronald McDonald House, Salvation Army, and the Red Cross. A die-hard Birds fan, Technical Sergeant Robert Fow III is excited to be serving close to home, cheering on his beloved Eagles.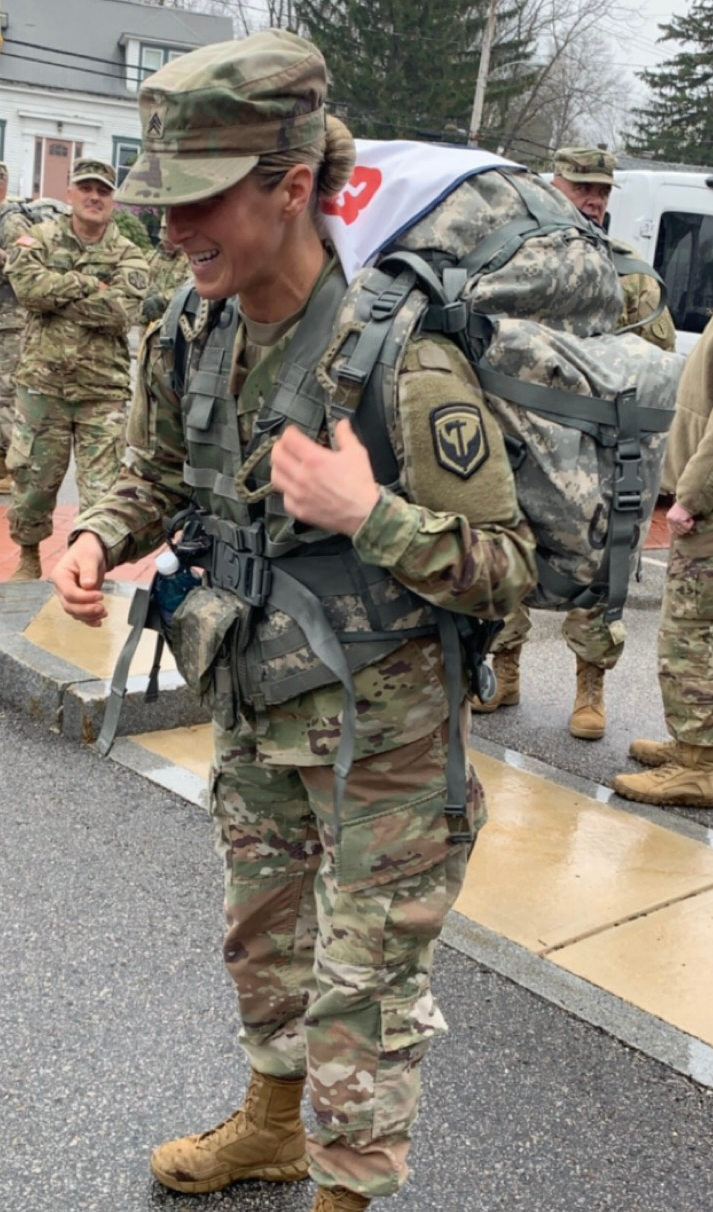 SGT Samantha Merryfield Schmidt MP / Sergeant, Recruiting and Retention Battalion New Jersey Army National Guard
October 16
Cowboys vs. Eagles
Samantha Merryfield (née) enlisted into the New Jersey Army National Guard in late 2012. Upon graduating Basic Combat Training and Advanced Individual Training the following year, Merryfield reported to the 328th Military Police Company in Cherry Hill, New Jersey and began working as a Military Police Soldier.
After being promoted to the rank of SPC, Merryfield mobilized in 2015 and after Pre-Mob Training at Fort Bliss, TX arrived in Guantanamo Bay, Cuba, and integrated into the 525th MP BN as a Block MP in Camp Five Guantanamo Bay. During this time, SPC Merryfield was assigned to Battalion Augmentation Team (BAT) to conduct high-risk emergency response operations in support of Joint Task Force Guantanamo, Guantanamo Bay.
Upon reintegration into the New Jersey Army National Guard, Merryfield attended BLC at Fort Dix, making Commandants List before being placed on Active Duty for Operational Support at 328th MP CO as a New Jersey National Guard Response Force Specialist. In 2018, Merryfield was promoted to SGT and the following year found new employment at Joint Force Headquarters in Lawrenceville, NJ as Assistant to the Executive Officer to the Adjutant General. Following a promotion to Staff Sergeant, SSG Samantha Schmidt (married name) found a new job with Active Guard Reserve, Recruiting and Retention, taking an administrative reduction to SGT.
Sergeant Samantha Schmidt has competed in numerous military competitions, including winning first place after being selected to represent the 42nd Regional Support Group in the New Jersey Best Warrior Competition.
Samantha Merryfield and Adam Schmidt were married in the spring of 2020. The Schmidt family resides in Shamong, New Jersey with their three children.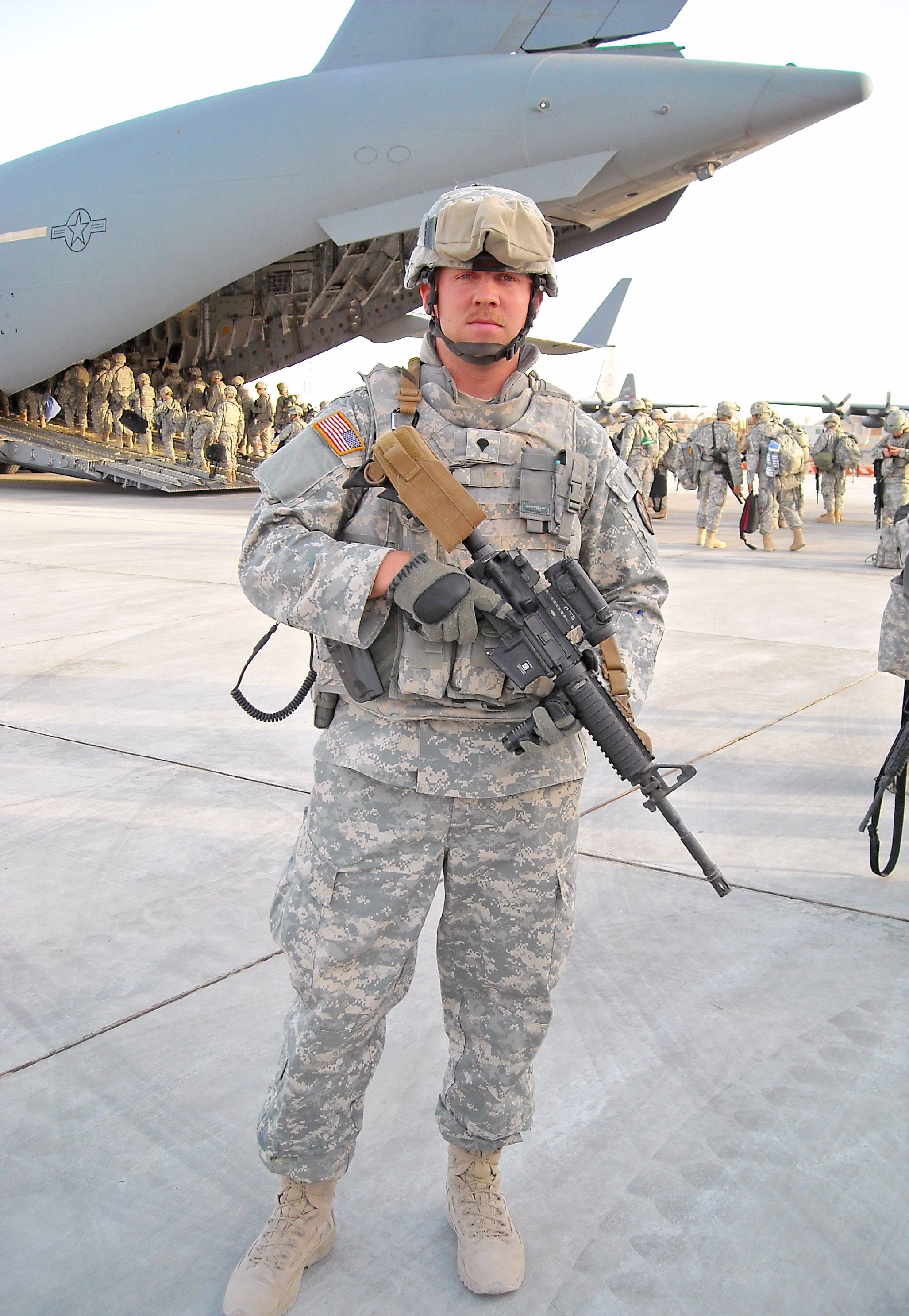 SFC Adam Schmidt Weapons Instructor, Battle Simulations Group, 3rd Battalion 254th RTI Combat Arms Fort Dix, Joint Based MDL, New Jersey United States Army
October 16
Cowboys vs. Eagles
Adam Schmidt joined the U.S. Army in early 2003. After serving for several years, Sergeant First Class Schmidt began his first of several deployments when, in 2006, he deployed as part of Operation Iraqi Freedom, doing so again two years later in 2008. Subsequent deployments would send SFC Schmidt to Afghanistan in 2012 for Operation Enduring Freedom, Iraq in 2020 for Operation Inherent Resolve, and his most recent deployment to Albania in 2021.
Over a 20-year career serving his country, SFC Schmidt has earned numerous awards and accommodations, such as the Army Commendation Medal "COMBAT" (3), National Defense Service Medal, Humanitarian Service Medal, Overseas Service Ribbon (4), Global War on Terrorism Service Medal, Inherent Resolve Campaign Medal, Afghanistan Campaign Medal, Iraq Campaign Medal with 2 Service Stars, and NATO Medal to name a few.
SFC Schmidt's extensive military education and training include 91B Light Wheeled Vehicle Mechanic School, Air Assault School, 19D Cavalry Scout School, 14M Stinger Missile School, as well as numerous courses, including Senior Leader Course, Evaluating Instructors Course, Army Basic Instructor Course, Advanced Leader Course, Wheeled Vehicle Recovery Course, and Warrior Leader Course.
Currently, Sergeant First Class Schmidt is stationed at Fort Dix on Joint Base McGuire-Dix-Lakehurst in New Jersey. He is assigned to the Battle Simulations Group, 3rd Battalion 254th RTI Combat Arms, where he serves as a weapons instructor.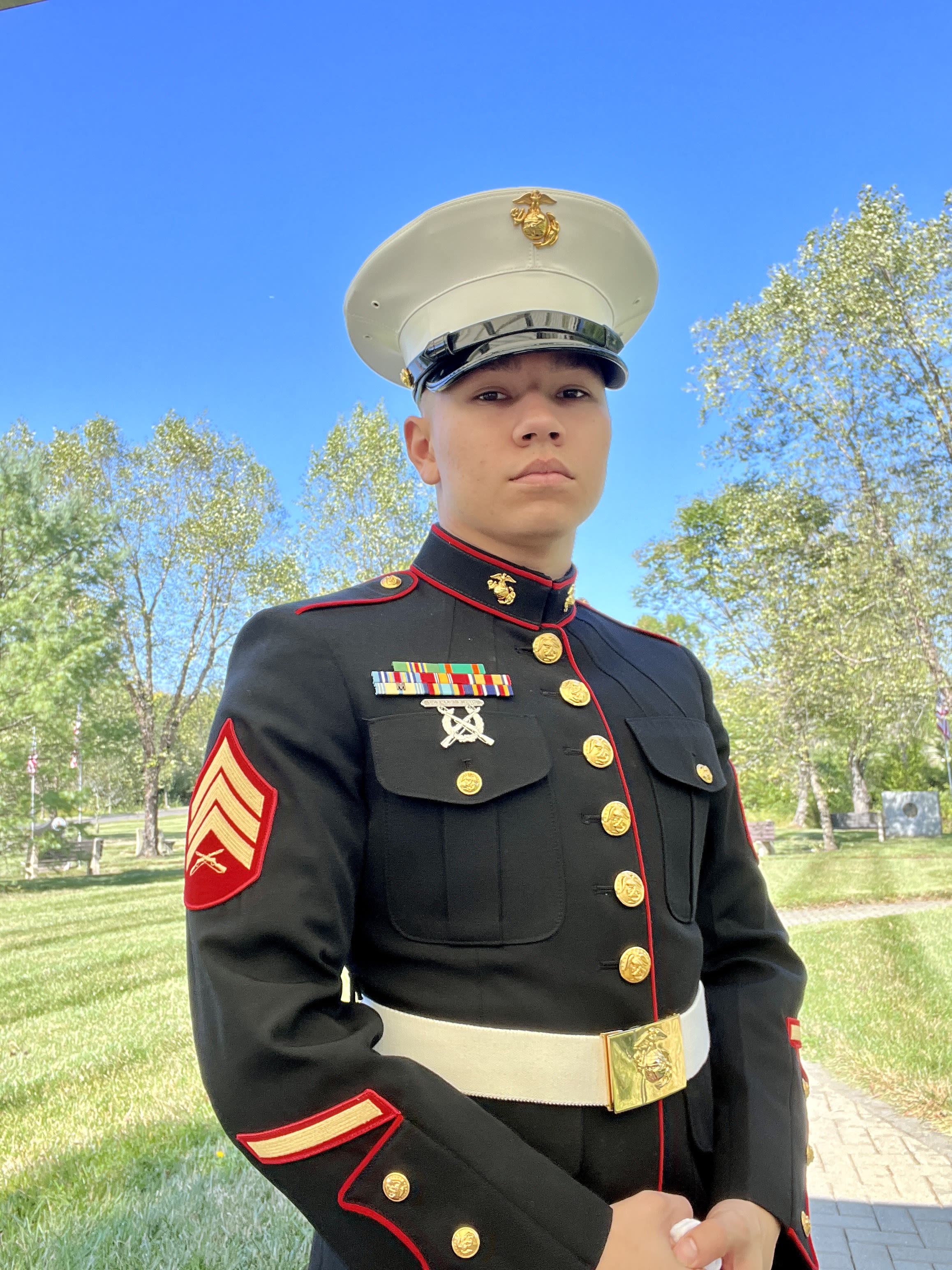 Sgt Diego Andres Gomez, U.S.M.C. Customer Support Branch Non-Commissioned Officer in Charge/Aviation Supply Specialist Marine Aircraft Group 49, Joint Base Maguire-Dix-Lakehurst, New Jersey
October 2
Eagles vs. Jaguars
Born in Plainfield, New Jersey, Sgt Diego Gomez has served in the United States Marine Corps since enlisting in July of 2015 at the age of 17. Upon earning the title of Marine, he would go on to complete Marine Combat Training School and Military Occupational Specialty School, where he would receive his training as an Aviation Supply Specialist.
Gomez first served in the reserves at Marine Aviation Logistics Squadron 49 (MALS-49). Then a Lance Corporal, Gomez was given the opportunity to enter the Active Reserve program and, in March of 2017, moved to Fort Worth, Texas to join Marine Aviation Logistics Squadron 41 (MALS-41). As a Lance Corporal, Gomez was quick to accept new challenges and maintained a "Semper Gumby" attitude while serving as a Program Management Unit representative, tasked with solving some of the most challenging Aeronautical Material supply issues for his customers.
In September of 2019, Gomez would join the Marine Aerial Refueler Squadron 234 (VMGR-234). Corporal Gomez was the Non-Commissioned Officer in Charge and was responsible for the success of the Material Control Division. Achieving the rank of Sergeant, Gomez deployed to Djibouti, Africa as an Aviation Supply Marine and was attached to Combined Joint Task Force Horn of Africa, as the Non-Commissioned Officer in Charge of Material Control for VMGR-234. He was directly responsible for maintaining a pack up worth in excess of one million dollars and provided crucial aeronautical material for multiple KC-130J aircraft. Sgt Gomez's resourcefulness as a logistician helped support an American evacuation in Yemen. In August of 2021, during Operation Allied Refugee, Sgt Gomez assisted the VMGR-234, enabling them to conduct 11 lifts, move over 226,720 pounds of cargo and rescue 838 Afghan refugees.
Sgt Gomez has spent time volunteering for Toys for Tots, visiting with special needs children, and serving local food banks where he helped assemble food boxes to aid needy families during the Covid-19 pandemic. Sgt Gomez now lives in Philadelphia, Pennsylvania and is attached to Marine Aircraft Group 49 Headquarters as site support. When he is not working, volunteering or in school, Sgt Diego Andres Gomez enjoys spending time with his family.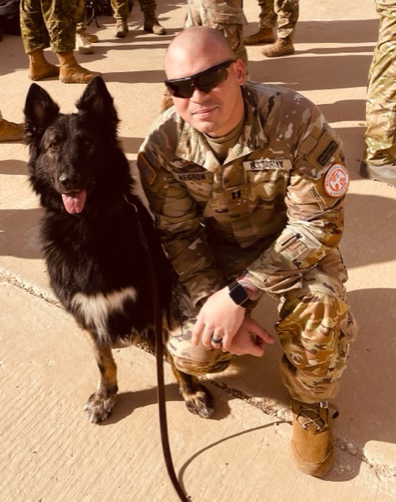 Captain Jeff Negron Troop Commander, Bravo Troop 1-104th Cavalry Regiment Pennsylvania Army National Guard
Captain Jeff Negron began his military career by signing his first contract as an SMP Cadet for the 1-104th Cavalry Regiment. Upon graduation from Temple University, he received a commission as a Second Lieutenant from Temple University's ROTC Program. From 2014 – 2018, CPT Negron served as a Platoon Leader for Bravo Troop of the 1-104th Cavalry Regiment.
Once his obligation as a Platoon Leader was complete, CPT Negron transitioned into an Executive Officer role for the Headquarters Unit of the 1-104th Cavalry until 2020. During that time, CPT Negron also served as part of Operation Iron Angel during the Papal Visit and World Meeting of Families in Philadelphia in 2015, security for the Democratic National Convention in 2016, and security for the 58th Presidential Inauguration in 2017.
CPT Negron's next assignment was a transition into a Staff Role where he worked both as an administrative officer as well as a plans officer, working directly with the operations section of the unit. As a plans officer, CPT Negron assisted in planning and facilitating of training while disseminating any pertinent information to the Troops within the unit. Throughout this period, CPT Negron served his unit while activated to state active duty. He also served as an Emergency Operations Center Officer in Charge during both Operation Protect PA and Operation COVID-19.
In 2021, the 1-104th Cavalry Regiment prepared to mobilize for a 9-month tour in the Sinai Peninsula of Egypt as part of the Multinational Force and Observers mission in the region. CPT Negron worked in the Northern Region of the Sinai as the Tactical Operations Officer in Charge and Assistant Operations Officer, where his responsibilities were facilitating training for his unit, base defense operations, and enforcing mission standards of observing, verifying, and reporting for units not only from the US, but from Australia, Fiji, and Colombia. CPT Negron also worked with the Emergency Services Civilians within the camp where he planned simulated operations testing emergency response times, casualty and vehicle recovery and responses to real world threats.
A graduate of numerous military schools and programs, CPT Negron has successfully completed the Army Reconnaissance Course, Maneuver Captains Career Course, and the Cavalry Leaders Course. Past awards and accommodations include the Pennsylvania Service Medal, MFO Service Medal, Overseas Service Ribbon, Army Service Ribbon, Armed Forces Reserve Medal with "M" Device, Armed Forces Service Medal, National Defense Medal, Army Reserve Components Achievement Medal, Army Achievement Medal, and Meritorious Service Medal.
Captain Jeff Negron currently serves as the Troop Commander for Bravo Troop 1-104th Cavalry Regiment with the Pennsylvania, National Guard.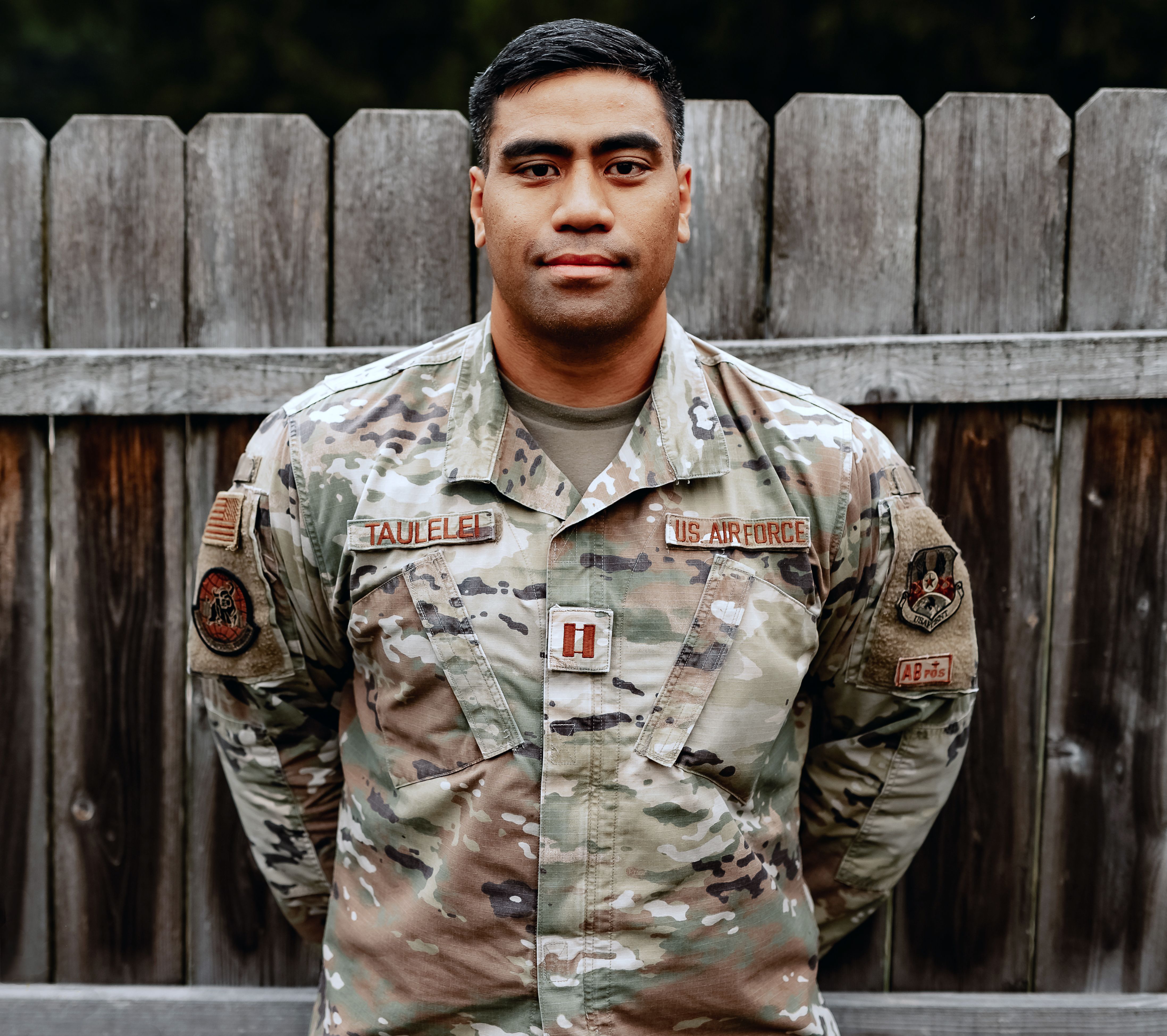 Captain Soosoo N. Taulelei Director of Personnel Services 111th Force Support Squadron Air National Guard
August 12
Eagles vs. Jets
Born in American Samoa and raised in Tacoma, Washington, Captain Soosoo Taulelei serves as the Director of Personnel Services for the 111th Force Support Squadron. He is currently assigned to the Pennsylvania Air National Guard's 111th Attack Wing based at Biddle Air National Guard Base in Horsham, Pennsylvania, formerly known as the Willow Grove Air Base. Capt. Taulelei is responsible for all Human Resource Management functions, Administrative Services, Fitness and Dining Facilities, and Morale, Welfare and Recreation for over 1000 Airmen, civilian contractors and sister service branches co-located on the base.
Capt. Taulelei received his commission in 2013 from the United States Army through Army Officer Candidate School in Fort Benning, Georgia after graduating from Rutgers University in New Brunswick, New Jersey with a Bachelor of Science degree in Human Resource Management with a focus on Labor Relations. He served seven years as an Adjutant General Officer and Company Commander in the Army National Guard before transferring to the Air National Guard in 2020.
In January of this year, Capt. Taulelei returned from a seven-month deployment to Ali Al Salem Air Base in Kuwait where he was assigned as the Services Flight Commander for the 386th Expeditionary Force Support Squadron. In that role, he was responsible for the welfare and morale of over 7,000 Airmen, civilian contractors and allied forces from nations all over the world, including personnel from Canada, Italy, England and Denmark to name a few.
Over his more than nine years of service in the National Guard, Soosoo has established himself as an exemplary administrator and leader. Captain Taulelei currently resides in Hatboro, Pennsylvania, where he lives with his wife, a native of Philadelphia, and their two children.