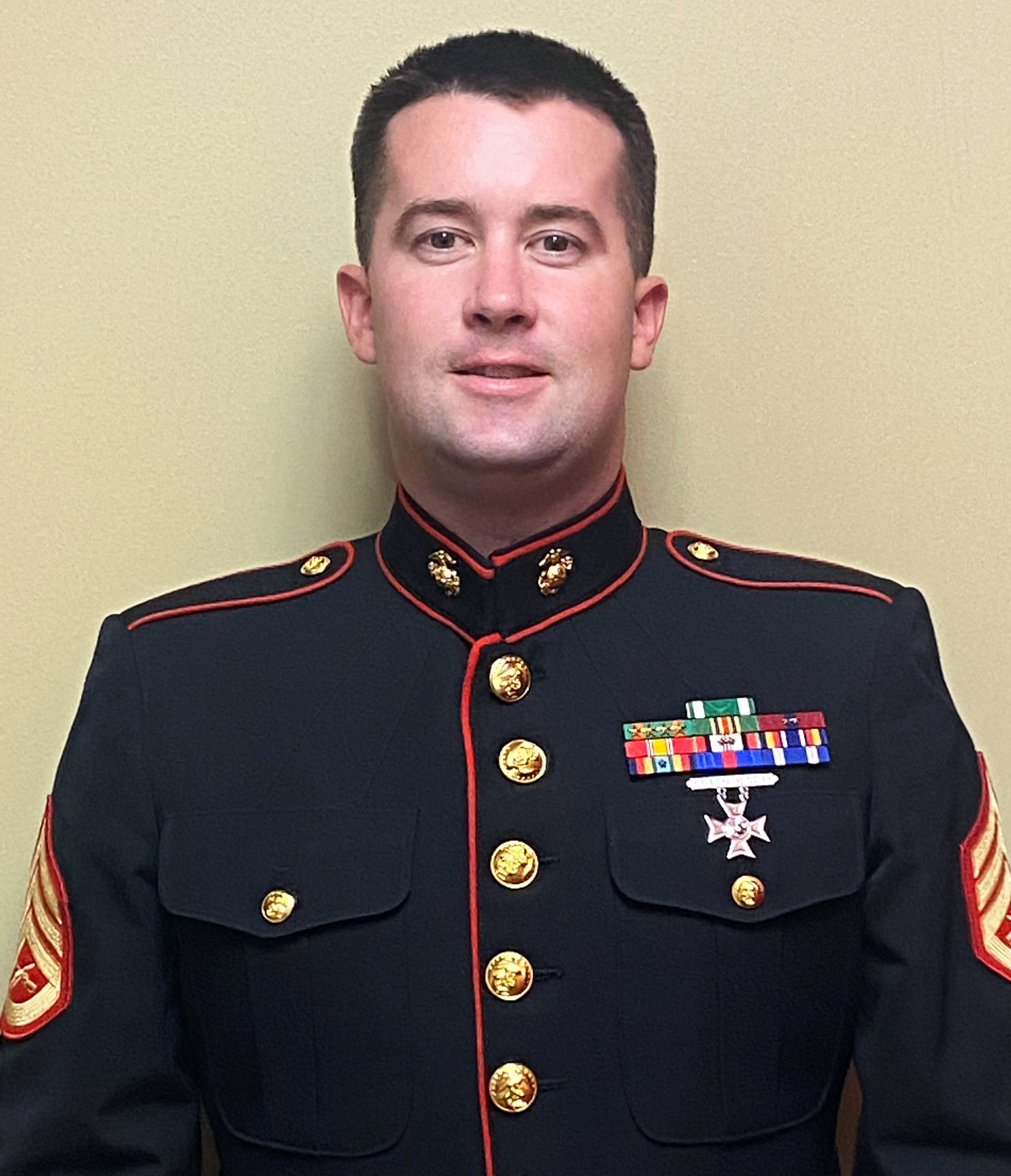 Gunnery Sergeant Cameron D. McNeill, USMC Station Commander, Recruiting Stations Harrisburg, Recruiting Sub Station Bucks County
October 14
Buccaneers vs. Eagles
Born and raised in Allentown, Pennsylvania, Gunnery Sergeant Cameron D. McNeill began his military career shortly after graduating from Parkland Highschool. McNeill enlisted into the Marine Corps and left for Parris Island in the summer of 2009, graduating boot camp later that year. From there, GySgt McNeill was stationed in Camp Lejeune, North Carolina with 2nd Medical Battalion. In 2010, he deployed for the first time as a part of Continuing Promise 10. During this deployment, McNeill spent time providing aid to countries in South America that had seen recent devastation by natural disasters. The following year, McNeill was deployed to Marjah, Afghanistan where he was assigned to the Shock Trauma Platoon with 3rd Battalion 9th Marines.
After finishing his second deployment, GySgt McNeill returned home in September of 2011. After a couple of years, McNeill was stationed in Quantico, Virginia where he worked as support staff at Officer Candidates School. In 2016, McNeill began a new chapter in his military career when he began working recruitment in Silver Spring, Maryland. The following year, McNeill was meritoriously promoted to the rank of Staff Sergeant and earlier this year, to the rank of Gunnery Sergeant.
Gunnery Sergeant Cameron McNeill currently serves as the Station Commander for Recruiting Sub Station Bucks County. As an avid Birds fan who grew up in the Lehigh Valley, Cameron has attended Eagles training camp since he was four years old.
Captain John Nachtman, US Air Force (Reserve) 78th Air Refueling Squadron, JBMDL
October 3
Chiefs vs. Eagles
Captain John Nachtman grew up in a military family, originally residing in Bucks County, Pennsylvania. After attending Holy Ghost Prep and graduating from college, where he served in the Army Reserve Officer Training program, John commissioned into the U.S. Army in 2012. Shortly thereafter, he attended Army Flight School where he earned his Aviator Wings as an OH-58D Kiowa Warrior helicopter pilot. Captain Nachtman's first assignment was as a Platoon Leader in 2-6 Cavalry Squadron at Wheeler Army Airfield, Hawaii and Camp Humphreys, South Korea.
After four years as an Army aviator, John joined the Air Force Reserve, serving with the 514th Air Mobility Wing, at Joint Base McGuire-Dix-Lakehurst, New Jersey. Captain Nachtman currently serves as an Aircraft Commander in the 78th Air Refueling Squadron where he flies the KC-10 Extender. 
John's team serves the critical function of refueling aircraft, often during combat missions, to allow them to continue their operations with minimal or no interruption. Flying around the world, including missions to Iraq and Afghanistan, John has achieved over two hundred combat hours while deployed in support of Operation Inherent Resolve as well as numerous other joint service missions. 
Captain Nachtman comes from a line of military service, being the son of a Desert Storm Veteran and Pilot, John Sr. and grandson of World War II veteran, Richard O'Donnell. A life-long Eagles fan, Captain John Nachtman currently resides in Philadelphia with his fiancé.
CW2 Andrew P. Swerdlow, PA Army National Guard Human Resource Officer Technician, 213th Regional Support Group, Allentown, PA
September 19
49ers vs. Eagles
Chief Warrant Officer Two (CW2) Andrew Swerdlow grew up in Northeast Philadelphia. In March of 2004, he enlisted into the Pennsylvania Army National Guard, first serving as the Multi-Channel System Operator/Maintainer for HHT, 1-104th Cavalry in Philadelphia. Since 2007, CW2 Swerdlow has been a full-time member of the Pennsylvania Army National Guard, later being elected as a member of the First Troop Philadelphia City Cavalry. Over the years, he has served in various roles and currently holds the position of Human Resource Officer Technician for the 213th Regional Support Group, Allentown, Pennsylvania.
Throughout his 17 years of service, CW2 Swerdlow has received multiple awards and recognition, including the Meritorious Service Medal, Army Commendation Medal (x3), Army Achievement Medal (x2), and Military Outstanding Volunteer Service Medal. He has deployed twice under Operation Enduring Freedom, to Egypt in 2008 and Kuwait in 2013, and has assisted in multiple domestic humanitarian missions, specifically being called upon for support during floods and server winter storms. This past year he oversaw the personal accountability for PA National Guard soldiers supporting state missions for Operation Protect PA, COVID-19 Support and missions in Washington D.C.
When not actively serving his country, Chief Warrant Officer Two Andrew Swerdlow enjoys spending time with his family and cheering on the Eagles while he works to complete a Bachelor's degree at The Pennsylvania State University.
Sergeant First Class Robert E. Whitman, US Army 55th Maneuver Enhancement Brigade, PA Army National Guard
August 19
Patriots vs. Eagles
Sergeant First Class Robert E. Whitman, a lifelong resident of Upper Bucks County, Pennsylvania, enlisted in the US Army on his seventeenth birthday. Whitman spent several years serving as a Rifleman with C Company (-) 1/111th Infantry, Doylestown, PA, attaining the Rank of Sergeant, until he was honorably discharged at the age of 23. After spending nearly a quarter century in the automotive industry, Whitman re-enlisted at the age of 44, first serving as a Transportation Logistician with HHC 228th Brigade Support Battalion, Sellersville, PA.
In 2012, Whitman deployed to Kuwait with D Company 1/109th Infantry. Upon his return, the 228th became the 55th Maneuver Enhancement Brigade (MEB). Whitman was selected to full-time work as a Supply Logistician for the Homeland Response Force in 2015, earning the rank of Staff Sergeant. SSG Whitman volunteered to deploy to Jordan with the 28th Infantry Division in 2018, providing logistical support in the standing up of the new Joint Training Center near Amman.
More recently, SSG Whitman volunteered to deploy to Iraq with A Co 2/104th General Support Aviation Battalion. He served as a door gunner, ultimately being promoted to Sergeant First Class. In May of 2021, SFC Whitman returned home where he resides with his girlfriend and her two children. When not serving his country, SFC Whitman enjoys family, motorcycles, marksmanship, authoring his personal military story and cheering on the Eagles.
Petty Officer Darrin Michael Jainlett II United States Navy Hull Maintenance Technician Second Class (HT2)
August 12
Steelers vs. Eagles
Petty Officer Darrin Michael Jainlett II joined the US Navy shortly after graduating High School in 2014. He deployed three times during his six years serving aboard the USS Kearsarge, once for Combat and twice for Humanitarian Relief missions responding to Hurricanes Harvey and Maria. HT2 Jainlett was one of the Leading Petty Officers in the ship's Damage Control/Repair Division, a team responsible for all of the structural repairs onboard the ship while at sea. Jainlett's responsibilities extended to his position as one of the ship's Fire Marshals and Damage Control On-Scene Leader where he was involved in combating over 45 fires, 27 toxic gas scenarios, 20 flooding and 76 medical emergencies.
Since leaving the Kearsarge, Jainlett has returned to the City of Brotherly love to give back to his hometown community. While finishing up a degree at the American Military University, HT2 Jainlett works as a Navy Talent Scout for the Navy Talent Acquisition Group of Philadelphia. He hopes to mentor the next generation of servicemembers by providing kids in the city with the same opportunities he once found. Raised in the West Oak Lane / Mt. Airy area of Philadelphia, Jainlett attended George Washington High School where he was a member of the Football and Basketball teams. Petty Officer Darrin Michael Jainlett II lives in the Philadelphia area with his fiancé, whom he met aboard the Kearsarge, and their baby daughter.