Philadelphia Eagles Hometown Heroes 2018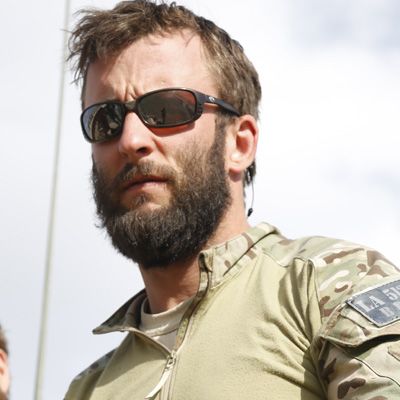 Chief Warrant Officer Two Robert Larsen
Eagles vs Texans
December 23
Chief Warrant Officer Two Robert Larsen currently serves as a "Green Beret" in the US Army as an Assistant Detachment Commander for a Special Forces Operational Detachment Alpha. CW2 Larsen has been in the 7th Special Forces Group (Airborne) for 12 years and has deployed 11 times to missions in the Middle East and Latin America. Robert was raised in Voorhees, NJ alongside his sisters Cindy and Carrie, and graduated from Eastern Regional High School. In his spare time, Robert enjoys scuba diving, fitness, and fostering shelter dogs to find them permanent families. With over 13 years in the Army, Robert plans on serving at least 20 until retiring. For his service, CW2 Larsen has been awarded such accomplishments as Three Bronze Stars, The Defense Meritorious Service Award, the Army Commendation Medal for Valor, and many more.
United States Army National Guard Keshina Bouie
Eagles vs Washington Football Team
December 3
Sergeant Keshina Bouie is a 16 year veteran of the Army. Her current responsibilities focus on her role as a Nuclear, Biological, Chemical Specialist and a platoon sergeant for a reconnaissance platoon in the 103rd Engineer Battalion. The 103rd Engineer BN currently conducts reconnaissance missions using NBC Strykers in the event of a mass casualty/chemical emergency. SGT Bouie in charge of the leading three NBC Strykers (with the role of truck commander) with three teams of four soldiers in each truck. SGT Bouie has deployed and supported operations; Operation Enduring Freedom (OEF), Balad, Iraq, and Operation Iraqi Freedom (OIF) Balad, Iraq.
Senior Chief Petty Officer Josh Lesoken
Eagles vs Giants
November 25
Senior Chief Petty Officer Josh Lesoken hails from Coatesville, Pennsylvania and enlisted in the Navy on 18 September 2001. Currently he is the Cryptology Leading Chief Petty Officer onboard USS GERALD R. FORD (CVN 78) homeported in Norfolk, Virginia. He is responsible for training and preparing the ships cryptologists to be the 'eyes and ears' of the ship for self-defense and national talking purposes. He has served on 3 ships and 2 shore stations and has deployed 7 times to the Mediterranean Sea, Black Sea, and the Arabian Gulf. In his spare time, he enjoys spending time with his wife and sons and volunteering with several local endeavors. Senior Chief Lesoken has 17 years of Naval service and counting.
United States Army National Guardsman Sergeant Mark Wildsmith
Eagles vs Dallas
November 11
United States Army National Guardsman Sergeant Mark Wildsmith was assigned to the 4th Infantry Division during his deployment to Afghanistan from 2010-2011 where he was assigned as a Machine Gunner. SGT Wildsmith deployed again in 2013-2014 to Afghanistan assigned as a Team Leader with the 1st Infantry Division. Now serving in the United States Army National Guard, Wildsmith has continued to live a life of service by becoming a Philadelphia Police Officer in the 24th District. SGT Wildsmith enjoys spending time with his family and friends when he is not serving his community.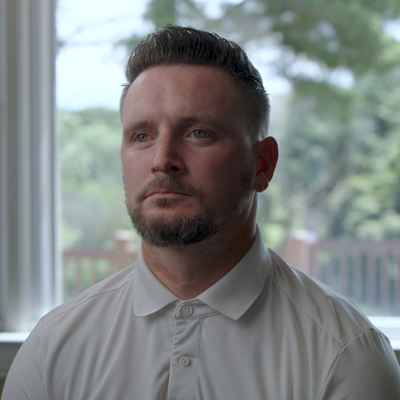 Army Corporal Kevin McCloskey
Eagles vs Panthers
October 21
Army Corporal Kevin McCloskey was born and raised in the Tacony Section of Philadelphia and joined the United States Army in 2006, a year after graduating from North Catholic High School in Philadelphia.
On June 8, 2008, Army Corporal Kevin McCloskey was driving in a convoy with the 506th Infantry Regiment (4th Brigade), 101st Airborne Division, in Logar Province, Afghanistan when his vehicle struck an improvised explosive device (IED). CPL McCloskey took the majority of the blast himself. The explosion resulted in the loss of both his legs, a pelvis broken in 7 places, lost vision loss in his right eye, he nearly lost his right hand and a suffered a traumatic brain injury (TBI). Once he returned to the States, CPL McCloskey underwent 30 surgeries at Brooke Army Medical Center. Kevin was an extremely competitive athlete in high school and fought mixed martial arts for the 101st Airborne. After his injury, he found a love for golf, a sport that has helped him physically and emotionally. Kevin enjoys is current role as an ambassador for injured veterans golf. He and his wife, Bridget, still reside in Philadelphia.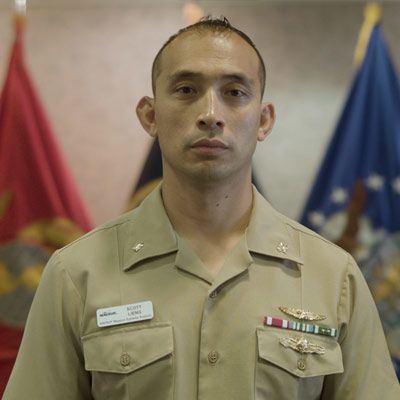 Lieutenant Commander Scott Lieng
Eagles vs Vikings
October 7
Lieutenant Commander Scott Lieng currently works at the Naval Supply Weapons Systems Support Command (NAVSUP WSS) in Philadelphia. At NAVSUP WSS, LCDR Lieng is the Director for the Integrated Weapons Support Team for the P-3 Orion and P-8 Poseidon aircrafts. LCDR Lieng works directly with squadrons in the Naval Fleet to ensure they are mission capable to support the war-fighters in harms way. In his spare time, LCDR Lieng volunteers as a fifth grade tutor at the Benjamin Franklin School of Philadelphia and does community service projects with his church. LCDR Lieng has 15 years of service and counting.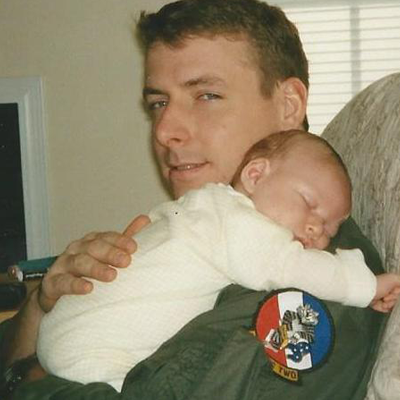 LT Richard Stephen Pugh
Eagles vs Colts
September 23
LT Richard Stephen Pugh graduated from Temecula Valley High School in 1989. He graduated with distinction from Marion Military Institute, in Marion, Alabama, earning an Associate of Arts in Mathematics. LT Pugh then received an appointment to the United States Naval Academy where he received a Bachelor of Science in Ocean Engineering and was commissioned as an Ensign in the United States Navy on 31 May 1995. He received orders to flight school and began in Pensacola, Florida in February 1996. He was designated a Naval Flight Officer earning the coveted Navy "Wings of Gold" on 29 August 1997. LT Pugh then transferred to Virginia Beach, VA where he became a member of the VF-101 Grim Reapers and completed training in the F-14 Tomcat before receiving orders to the VF-2 "Bounty Hunters" in October 1998. He earned an Air Medal for Meritorious Service in aerial flight in support of Operation Southern Watch from August to October of 1999.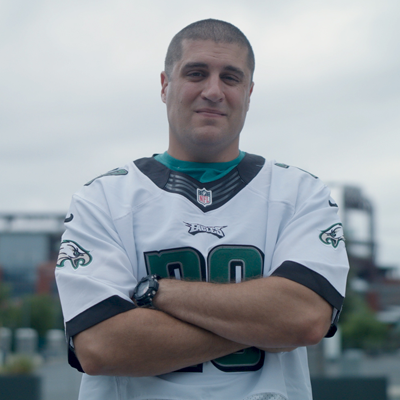 Major Jim Rude
Eagles vs Falcons
September 6
Major Jim Rude currently serves as the executive officer for the 3rd Battalion 80th Regiment in the U.S. Army Reserves out of Scranton Pennsylvania. The 3-80th provides instructor support for active duty Army units on various communications equipment. While on active duty in 2009 Major Rude deployed to Afghanistan as the Fire Support Officer for C Troop 3rd Squadron 71st Calvary of the 10th Mountain Division. While deployed Major Rude provided indirect fire and air support to C Troop as well as act as the Civil Affairs Officer which required him to meet with local village elders and start village improvement projects. As a Civilian Major Rude is employed as a Trooper in the Pennsylvania State Police. Major Rude has 11 years of service and counting.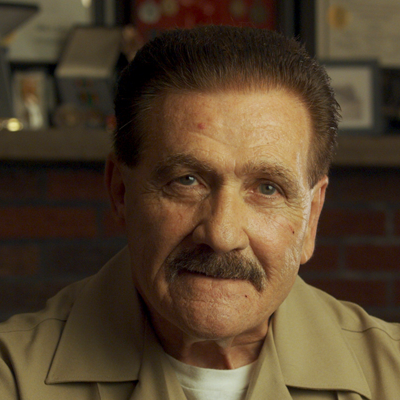 Veteran John Hunsinger
Eagles vs Jets
August 30
Veteran John Hunsinger joined the United States Marine Corp in 1966. Lance Corporal Hunsinger served as a squad leader from 1967 through 1968 in Vietnam. Last year Hunsinger belatedly earned the bronze star with Valor for his efforts where on Dec. 15, 1967, U.S. Marine Corps Lance Cpl. John Hunsinger advanced alone after his squad leader was wounded, rallied fellow Marines in B Company (Bravo) of the 1st Marine Battalion, 1st Marine Division to follow him and saved them and himself from certain death.
Sergeant First Class Ronald James
Eagles vs Steelers
August 9
Sergeant First Class Ronald James currently works on the "3rd Weapons of Mass Destruction - Civil Support Team" as the Medical NCO and Nuclear Medical Science Officer in the PA Army National Guard. SFC James deploys regularly to support the Presidential Secret Service, the FBI, State and Local authorities, and National Special Secret Events such as the Pope's Visit and Presidential Inaugurations. In his spare time, SFC James volunteers with local community and First Responders as an on-call paramedic. SFC James has 28 years of service and counting.