Nick Foles is the NFL's highest rated passer. Fletcher Cox has emerged as one of the best young defensive players in the league and may be coming off his best game as an Eagle. Brandon Boykin leads the Eagles with four interceptions and has established himself as one of the league's premier nickel cornerbacks. All of them, in addition to starting linebacker Mychal Kendricks, impressive pass rusher Vinny Curry and promising running back Bryce Brown, were selected by the Eagles in the 2012 NFL Draft.
It's early, yes, but it's already obvious that the Eagles have the makings of a franchise-changing draft class on their hands as their group of sophomore studs have helped transform the team's fortunes. To hear it from some of the key players involved, there were early signs that this group would have a chance to be special.
"Yes, I knew we were the chosen ones," Kendricks says with a smile. "I did. I did. I felt that every time we had a little rookie meeting, every time we got together and when I met the guys. I was like, 'This is a good group of guys,' like, character-wise. And that's the first step, knowing if the guys are good character guys and have a good head on their shoulders to create a good foundation for a lot of good work to be done."
Foles also noticed the group's collective approach early on.
"Just how we all were together, just in the weight room during rookie camp," Foles said. "Just throughout the year, we all bonded real well together. You could just tell by how the guys are as people, their work ethic, that they were going to give it their all every day and be good leaders down the road. So I did have a good sense of the rookie class."
But how do the contributions from the Eagles' 2012 draft class compare to the rest of the league? According to Football Outsiders' tracking of the league's snap counts, members of the Eagles' 2012 class have played 13.95 percent of the team's snaps this season, which ranks seventh in the league. On defense, where Cox, Kendricks, Curry and Boykin have excelled, that number stands at 20.79 percent, the third highest mark in the league.
2012 Draft Class Contributions
Team
Off. Playing Time
Def. Playing Time
Total Playing Time
PFF Grade
STL
14%
23%
18.5%
-5.6
CIN
19%
14%
16.6%
8.9
MIA
26%
7%
16.1%
5.5
SEA
20%
11%
15.5%
18.9
MIN
14%
14%
14.0%
-12.0
NYJ
7%
21%
13.9%
-15.9
PHI
6%
21%
13.9%
13.4
There is more to production, however, than simply snaps played. While Pro Football Focus may not provide a flawless analysis of level of play, their charting numbers can serve as a guide in this case. Collectively, the Eagles' 2012 draft class has combined for a 13.4 overall rating, led by Cox's 16.0 overall rating. That group rating ranks third in the league, behind only the Indianapolis Colts and Seattle Seahawks, who are buoyed by Andrew Luck and Russell Wilson, respectively.
So it's at least fair to say that the Eagles are in the early running for the league's best 2012 draft class. While the team itself may have faltered last year, the experience gained by that rookie class helped the group take a step forward this season. At least that's how they see it.
"You saw it last year when we all contributed," said Cox. "I'm not saying that we were one of the best teams last year, but, just going back and looking at it, we were all playing, we were all contributing, we all got thrown in the fire."
"We were all playing last year, as rookies, a lot of snaps," said Boykin. "So I kind of knew that coming back this second season we'd get even more and that we'd have to kind of step up in bigger roles. I guess it's kind of just happened like that."
Prior to the start of the season, the Wulf's Den predicted that the 2013 Eagles would challenge the franchise record for team rushing yards and every week we keep track of that race. Despite leading the NFL with 1,657 yards on the season, the Eagles are now behind the pace for the franchise record set by the 1949 Eagles. 
Franchise Record: 2,607 yards
2013 Eagles Pace: 2,410 yards
No Strings Attached Fear not, the Wulf's Den will deliver your Photoshop without help from the weekly survey question. In lieu of a prompt from what was an empty locker room this week, we give you the most important five-man unit on the team presenting the Eagles' Week 12 schedule …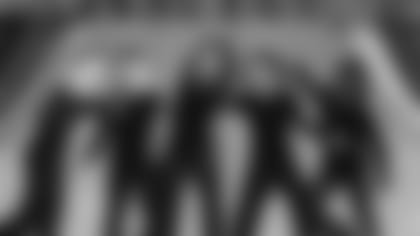 Each week, we'll sit down with a member of the Eagles to discuss something you may not know about him. This week, we go one-on-one with G.J. Kinne, the man charged with emulating opposing quarterbacks in his weekly role on the scout team ...
Bo Wulf: I want to talk about being the scout-team quarterback. Do you approach it like a method actor? Do you try to get inside their head?
G.J. Kinne: Um, a little bit. Like last week, I really tried to be RG III. I wore the glove for a couple days, stuff like that. I think it's a time for me also to show the coaches, because I don't get a lot of reps, just go out there and throw the ball around, run around a little bit, try to impress them as much as I can when I'm on the scout team.
BW: I like that you wore the glove. Did you do other RG III things? Did you have fans pay for stuff on your wedding registry?
GK: (Laughs). No, I didn't do anything like that. It was fun. Obviously, I take pride any time our defense comes out and plays well. I feel like I had a little something to do with it.
BW: OK, I want to go down the list of the scout team quarterbacks you've been this season. So your first week was Eli Manning. Were you making weird faces all week long?
GK: No, Eli was a tough one. Me and Eli are completely different quarterbacks. I just went out there and threw the ball wherever I could.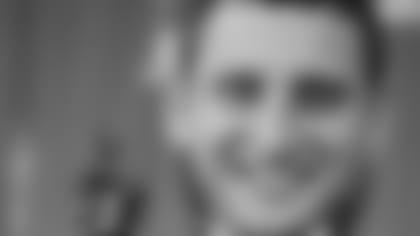 BW: You're like a chameleon, every week is a different style quarterback so you have to play different roles.
GK: Yeah, exactly. It was fun. Who was it the next week?
BW: The next week was Terrelle Pryor.
BW: Did you have people give you free tattoos?
GK: (Laughs) No, but it was fun. I got to run around and pretty much be – well I'm not going to say that.
BW: What were you going to say? Not a good passer?
GK: No, I wasn't going to say that. Just run around and throw the ball. He does a lot of scrambling, so that was fun.
BW: So that was a little bit more tiring week of practice?
GK: Oh man yeah, I don't know how much, because I did scout team defense too. So I was going scout team defense, scout team offense every play.
BW: What are you playing on defense?
BW: So next week was Seneca Wallace, which turned out to not be that important because he only played one series, but what was that week? Not throwing it past 15 yards?
GK: That was once again just being an athletic guy, throwing it around.
BW: So it was three straight weeks of athletic guys with Pryor, Seneca and Robert Griffin. Are you looking forward to this week just being able to be yourself for a week?
BW: Yeah, you get to be yourself, finally get out of your own head.
BW: You get to be G.J. again.
GK: I get to be the most athletic one of all of them.
BW: Nicely played. So next week is Carson Palmer, do you walk around with a cane?
GK: Matt (Barkley) might have to help give me some pointers for Palmer.
BW: Your back's going to start hurting. Alright, I'm going down the rest of the schedule.
BW: Matt Stafford. The best I can do is –
BW: I was going to say something about him dating the sister of former Eagle Chad Hall and you getting her number, but that's better. OK, the Vikings.
BW: You have to have three heads.
GK: Yeah, I'll have to have three heads.
BW: OK, two left. We've got Jay Cutler, so I think you go home and watch a lot of "The Hills."
GK: Watch "The Hills" and have a really good arm. He's got a cannon.
BW: And then Week 17 I think you wear a turtleneck all week because Tony gets a little tight around the collar sometimes.
GK: I don't know about that. I'll play a little golf, how about that?
BW: Play a little golf? OK, that's good, you've got a little more tact. Thanks, G.J.