You might have thought we were beyond the days of lamenting the run-pass balance, but one of the most common phrases of the recent Eagles lexicon reared its ugly head again this week after the Eagles ran the ball only 13 times in the loss to the Minnesota Vikings. Those runs were balanced out by 48 Nick Foles pass attempts, as the Eagles' five-game winning streak was snapped on the road.
Of course, the Eagles figure to get back to work on the ground Sunday night when they welcome in the Chicago Bears and the league's lowest-ranked run defense. The Bears rank dead last in the league with 152 rushing yards allowed per game and 5.2 yards allowed per rush. The Eagles, of course, rank first in the league in both categories offensively. So the expectation is certainly that the LeSean McCoy will get more than his fair of carries in primetime.
But how does the Eagles' run-pass ratio stack up to the rest of the league through 14 games? Right now, the Eagles are the fifth-heaviest rushing offense, as they run the ball 46.5 percent of the time. That would be the franchise's highest percentage of runs since 1995, when Ricky Watters led an offense that ran the ball just over 48 percent of the time.
2013's Most Run-Heavy Teams
Team
Run %
San Francisco 49ers
53.4%
Seattle Seahawks
52.6%
Carolina Panthers
48.6%
Buffalo Bills
47.4%
Philadelphia Eagles
46.5%
A closer look at the Eagles' tendencies by quarter reveals an interesting story. On the whole, the Eagles have leaned on the run most in the first quarter, when they rank second in the league with 115 rushing attempts. Those early runs have been very successful, as the Eagles lead the league with 5.7 yards per carry in the first quarter.
Then, as opposing defenses begin to adjust to the Eagles ground game, the offense switches gears. In the second quarter, the Eagles have only run the ball 38 percent of the time this season to the tune of just under four yards per carry, a mark that ranks 21st in the league. In fact, if you break up the Eagles offense into eight sections for run and pass per quarter, the second quarter running game is the only one that ranks below league average.
Eagles Offense By Quarter
Player
1st
2nd
3rd
4th
Total
PHI Rushes
115 (2)
98 (12)
98 (8)
119 (8t)
430 (5)
NFL Avg.
94
93
89
99
375
PHI Passes
105 (22)
158 (10t)
111 (22)
121 (27)
495 (25)
NFL Avg.
112
148
121
151
531
PHI Run %
52.3%
38.3%
46.9%
49.6%
46.5% (5)
NFL Avg.
45.6%
38.6%
42.5%
39.6%
41.4%
PHI Yds/Rush
5.73 (1)
3.95 (21)
4.63 (14)
5.18 (2)
4.98 (1)
NFL Avg.
4.34
4.24
4.44
3.66
4.16
PHI Yds/Pass
6.55 (10)
7.76 (3)
8.32 (2)
6.82 (10)
7.40 (3)
NFL Avg.
6.33
6.30
6.51
5.95
6.25
Includes sacks
But while the efficiency of the running game takes a step backwards, the Eagles have exploited teams through the air with 7.8 yards per pass play (including sacks), the league's third-best mark.
That trend continues in the third quarter, as the Eagles remain more productive through the air with 8.3 yards per pass play, second in the league.
The fourth quarter, though, is when the Eagles return to gouging defenses on the ground. The Eagles rank second in the league with 5.2 yards per fourth-quarter carry (no doubt buoyed by the breakout fourth quarter against the Lions in the snow). What is perhaps most interesting about the Eagles' offensive tendencies in the fourth quarter, though, is how much they run the ball relative to the rest of the league.
While the Eagles' run-heaviness varies from the league average, it follows the same pattern through the first three quarters. League-wide, the first quarter sees the highest percentage of runs, followed by a dip in the second quarter and an uptick in the third quarter. But the fourth quarter is where the Eagles' insistence on running the ball diverges from the norm. Across the league, teams run the ball just under 40 percent of the time in the final stanza, the second-lowest number of the four quarters. The Eagles, though, run the ball nearly 50 percent of the time in the fourth quarter, making it their second-most run-heavy quarter.
So keep an eye on the progression of the Eagles offense Sunday night against a run defense that can be exploited. If it's an encore, McCoy will provide the grand opening and the grand closing, while Foles and the passing attack take over in the middle.
Prior to the start of the season, the Wulf's Den predicted that the 2013 Eagles would challenge the franchise record for team rushing yards and every week we keep track of that race. After an uptick following LeSean McCoy's record-breaking performance in the snow, the Eagles dropped behind the pace again last week when McCoy only carried the ball eight times against the Vikings. Of course, leading the league in rushing is nothing to scoff at.
Franchise Record (1949): 2,607 yards
2013 Eagles Pace: 2,446 yards
Who Got The Lump Of Coal?
We've come upon the holiday season, and with it, a chance to reflect on the ghosts of presents past. Seeing as we were in a grinchy mood this week after the loss to the Vikings, the question posed in the locker room was not to identify the best gift you've ever received, but rather the worst.
Unfortunately, much of the Eagles locker room is far too grateful a bunch. Twenty of the 45 players surveyed said they've either never received a bad present or that they would prefer not to answer.
"There is no worst Christmas present," said safety Patrick Chung. "It's the thought that counts for me."
In the off chance that these thankful 20 were being less than honest in an attempt simply to get on Santa's Nice list, we'll identify them here: Chung, Todd Herremans, Riley Cooper, Travis Long, Evan Mathis, Trent Cole, Vinny Curry, Zach Ertz, B.J. Cunningham, Emmanuel Acho, Clifton Geathers, Nick Foles, Bryce Brown, LeSean McCoy, Cary Williams, Matthew Tucker, Connor Barwin, Michael Vick, Brandon Bair and Matt Barkley.
Of the brave few who did answer the question, there was one popular answer – socks.
"I know at some point in time I received socks," said offensive lineman Julian Vandervelde. "I couldn't tell you the exact specifics of it, but I know it happened, and that would be the worst."
Others had more vivid memories of holiday letdowns.
"When I was in second grade, my (family member) got me this stupid magnet toy with like these little beads and that's all it was," said wide receiver Will Murphy. "I thought there was a game that went along with it or something, but it was just a magnet. I didn't even know how to act, it was terrible ... I had to act like it was good and I did a terrible job of acting too."
"A broken Buzz Lightyear toy," said linebacker Najee Goode. "It didn't even say, 'Buzz Lightyear to the rescue,' it was just like, 'Buzz, Buzz, Buzz, Buzz, Buzz, Buzz.' Messed up, man. I was like 8."
In order to protect the innocent, several players requested the condition of anonymity.
"I have one but I don't want to say it," said one Eagle. "I had an uncle make me a piece of wood that had a bunch of clothespins on there, and it's to hang hats on. Freakin' awful. I remember I was a kid, 7 or 8 maybe. It was awful."
DeMeco Ryans, the captain of the defense, had two slights to sort through.
"A juicer," he said at first. "My auntie gave me a juicer, the little one you put the orange in. I was about 13 or 14. What am I going to do with a juicer? The other thing is I'm bald-headed, right? One of my cousins got me a do-rag. I'm like, 'Man, doesn't he know I've got nothing up here?'"
Like many teenagers, offensive lineman Michael Bamiro felt the unfair anxiety of puberty when gifted an electric razor at 14.
"I still don't get that much facial hair," he said.
Fearing ridicule at school was indeed a familiar theme.
"One Christmas I got two pairs of Sketchers sneakers that I didn't know were incredibly uncool," said center Jason Kelce. "Then I wore them to school and just got made fun of relentlessly. I think it was like sixth grade."
"I got sent a roller book bag one time, you remember those?" said safety Nate Allen. "And I was like, nope, definitely not using that … I was in middle school. The roller bags? I would have gotten made fun of way too badly."
Several players felt the sting of a disappointing gift recently.
"A football," said running back Chris Polk. "Christmas is all about family, being around family, and the last thing I want to think about is that. I can get a football any time I want. That was about two years ago in college. It was from, believe it or not, my grandmother. She thought I needed one, but I can just pick one up whenever I want. I kept it, though."
"Probably a little kid's Swiss Army Knife a few years back," said right tackle Lane Johnson. "I'm a grown man. I need a grown-man knife."
Surprisingly, despite the amount of time they spend together in the locker room, teammates can apparently make for the worst gifters.
"OK, two years ago we did a gift exchange (with our position group) and at the time I had just had a baby born who was two months old," said one player. "I got a Dave & Buster's gift card, and (my teammate) said, 'I got you this. I was really thinking you could take your son there and play video games with him.' I'm like, 'Perfect man.' But yeah, my son was two months old. Maybe in five, six years man."
"My worst gift was last year," said left tackle Jason Peters. "We exchanged gifts as an O-line, and I got a six-pack of Molson Light and a 'Don't Be A Menace To South Central While Drinking Your Juice In The Hood' DVD. It was a Christmas gift."
Peters' gift came from a secret Santa, but the Canadian-ness of the beverage choice certainly brings to mind a former Eagle.
"Probably so," Peters laughed, when asked if the gifter could have been a former first-round pick, "because it was a Canadian beer and a DVD. That's the worst I ever had."
Finally, only one Eagle suffered the gravest Christmas indignity of them all.
"Oh, a piece of coal," said linebacker Mychal Kendricks.  "I'd messed up the day before Christmas pretty bad. I'd done something my Mom told me not to do … I think I was throwing a baseball out in the front. She told me not to throw it towards the window. But there was this big wall and I wanted it to bounce back, and I'm like, 'I'm not going to hit the window. I got aim. I'm the best.' So, sure enough, I threw the ball and you know when you throw something and right when it leaves your hands, you're just like, 'That doesn't look right,' and you're hoping that it just slips right underneath? No, it stayed high, broke the window, she came out and was super mad, 'What's going on?' So I messed that one up.
"The next morning, I had no gifts. I had a stocking. I didn't even know I had no gifts, because you go to the stockings first. So I opened up my stocking and I had a piece of coal, and you know that's the thing that you get when you're on Santa's naughty list … But when she saw that I was affected and sad about the fact that I only got some coal, she brought the rest out."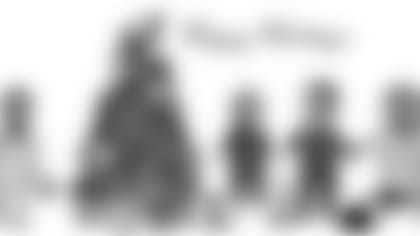 ](http://prod.static.eagles.clubs.nfl.com/assets/docs/1845x800_HappyHolidays.jpg)
Each week, we'll sit down with a member of the Eagles to discuss something beyond the playing field. This week, we talk with the practice squad defensive lineman raised by the enemy ...
Bo Wulf: So I imagine that you are the perfect guy to be on the scout team this week since the Eagles are preparing to face the team that raised you. 
Brandon Bair: The team that raised me?
Bair: That's pretty clever.
Wulf: Do you think you can give them a good scouting report?
Bair: I don't know how to respond to this, to be honest with you.
Wulf: Well, I was thinking that there's a good lesson in the Goldilocks and the Three Bears.
Wulf: Because the Bears have such a balanced offense. You can't just play the run, you can't just play the pass, you have to play it just right.
Bair: Juuust right. Just like the porridge, the chairs and the beds, huh? Just right.
Wulf: That's exactly right.
Bair: You put some time into this.
Bair: That's pretty impressive.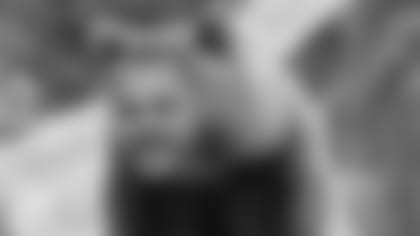 Wulf: Is there a Poppa Bear over on that side?
Bair: Is there a Poppa Bear? I'd say it doesn't matter whoever it is, we're coming out to win.
Wulf: OK. I was also wondering if you felt like, we hear a lot about the sports science and the sleep science. I wonder if you feel like you were well prepared to sleep well from your time hibernating.
Bair: From hibernating? I was going to say I tested all the beds to make sure I had the right one. But hibernating, yeah I was well prepared.
Wulf: At what age do you think you graduated from cub to Bair?
Bair: From cub to Bair? I'm probably still a cub at heart.
Wulf: Now you have kids right? So you are a Poppa Bair?
Bair: Oh yeah. I've been called Poppa Bair all through college.
Wulf: Do you have a favorite Bear?
Bair: You know, we thought about naming our kids something like Polar or Gummy or Teddy. Something funny. But they've all been girls so far, so I guess you could have gone Sugar Bair or something. Gummy Bair doesn't quite work.
Wulf: No mention of the Berenstain Bears? It sounds like a good idea, but they'd get teased pretty badly.
Bair: Once we have a boy. He can get teased, that's alright.
Wulf: Were there other Bair things growing up that people said to you?
Bair: Not really. It's just been my name. Nickname is Bair as it's spelled, the right way … Whenever my family would show up though, we would get (the Saturday Night Live accents), 'Da Bears.'
Wulf: So it does go back a little bit with Chicago? That's good. Well thank you very much.
Bair: You crack me up. Did you rehearse those?
Wulf: I mean, I knew some of the questions.
Bair: Well you were just rambling along, one after the other like it was planned.
Wulf: I always come prepared.