Shortly before the Eagles game against the Jacksonville Jaguars kicked off, injured wide receiver Jeremy Maclin appeared as a guest on 97.5 The Fanatic. Maclin was placed on the Injured Reserve list following an ACL tear earlier in Training Camp. He detailed his rehab and the direction that the Eagles are moving in without his presence in the lineup.
"It's going well," Maclin said. "I'm already walking without crutches and without a brace. The most important thing is to get healthy and to get healthy the right way. We're not trying to rush through anything. We're going to continue to go out there and do all the right things I need to do to get back where I want to be."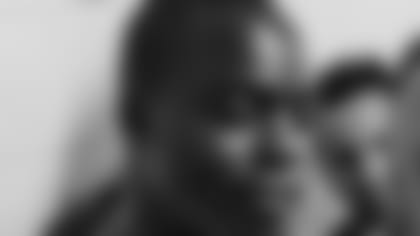 Having proven himself as one of the most consistent pass-catchers in the Eagles' arsenal, Maclin had high hopes playing in the new offensive system. Unfortunately, he won't have the chance to back up those words this season.
"They were going to use me in a lot of different ways," Maclin explained. "I was one of those guys that had the versatility to play outside, to play inside, to do some motion, to come out of the backfield - they had plenty of ways to put me in a lot of different spots and let me go out there and help the team be successful.
"I think it could have been a big year for us, and I still think it can be a big year for us, and I think it could have been a big year individually for me as well. It's unfortunate that, at least this year, I'm not going to be able to go out and do that."
With Maclin out of the lineup, Riley Cooper has been promoted to the starting receiver spot opposite DeSean Jackson. Maclin believes that all of the receivers, not just Cooper, will have to step up in the regular season.
"I think a couple of guys will do it, but they'll do it as a unit," Maclin said. "I think (Jason) Avant has always been a talent for us, and I think he'll have more opportunities. Obviously, Cooper is going in there and filling that role. I think Damaris Johnson is a guy that we'll use in a few different ways this year. Obviously, DeSean (Jackson) is going to go out there and use his play-making ability. I think they're going to do it as a unit.
"One thing about Chip that he's done throughout his time coaching at Oregon … he finds ways to use guys' strengths and make sure he's definitely an advantage for his team."
Missing an entire NFL season is obviously a frustrating experience, but Maclin is not just sitting around and waiting to get better. He is using this experience to motivate himself and come back better than ever.
"I think I can definitely come back, and I'll come back bigger faster and stronger than I was before," Maclin said. "That's my mindset and that's how much I'm going to work at this. That's my dedication, that's my motivation, that's everything, so I think I'll come back in better shape than I was beforehand and I think I'll ultimately be a better player because of that."