The Eagles have their final home preseason game tonight against the Miami Dolphins. Our live coverage begins at 6:30 p.m. with the Kickoff Show presented by Axalta which you can see on PhiladelphiaEagles.com or the Eagles Mobile App. We'll have footage of the pregame festivities, one-on-one interviews with offensive coordinator Frank Reich and tackle Lane Johnson, as well as Merrill Reese and Mike Quick providing their players to watch. The game is set for 7 p.m. Here's what else you need to know for Thursday, August 24.
1. Watch Tonight's Game On NFL Network
You can watch the Eagles Network Broadcast with Scott Graham and Mike Mayock in the booth and Dave Spadaro on the sidelines on NFL Network, NBC10, or any of the TV stations listed here.
If you want to hear Merrill and Mike, they will be on SportsRadio 94WIP as well as the desktop version of PhiladelphiaEagles.com.
Once the game is over, we have the Postgame Show presented by Ricoh featuring former Eagles linebacker Ike Reese, highlights, analysis, and live press conferences from the Linc here on PhiladelphiaEagles.com and the Eagles Mobile App.
2. Where Does Carson Wentz Rank Among NFL Quarterbacks?
In yesterday's Wake-Up Call, former NFL head coach Mike Martz used future Hall of Fame quarterback Peyton Manning as a reference point when discussing Carson Wentz. On Wednesday, ESPN's Mike Sando released his annual NFL QB Tier poll which not only ranks the league's quarterbacks but also put them in one of four different tiers.
Wentz was ranked 21st by the panel of 50 judges who are either team executives, coaches, or scouts. Wentz was one of 12 quarterbacks in Tier 3, which, according to Sando, are signal-callers who are legitimate starters but need a run game or defense to win. I can see Eagles fans gripe about Wentz's position, but the quotes about him were the best part of the piece.
"I think (Jameis Winston) and (Marcus) Mariota both have high ceilings. If I were taking one of the three, I would take Carson Wentz, and then I would have a hard time choosing between Mariota and Winston," one general manager said.
One former general manager argued why he would also take Wentz over Dak Prescott of Dallas.
"I think he is capable of carrying a team more consistently than Dak is because the pocket is for him," the former general manager said. "The pocket isn't for all these guys, and I like Dak Prescott. You have to respect what he did."
3. Adam Schefter Picks The Eagles To Win The NFC East
Sando's colleague at ESPN, Adam Schefter, also offered high praise for the Eagles on Wednesday. In an interview with 97.5 The Fanatic, he said that he thinks the Eagles will win the NFC East. In a ballot given out to all NFL writers for the outlet, he put the Eagles down as his division pick.
"I'm going to pick them because of the ascending quarterback, because they get back Lane Johnson, and the offensive line is so good."
Schefter acknowledges that each of the four teams has a legitimate chance.
4. Sidney Jones Meets The Family Who Announced His Pick
U.S. Army 1st Lt. Demetrius Frison, a Philadelphia native and die-hard Eagles fan, made the ultimate sacrifice while serving his country in Afghanistan in 2011. The Eagles honored him by having his wife, Mikki, and son, Chris, announce their second-round pick in this year's draft which happened to be cornerback Sidney Jones. At Tuesday's joint practice, Jones got to meet Mikki and Chris.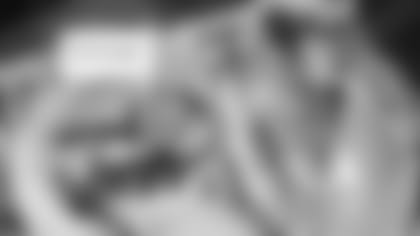 5. The Linc Has The No. 1 Craziest Food Option
I don't think there's anything skinny about the Slim Chicken sandwich that was named by USA Today as the No. 1 craziest NFL stadium food for 2017. It's a Frosted Flakes-crusted chicken breast topped with Cooper Sharp cheddar cheese and ghost chili honey-glazed bacon on a sliced apple fritter. Try one (or two) tonight.
6. Will Odell Beckham Jr. Make His Debut Vs. Eagles?
ESPN's Dan Graziano and Jordan Raanan reported Wednesday that Giants wide receiver Odell Beckham Jr. could miss the season opener September 10 against Dallas with the ankle injury that he incurred Monday night in the preseason game against Cleveland. A source for the story said that it's "not out of the question he could miss a week or two of the regular season." A week or two? The Eagles host the Giants in Week 3 of the season on September 24. That would be some added drama for the Eagles' home opener. I can't help but wonder if the injury will have the same effect that it had on Jordan Matthews last year. The former Eagle suffered an ankle injury in the Green Bay game. He missed two of the final five contests. In two of the other games, he had eight catches for a grand total of 39 yards. Matthews was not the same player the rest of the way.