In the second installment of our Veteran Diary, safety Earl Wolff explains why Military Appreciation Day has a special place in his heart ...
Training Camp has been going well for me overall. Coming off an injury, it's been awhile since I felt pretty good. I'm feeling better every day, both mentally and physically. I'm getting back into the motion. I'm still kind of hobbling on my weak knee, but I think overall I'm playing pretty well and progressing. That's all you can really ask for, especially since the past two years I've been battling with this knee. At the end of the day, I thank God for allowing me to come out here and compete. I'm going to give Him all the glory.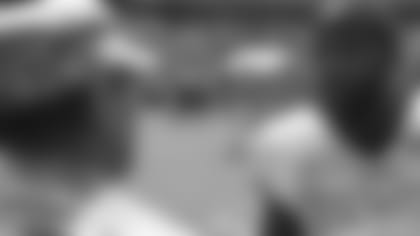 Sunday's Open Practice was a memorable one for me. First, the atmosphere was awesome. Having that many people there to watch us just shows you how real our fans are. They were so loud and listening to them was unreal. They're die-hard fans, the real deal. This city is the best. I love it!
Today being Military Appreciation Day too made it even more special. My mom, Sharon, is a member of the National Guard. She instilled that discipline factor in me. I still say "Yes, ma'am" and "No, ma'am." She really taught me how to be the person I am today and raised me very well. If it wasn't for her, I wouldn't be here today. I love my mom to death.
Unfortunately, I also lost a real close friend, more like a brother to me, who was in the military named Spc. Montrel Mcarn. It happened when I was in high school. He was overseas fighting in Iraq in 2007 when he was killed. Every time I think about it, it still gets me choked up. Now when I hear the National Anthem, I think of him and I think of my mom. I think of all that. This day really had a more personal meaning for me because of both of them.
The jerseys we got to wear were really awesome. I wish I could have given mine to my mom, but I'm still happy to give it to a troop. I'm glad we got to do that instead of just taking them back and doing who knows what with them. It definitely made my day to be able to do that. I really thank all of our military for everything they do. They go out there and put their lives on the line to protect us and our country. I don't think some people understand how much they really do for us. !