The Eagles acquired a player to compete at the safety position for the third time this offseason with the fifth-round selection of North Carolina State's Earl Wolff. Chosen with the 136th overall pick, Wolff is the second defensive player taken by the Eagles during the 2013 NFL Draft. Wolff earned playing time as a starter as early as his redshirt freshman season at NC State and played extensively for all four seasons, including a first-team All-ACC senior season during which Wolff recorded 119 tackles and two interceptions.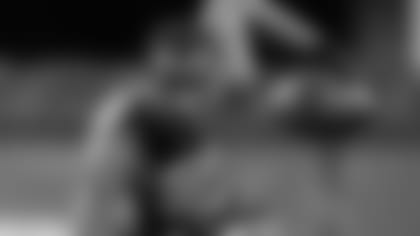 At 5-11, 209, Wolff is an impressive athlete at the safety position. During the NFL Scouting Combine, he recorded a 4.44-second 40-yard dash, the second best time among any safeties. He also tied for the best mark among all safeties in the broad jump.
With the Eagles, Wolff joins a revamped group of safeties. In addition to holdovers Nate Allen, Kurt Coleman and Colt Anderson, free-agent additions Patrick Chung and Kenny Phillips complete the six-man crop of safeties. Wolff said that during his senior season, he spent more time as an in-the-box safety because of the team's inexperience linebackers, but he believes he's capable of doing everything at the position.
"I feel like I'm pretty versatile," Wolff said on a conference call. "I can play deep middle, I can play deep pass, I can play in the box.
Luckily, versatility is something Chip Kelly has coveted since he took over as the team's head coach.
"There has to be some versatility, especially for quarterbacks," Kelly said. "If they all know which safety is going to be down, then it's real easy to see where the protection side's going to come from because it's always that guy, whether he lines up high or doesn't line up high. I think when you have the ability to play both, be a centerfield player but also play down in the box, that helps and we think Earl can do that.
"Ideally, you'd like to have a right safety and a left safety operation, so that people don't always know where it's coming from. Just like I said earlier, if there's always somebody that's at one safety, it's a little bit easier to diagnose what quarterbacks are coming up to the line of scrimmage, it's easier to know that that guy is going to be downfield at some point in time. In the ideal world, you'd like to have two guys that can do both and can play in the middle of the field and come down in the box. But, you're not also going to force that. If you don't, then you need to scheme it out schematically to make sure that you do. We're ways away from making those decisions in terms of what we have from that standpoint."
Wolff is also familiar with the Eagles, and specifically with Philadelphia. His mother, a member of the National Guard, is a native of Northeast Philadelphia and his grandmother still lives in the area. In fact, Wolff had Philadelphia representation alongside him when he got the call from the Eagles.
"I have about 20 family members down here from North Philly right now with me," Wolff said. "Once I got the phone call, they jumped on me. It's just exciting. Actually that's where my mom is from. She was born and raised in North Philly. Basically I'm coming back home."