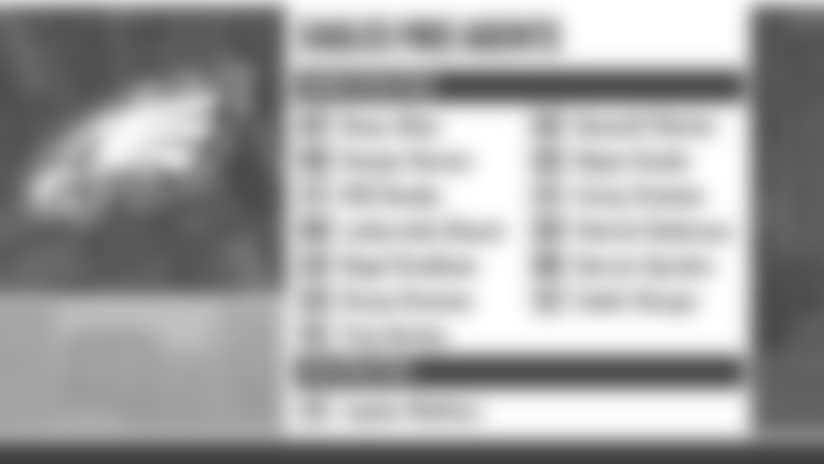 Free agency officially doesn't begin until 4 p.m. on Wednesday, but teams are now able to enter negotiations with the agents for players scheduled to become unrestricted free agents. Players can still re-sign with their original team ahead of the start of free agency.
Here is a look at the players on the Eagles' roster whose contracts are about to expire.
DT Beau Allen - A reliable rotational player who has missed just one game since being selected in the seventh round out of Wisconsin in 2014. Reportedly will sign with Tampa Bay.
RB Kenjon Barner - Midseason addition who filled in as the primary return specialist after Darren Sproles was lost for the season. Named Special Teams Player of the Week in the NFC following the win over Arizona thanks to a 76-yard punt return.
T Will Beatty - Another midseason addition who provided insurance at tackle. Has 63 career starts under his belt.
RB LeGarrette Blount - Won his third Super Bowl after leading the Eagles with 90 rushing yards and scoring a touchdown in the championship victory over his former team, the New England Patriots. Paced the Eagles with 766 yards on the ground last season. Agreed to terms with the Lions on Friday night.
LB Bryan Braman - Returned late in the year to provide a boost on special teams.
TE Trey Burton - Will forever be known for his role in the iconic Philly Special play as he threw the touchdown to Nick Foles. Former rookie free agent had a career-high five touchdown receptions in 2017. Agreed to terms with the Bears.
LB Dannell Ellerbe - Another veteran insurance policy added in the latter half of the season, Ellerbe played key roles in the home-field-clinching win over Oakland and the Divisional Round victory over Atlanta.
LB Najee Goode - Provided quality depth on defense and special teams in his five seasons with the team. Finished tied for second with 10 special teams tackles in 2017. Started three games at linebacker.
S Corey Graham - Signed in Training Camp, Graham was a veteran presence as the third safety behind Malcolm Jenkins and Rodney McLeod. Tied for second with 10 special teams tackles. Broke up Eli Manning's fourth-down pass in end zone to seal the win at Giants. Intercepted Case Keenum in the NFC Championship Game.
CB Patrick Robinson - Former first-round pick found a home as a slot corner in 2017 with Eagles. Pick-six in NFC Championship Game turned the tide. Final player to touch and get the ball to the ground on the Patriots' Hail Mary attempt at end of Super Bowl. Returning to where he was drafted in New Orleans.
RB Darren Sproles - Deserves to be in the Pro Football Hall of Fame. Leads all active players and ranks eighth in NFL history in all-purpose yards. Earned Pro Bowl honors three times, all with the Eagles. A role model for the players in the locker room. Dynamic returner and running back on the field. One of the toughest Eagles, period.
K Caleb Sturgis - Set the franchise record for most field goals in a season with 35 in 2016. At one point, he connected on 18 straight attempts that year. Suffered a hip injury that sidelined him for almost all of 2017. Signed with the Chargers on Friday.
S Jaylen Watkins - The only restricted free agent of the group, Watkins is a former fourth-round pick of the Eagles who had his best campaign in 2016 when he set career highs in tackles (51), passes defensed (6), and special teams tackles (4).