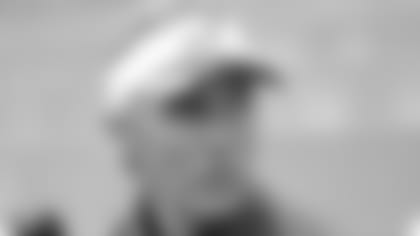 Cory Undlin is thrilled to be with the Eagles as defensive backs coach, presiding over a group that saw more change than any other position this offseason. But Undlin is also not one to sugarcoat things, like, for instance, why he chose to join Chip Kelly's staff.
"I was fired, didn't have a job," Undlin said. "We got fired and then the next day I got a phone call from (Eagles defensive coordinator Bill Davis), he said, 'Hey, man, I would love for you to come out.' I said, 'I'd love to come out there,' and came out two days later, met with Chip and Billy for, I don't know, six hours in the building here, was fortunate enough to be offered a contract and signed it on the spot … I was looking for an opportunity to coach somewhere and keep doing what I love to do and do it with passion and fortunately for me they offered me the job and there was no hesitation. There was no questioning it. I took it on the spot and flew back and packed my bags."
Undlin, who spent the previous two seasons as defensive backs coach for the Denver Broncos, likely would have had other opportunities. But with Kelly and the Eagles, he found an opportunity to grow as a coach.
"The biggest challenge for me was getting comfortable in this organization with the way that we do things," he said, "there are 32 teams in this league and there are 31 teams doing it the same way and one team doing it a different way. So that, for me, was the biggest challenge. The coaching part is we're coaching ball. I don't care where you are if you're there for 20 years or one or whatever."
As for the challenge ahead, Undlin's task is to overhaul a group that allowed a league-worst 72 passing plays over 20 yards and a league-worst 18 passing plays over 40 yards. But his focus is not on the past, but rather the season ahead.
"I'm a big believer in 'You are and you focus on where your feet are.' My feet are right here right now for 2015 and I'm coaching them like I've never seen them before," he said. "I don't care what happened in 2014. I'm concerned about 2015. I would say this. I can't speak for the players, but being in that room with 16 guys in that room, from the guys that have been here to the draft picks to the free agents, the undrafted picks like Denzel Rice, I feel like every single day that we come into the building, we are getting better somehow, some way. We are not there yet, but I feel like they are progressing. We've got a long way to go, so we're going to keep grinding every single day in here and hopefully by the time we kick it off in the opener, we're ready to play."
Undlin of course is not the only new guy in the defensive backs room. The Eagles acquired three new defensive backs in free agency, three through the draft and another in undrafted free agency. They, and the returning veterans, will be asked to play a lot of press-man.
"We play press," Undlin said. "We don't always play press, we play off, we play quarters, all that other stuff. But we're looking for non-imposters is what we're looking for, meaning guys who line up in press and then the ball gets snapped and then they … open the gate and then they just let the guy run down the field. We don't want that. So my job is to get them to believe in themselves and believe in the technique so when they get lined up on any guy – I don't care what guy it is, the starter or their fourth wideout – that they're going to play with the technique that we demand out of them."
One of the new veterans is Walter Thurmond, who is transitioning from cornerback to safety.
"We approached Walter early on in the offseason and said, 'Walt, we'd like to take a look to see if you can play back there,' and he, without hesitation, said, 'I would love to do that.' So we put him back there," Undlin said. "So he's getting the first crack at it and we'll see how it goes. The kid's got unbelievable instincts, great awareness, he's a great athlete, he's got great movement skills. Any time – I think sometimes there's a generalization that corners can just go back and play safety. It's not that easy. Things happen back there, there's a lot more communication that you have to do, your world gets shrunk, you could be in the deep part of the field, you could be down. Now you're dealing with four wide receivers as opposed to playing corner and dealing with one. He's embraced that and we'll see how it goes.
"The biggest challenge for Walter will be just the communication and learning the defense for right now, which he's battling. There's no question the kid can play the position. He's a good player. He's athletic, he's smart, he's tough, he's got great awareness. But now you have to be in that position. Just like any time you take any new job, you need reps at it. You have to be in a situation to be able to go through every possible thing that can happen and every coverage. That takes time."
Undlin already knows that his group will be perhaps the most closely followed position on the team throughout the preseason as the team looks to identify not only starters at cornerback and safety, but the depth beyond the first team.
"We're going to have some tough decisions to make," Undlin said. "We're going to have some tough decisions to make in the entire room. I like all of them right now. Unfortunately this is a numbers game and you can't keep them all. We'll see how that plays out."