The first Alabama player chosen by the Eagles since DeVonta Smith and Landon Dickerson two years ago, Philadelphia selected 6-foot-6, 321-pound offensive lineman Tyler Steen in the third round, No. 65 overall, of the 2023 NFL Draft.
"It's iron sharpens iron at the end of the day. At Alabama, we had great players on the defensive line and the defense in general. Getting the chance to go against them each day made me that much better of a player, so I can't wait to go down there (to Philadelphia) and practice every day against those guys and get the opportunity to become that much better of a player there," Steen said.
Here are some things to know about the Miami native before he makes his way north.
1. Steen spent four seasons at Vanderbilt before becoming a redshirt senior at Alabama in 2022. He became an instant cornerstone at left tackle, starting every game, and recorded 25 knockdown blocks.
2. Named second-team All-SEC, Steen was selected as an Offensive Player of the Week by Alabama's coaching staff three times.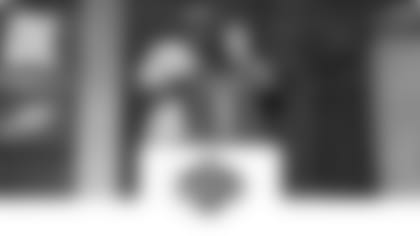 Eagles Draft Sweepstakes
Enter to win an autographed item from our 2023 NFL First Round Pick.
3. After starting at right tackle for Vanderbilt as a sophomore, Steen moved to left tackle for his junior and senior seasons. Showing durability, he started 46 consecutive games during those three seasons at Vanderbilt, plus the one he played at Alabama.
4. At St. Thomas Aquinas in Ft. Lauderdale, Florida, the same high school that produced the Bosa brothers – Chargers defensive end Joey and 49ers defensive end Nick – as well as former Cowboys wide receiver Michael Irvin, Steen had a three-star rating as an offensive lineman by ESPN.com and also a three-star rating as a weakside defensive end by Rivals.com.
5. Steen's brother, Blake, is a sophomore guard at the University of Virginia. Their father, Daris, played football at LSU and is a retired Marine. And their late grandfather, Rodney M. Davis, was a Vietnam veteran who posthumously received the Medal of Honor for jumping on a grenade to save his compatriots.
"We're excited about Tyler. He's an offensive lineman who presents a lot of versatility. He played at Alabama after starting his college career at Vanderbilt and he's new to the position. He played defensive line in high school and then he went to Vanderbilt and played there and then bet on himself and in this new portal era, transferred to Alabama and earned a starting left tackle job and played at a high level.
"We get excited about building our team through the offensive and defensive line. They're the first guys off the bus. He's going to add competition to the room – we've got some Bama boys in that room – and he's going to play a lot of positions and get into that mix. We're going to put the best players on the field and he's going to have an opportunity to compete and that's going to be awesome. This kid was raised well; he's a military kid – his dad is a Marine – and he's not afraid of competition. We know what we're getting. Alabama kids are competition-ready because they're fighting every day at practice. He played violent, he played athletic. He's got good movement, he's got good feet – all of the traits that we look for – and then Coach (Jeff) Stoutland works his magic and makes them into Philadelphia Eagles and that's what we're excited about." – Brandon Hunt, Eagles director of college scouting
Get your first look at the newest Eagles as well as exclusive photos from the NovaCare Complex all weekend long.