Nearly six months ago, Shawn Andrews was in a North Carolina hospital suffering through a restless night of sleep.
It wasn't because of an injury or anything remotely related to football. But that didn't make him any less anxious about the purpose of his visit.
Andrews was there to welcome a new addition to his family.
Besides Andrews, kicker David Akers and his family recently added a son, Sawyer Jett, to the stable in April, tight end Matt Schobel and his wife recently had their third child, fullback Tony Hunt had a son and rookie linebacker Joe Mays and his wife gave birth to their second child, a son named Jai, just after the Eagles' Opening Day win over the Rams.
Also, defensive tackle Dan Klecko and his wife gave birth to their son Nathan the day before the Eagles' win over the Steelers and running back Correll Buckhalter and his wife had their first child, Correll Jr., three days before the Eagles played Dallas.
Needless to say, the Eagles' nest has been growing at an exponential rate the last few months.
"We checked in about five in the morning, so I was lying there asleep," Andrews said. "I was anxious, but I was tired too. So the doctor came in an induced her and it wasn't until about six or seven hours later that she actually (gave birth). It was beautiful."
Andrews said he remembered listening to a friend of his tell the story of the birth of his child and how it was so beautiful, it made Andrews' friend cry. So when Andrews' son Ja Shawn was born, The Big Kid expected himself to be blabbering all over the place.
"I tried to make myself cry, like a buddy of mine said he was crying, boo-hooing when his son was born," Andrews said. "I tried to make myself cry but it didn't hit me right then. You know everybody is a little different. I was amazed. I mean, it's an amazing thing."
Like many of the new fathers on the team, Andrews won't forget the first time he held his newborn.
"I was actually afraid because I'm such a big guy and he was so little," Andrews said. "Before they cleaned him up, I was just like 'Wow. This is little-me.' This is a new responsibility for me now, but it's not about me as much anymore. Really, it's not about me, period. It's about little Ja Shawn. It's a life-changing experience."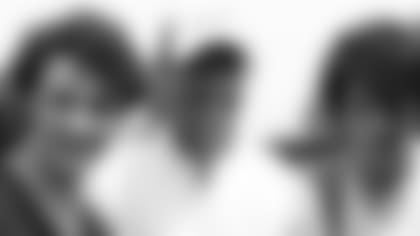 Akers and his two oldest kids, Luke and Halley, hang out with the Jonas Brothers
For guys like Klecko and Buckhalter, it's a brand-new experience. Buckhalter said he found it hard to concentrate at practice the day after his son was born.
"My thoughts just kept going back to him," Buckhalter said.
Against Pittsburgh, Buckhalter had 16 touches for 77 total yards and one leaping touchdown.
Before his wife gave birth, Klecko said he wasn't sure if the timing of the delivery would interfere with his football responsibilities. But it apparently didn't bother him too much, as Klecko notched two tackles and a half-sack in limited duty against the Steelers.
"It was a lot fun," Klecko said, referring to his memorable weekend. "My wife and I went in (Saturday), he came at a good time so I got a little rest last night. (I) got to wake up and come to the stadium. It was fun."
Hunt, whose wife gave birth to their son Tony Jr. around the time Buckhalter had his son, said he's passing some advice on to some of the new dads in the locker room.
"I kind of tell Buck some things to look out for, just like some cool things that are going to happen," Hunt said. "When they do everything for the first time, things like sitting up on their own, crawling, standing up, when they get that first tooth, everything.
"I would say enjoy every minute of it and spend as much time (as you can). They grow up so quick. It feels like I just had my son, now he's eight-months-old, has teeth and is crawling. Then the season is here, time is going to go by (and) the next thing you know he'll be one, one-and-a-half. Just enjoy the time and enjoy them being little while you can."
That's something the Mays family has taken to heart. Mays' newborn son Jai joins his older sister, Joi, who both got their names by combining the parents' names.
"Well, with Joi, we kind of took a little bit from each of our names because (the mother's) name is LaToya but I call her 'Toi' and my name is Joe," Mays said. "So Joe and Toi, Joi. We just did that with her name. We just spelled it a little different. We figured we'd do that with his name, too."
Schobel, a veteran of child rearing, had similar advice as Hunt's. The only difference was the exasperation in his voice when talking about the trials and tribulations of growing up.
"Each one is its own special deal, so it was fun," Schobel said. "My advice is to take your time getting to three. Three's a heckuva a lot harder than two and two is a heckuva lot harder than one. That's about it."
Quarterback Donovan McNabb has also walked down the same road that some of his teammates have recently. McNabb's four-year-old daughter Alexis celebrates her birthday on Sept. 23.
"It's a happy and exciting thing for you," McNabb said. "It feels like it gives you that extra energy that you need when you're out there on the field. Knowing that that no mater what happens on the field, you'll always come home to a smiling face. I'm excited when guys have newborns. I'm excited for them. It's a great experience."
For Andrews, it was an experience that grows each and every day.
"I would say my fatherhood didn't hit me until about three months into it," Andrews said. "When it hit me, it was ... that was probably the best feeling I ever had. Just a proud father, seeing him grow now where he's showing his personality and he's just starting to say 'Da-da.' I mean, there's nothing like it. That is beyond priceless."