Trent Cole has been very successful in the National Football League.
The former fifth-round draft pick has accumulated more sacks than only two players who have ever suited up for the Philadelphia Eagles. He has earned multiple Pro Bowl honors and been rewarded with two contract extensions by the team.
As the 6-3, 270-pound Cole enters his ninth NFL season, he is not resting on his laurels. Far from it. Cole has been asked by the new coaching staff to add outside linebacker duties to his repertoire this season. Cole has been utilized as a stand-up rusher in the past, but will be doing it on a much more frequent basis in 2013. He has not shied away from embracing change.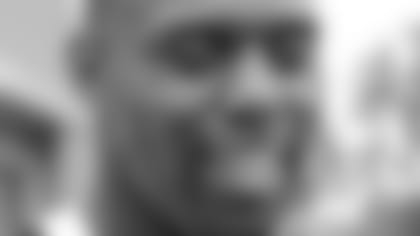 "I want to show everyone that I can play d-end and outside linebacker," Cole said. "I can play both positions and be great at it.
"I want to be very successful at this game. I have a lot of goals in mind."
Cole's streak of consecutive seasons with double-digit sacks ended at three last year. With four double-digit sack seasons in his career, Cole is second in franchise history only to the late Reggie White in that category. Cole is honest in stating that he wants to surpass former great Clyde Simmons, who is currently second in franchise history in sacks. Cole enters 2013 with 71.0 career quarterback takedowns, which is 5.5 behind Simmons.
"I'm highly motivated for the season," Cole said. "I'm up for any challenge that's coming to me."
Even though Cole only had 3.0 sacks last season, he is still respected around the league as one of the top pass rushers. NFL.com recently ranked the top 25 in the game and Cole was listed as the second-best player to not make the list despite his less-than-stellar 2012 campaign.
Cole is eager to prove that last year was an aberration. In fact, there are few Eagles who aren't looking to erase the bad memories of 2012 away. With the players done until the start of Training Camp in late July, Cole knows that this isn't a time to rest. Cole has been through enough camps to know that you need to invest in training now or risk paying for it later.
"You can prepare as hard as you want, but you're going to feel it once you get to practice," he said. "It's just a whole other speed."