The Philadelphia Eagles were born in 1933 when the Frankford Yellow Jackets were sold to Bert Bell and Lud Wray for $2,500. But the Eagles weren't integrated for nearly another 20 years. There were, in fact, no Black players in the entire NFL from 1934 through 1945.
In 1952, the Eagles used their first-round pick on running back Johnny Bright out of Drake. Bright knew that he would have been the first Black player in Eagles history and didn't know how he would be treated, so he went to play in Canada.
The Eagles used an 11th-round pick in that same draft on another running back, Ralph Goldston from Youngstown State. They concluded that draft class in the 30th round with yet another back, Illinois' Don Stevens.
Goldston and Stevens were the first Black players to ever suit up in a game for the Philadelphia Eagles.
"I didn't find out I was the first (Black player) until I was there awhile," Goldston told Ray Didinger for The Eagles Encyclopedia. "It wasn't a big deal. Don and I were treated the same as the other rookies."
Goldston turned heads as a rookie. Wearing No. 22, he scored three rushing touchdowns, including two in a win over the Cleveland Browns, who reached the NFL Championship Game that season. The Eagles, under first-year Head Coach Jim Trimble, finished 7-5, one game behind the Browns.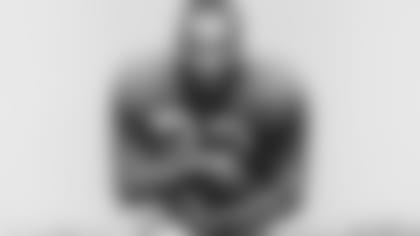 Poised for a bigger role the following season, Goldston (photo above) suffered a season-ending leg injury in an exhibition game and missed the entire 1953 campaign. He returned in 1954, but was moved to defensive back. He played one more season for the Eagles after that before going to Canada with Trimble, where he had a long, successful career before transitioning to a successful coaching and scouting career.
Stevens played 15 games for the Eagles over the course of the 1952 and '54 seasons.
When Chairman & CEO Jeffrey Lurie took ownership of the Eagles in 1994, he set out to rebuild the franchise from the ground up. One of the first critical moves was the selection of Ray Rhodes as the first Black head coach in franchise history in 1995, 43 years after Goldston and Stevens debuted for the Eagles. Rhodes was only the fourth Black head coach in NFL history at the time.
A winner of five Super Bowls as an assistant coach with the 49ers, Rhodes (photo below) was an instant success as a head coach – winning 11 games, including a wild Wild Card win over Detroit (Eagles scored a franchise-playoff-record 58 points), and earning Coach of the Year honors in the process. Rhodes' Eagles made the playoffs again the following season before losing to San Francisco, his former team. By the end of the 1998 season, the Eagles were in a downward spiral, going 3-13 that year, and Rhodes was dismissed as head coach.