A 10-year veteran offensive lineman with Philadelphia, Todd Herremans will become a two-time Honorary Alumni Captain presented by Santander today. On top of that, he'll mark the occasion by officially retiring from the NFL as an Eagle.
"I spent so much time in Philly. I didn't really get a chance to end my career, I guess, as I would have liked to. It kind of fizzled out at the end. I went to Indy (for my 11th and final season in 2015), and it didn't end up there how I wanted it to, so I guess this will put a cap on my NFL career for me personally," Herremans says. "And I'd rather do it in Philadelphia than anywhere. I feel like Philadelphia's been so important to me and my family for the last 15 years, the organization and the people in it, that it just made sense.
"(Being the Alumni Captain again is) a unique opportunity. It was really cool last year to be able to experience it with my kids (Olivia and Jaxon). And this year since I'm retiring as an Eagle, I'm looking forward to experiencing that with my wife (Elizabeth) and my parents, (Paul and Marilee) that are going to come in, as well. I think that it will be something special for all three of them. They were there to support me through my career and had so time invested in me that it's just kind of like a feather in the cap to all of them, too."
Drafted by the Eagles in 2005 out of Saginaw Valley State, Herremans made four starts as a rookie at left tackle for an injured Tra Thomas and became a starter at guard the following season.
"I kind of got thrown in the mix as soon as I got here. So, I really didn't have a chance to think about anything. It was more about learning the playbook and just competing every day," says Herremans, who played at each position on the offensive line but center. "I kind of prided myself in being able to help out the team in whatever way I could. And if that was moving positions, I felt like I was flexible enough to be able to do it. Some people weren't as flexible or willing to play other positions because they were, I don't know, the unknown was what scared them. But I just figured it was just trying to get in front of somebody for long enough. It shouldn't be that hard."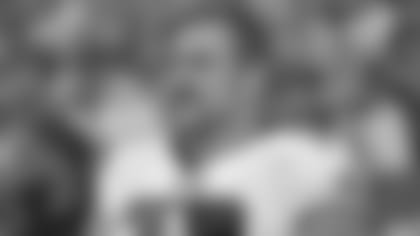 During his career with the Eagles from 2005-14, Herremans played in 135 games with 124 starts. Twice, he found the end zone.
As a tackle-eligible receiver, the 6-6, 321-pound Herremans gave quarterback Donovan McNabb a considerable target during a 2008 game in Seattle and caught a 1-yard pass for a touchdown.
"We had called the play in practice plenty of times and we called it in a game maybe a couple of times, too. But I just wasn't thrown to or we audibled out of it or something happened," Herremans says.
"But when it was called in Seattle, Donovan kind of looked at me and he was like, 'Hey, this is the play.' And I was like, 'Man, this is the play. Alright, just stay cool. He probably isn't even going to throw it to you.' And then I just went out there and I knew I was wide open. I saw him roll out and he came into my vision and I was like, 'Oh, man, he's going to throw it to me.' The ball is in the air and I was like, 'Ha, he threw it to me.' I just caught it and I remember getting mobbed by the whole O-line. It was awesome."
It was "awesome" again two seasons later during a game in Dallas when he caught a 2-yard touchdown pass from Michael Vick.
"It was the same play," Herremans says. "I had no idea whether I was going to be open or not because the play was already in our repertoire from the past. So, they called it and I remember I had a little harder time getting off the defender. I probably looked lost out there trying to find an open spot. But Mike darted it in there. It was awesome. Of course, it's like a dream for any lineman to be able to catch a touchdown, especially in the NFL."