On Tuesday, the Eagles took care of one piece, agreeing to contract terms with Stony Brook offensive lineman Michael Bamiro after the NCAA ruled that Bamiro's eligibility had expired and following an NFL-heavy workout last week in New Jersey.
Bamiro is a prospect, so let's not get ahead of ourselves. He's 6-feet-8 and 335 pounds and he's an athlete. The Eagles had a lot of competition for Bamiro and won out as he agreed to a deal. They clearly liked what they saw in the workout and when they studied his game film, so now Bamiro will play catch up at the NovaCare Complex next week.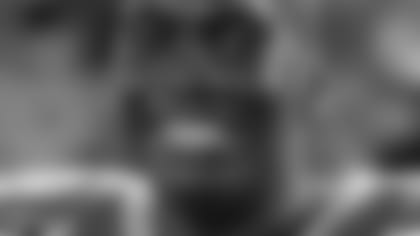 "Michael is a big, athletic guy that we are anxious to see perform in training camp," said general manager Howie Roseman. "He certainly has some impressive qualities that intrigued us. Plus, we had a chance to watch his workout last week in New Jersey. Hopefully, he'll come in and add to the competition along the offensive line."
Many are transfixed by the quarterback competition, and understandably so. It's going to be a daily watch, without question. I'm sure many observers will keep daily, unofficial statistics from sideline perches.
But the offense deserves just as much attention. The Eagles have a chance to build something special up front for new line coach Jeff Stoutland with veterans returning healthy after injuries from a year ago, with first-round draft pick Lane Johnson hopeful to push for a starting spot and with some promising players lined up to provide depth.
And let's understand a few things about the offense: No matter what Chip Kelly wants to run and no matter who wins the starting job at quarterback, the offensive line is where it all begins. If the Eagles can build chemistry quickly and if the right tackle emerges -- whether it's Johnson, or second-year man Dennis Kelly or someone else -- the Eagles can be very good at the line of scrimmage. And if they are very good at the line of scrimmage, they're going to be very good throughout the offense.
Where wiil Bamiro fit? Oh, let's let the kid suit up first and see how long it takes him to get up to speed in the system before the expectations are voiced. The Eagles say he's a prospect and the national words from the analyst suggest that Bamiro would likely have been drafted had he been eligible in April.
Bamiro's situation is similar to that of wide receiver Ifeanyi Momah, signed by the Eagles after an impressive tryout in the spring. Momah's collegiate career was marred by injuries, and he wowed NFL scouts with an impressive workout and the Eagles made the move to sign him. Momah is eager to get to Training Camp to earn a roster spot among stiff competition at wide receiver.
Same with Bamiro. He joins what appears to be a deep roster of offensive linemen pushing for roster spots. It's a no-risk, strong-reward move for the Eagles, who will learn all they need to know about Bamiro once camp begins on Monday.
NEWS, NOTES AND A LITTLE BIT OF THIS AND THAT
Johnson remains the lone unsigned draft pick. There is no word on the status of his situation. Rookies are due in to the NovaCare Complex on Monday. Practice begins on Tuesday.
Best roster competition in camp? It looks to me like there is some real, true competition throughout but here's a vote for running back. The Eagles may keep three running backs, perhaps more. Felix Jones is a first-round draft pick and an outstanding talent, but he is far from guaranteed a roster spot. Chris Polk looked very good in the spring, as did Matthew Tucker. 
A key player in the rebuilt secondary? No question Patrick Chung is being counted on to step up and lead in the deep defensive backfield. Chung is a tenacious, instinctive player who has a lot going on around him with so many new faces at safety.
What kind of scheme are the Eagles going to run on defense? How will pass rushers Trent Cole and Brandon Graham fit into the scheme? There may not be two more compelling players in Bill Davis's defense. 
As competitive as it will be for the roster spots at running back, how about wide receiver? How many do the Eagles keep? Does Momah have a real shot? Where is Arrelious Benn in the equation? B.J. Cunningham is going to make a major push to make this team, too. The coaching staff believes this is a terrifically talented group through and through heading into training camp.