Next up in our position preview heading into Training Camp is the wide receiver position, which currently features 12 players on the roster. That number is likely to be cut in half come the regular season, so there is much competition to be had between now and the Eagles' season opener on September 9. So what are the big questions?
1. What Will Chip Kelly Do With DeSean?
Upon Kelly's arrival in Philadelphia, one of the immediate fascinations with the offense centered around Jackson's role. At Oregon, Kelly used his physically explosive players in a multitude of ways, leading some to expect that Jackson might be in line for some carries this season. For his career, Jackson has 54 carries for 371 yards (6.9 yards per carry) and three touchdowns, though only 10 of those carries have come in the past two seasons. Obviously, the bulk of the carries this year will be given to the running backs, and we may not see too much of a preview of Jackson carrying the ball in Training Camp, but it's a theme to watch as the season approaches.
Meanwhile, the quick-hitting offensive philosophy should fit right into Jackson's strengths as well. Since 2009, Jackson ranks fifth in the league with an average of 6.0 yards after catch (among wide receivers with at least 100 catches over that time). For an offense that is said to be predicated on speed, Jackson's talents sure seem to match up well.
2. Is Jeremy Maclin Primed For A Breakout?
It's easy to forget that the 25-year-old Maclin should only now be hitting his prime. After entering the NFL early out of Missouri, Maclin has caught 258 passes for the Eagles through his first four seasons – the highest such total in franchise history. But Maclin's totals have also seemingly hit a plateau over the last three seasons as he's caught between 63 and 70 passes in each season while totaling 859 and 857 yards receiving in the last two seasons, respectively. To be fair, Maclin did lead the Eagles in all three receiving categories in 2012. So those are all solid numbers, but the question is whether Maclin can take the next step.
The underlying factor entering this season for Maclin is that his rookie contract is set to expire at season's end, so he would appear to have an extra boost of motivation – not that he needs it. Given Maclin's skillset as a physical receiver, he too would appear to work well in the new offense.
"I look at it as a way to showcase all of my skills as far as being able to be in so many different spots in this offense," Maclin said earlier this offseason. "I'm really looking forward to it."
3. Who Will Emerge In Camp?
Though nothing is guaranteed in the NFL, especially with a brand new coach in town to evaluate the roster for himself, it's likely that Jackson, Maclin and Jason Avant will have a role on the 2013 Eagles. Beyond them, there will be serious competition for what are likely to be only two or three roster spots.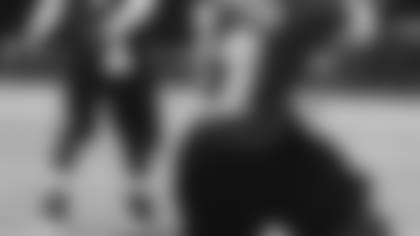 Damaris Johnson is coming off an impressive rookie season after forcing his way onto the team last summer as an undrafted free agent out of Tulsa. The diminutive Johnson has established himself as a solid returner and his speed and elusiveness are likely to endear him to Kelly as well. Riley Cooper and Arrelious Benn, meanwhile, would appear to possess similar skillsets as physically imposing receiver who should excel in the red zone and as blockers when called upon. Both figure to have their fair share of moments throughout Training Camp.
Speaking of imposing size, the most intriguing of all the receivers is Ifeanyi Momah, the 6-foot-6 former Boston College standout who enters the NFL after an injury ended his college career and kept him out all of last season. The Eagles certainly added Momah for a reason and if he picks up the speed of the NFL quickly, he very well could force his way onto the roster.
That's not all though. Greg Salas impressed in the spring and has the pedigree of a former fourth-round pick while B.J. Cunningham returns after a season spend on the Eagles practice squad. Undrafted rookie Russell Shepard is a versatile player who was an offensive difference maker at LSU while Nick Miller has a chance to stand out on special teams. Oregon rookie Will Murphy would appear to be a longshot, but perhaps his inherent knowledge of the Kelly system gives him a boost come the dog days of summer. That's the beauty of the weeks and months ahead, there are so many players with an opportunity to take advantage of a unique opportunity. Now, we just wait and see who will emerge.
Previous Position Previews: