You've likely seen the video by now. It's been featured everywhere from sports talk shows to pop culture sites.
Patrick Hanks and his wife, Jennifer, were married last Saturday, May 26 at the Bear Creek Mountain Resort in Macungie, Pennsylvania. The wedding officiant was set to pronounce the couple husband and wife but had one last bit of business to settle.
While attending a wedding after-party back in October, Patrick and Jennifer's close friend, Keith Wiest, proposed a bet. If the Eagles win the Super Bowl, Jennifer had to allow Patrick to wear a Carson Wentz jersey at their wedding. In a good mood after celebrating into the early morning hours, Jennifer simply replied, "Yeah, sure." The Eagles were 5-1 after defeating the Carolina Panthers. She's a die-hard fan, don't get it twisted, but who knew that THIS would be the year?
It's only fitting that this couple was married in the same year that the Eagles turned out to be the team of destiny.
Patrick and Jennifer both attended Pennridge High School in Perkasie, Pennsylvania. Jennifer graduated in 2005 and Patrick followed suit two years later. He admits that he "always kind of had a little crush on her" but didn't make a move for nine years.
Jennifer moved to the Manayunk section of Philadelphia after selling her house in the suburbs. After relocating, she noticed Patrick's photos began appearing in her Facebook feed. They started commenting on each other's posts, and Patrick eventually worked up the courage to see if there could be something more than just a friendly online connection.
"Instead of liking each other's pictures, why don't we go on a date?" he wrote in a message to her in 2014.
Jennifer still has the note to this day and calls it "adorable." The two first met and spent hours recounting their high school days and people they've kept in touch with over the years. Their first date was at a Flyers game, and their love for sports turned their wedding into a viral sensation.
The couple watched the Super Bowl win over the Patriots with friends at Keith's house. When Tom Brady's last-second Hail Mary attempt fell incomplete, Jennifer was ecstatic that the Eagles won but anxious at the same time because she had to pay up on her end of the deal. Their friends wouldn't let her off the hook.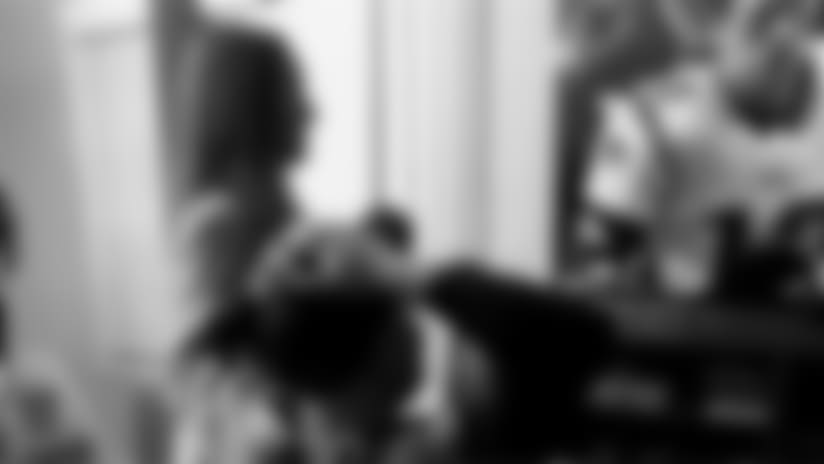 Patrick and Jennifer didn't tell their family or friends how they would incorporate Carson Wentz's jersey into the ceremony. They wanted to do something creative. It was Jennifer who came up with the final plan. But to make it extra special, the only people who knew were the officiant and the wedding coordinator. 
When it was time, Patrick took off his jacket, got the No. 11 midnight green jersey out from behind the awning, and held it up for everyone in attendance to witness before putting it on. An "E-A-G-L-E-S, EAGLES!" chant erupted, and the DJ scrambled like Wentz to put "Fly, Eagles, Fly" on over the speakers. All Jennifer could do was stand and smile.
"That moment was awesome," she said. "It was right before she pronounced us as husband and wife. We got through the ceremony. I was super happy and super emotional."
Once the video started to spread, Patrick and Jennifer received numerous texts and emails from people who saw it. Patrick recalled watching ESPN's "Get Up," and the discussion went from LeBron James going against the Warriors in the NBA Finals to their video.
"It was a simple bet that took on a life of its own," Jennifer said. "It's been crazy. We're in disbelief from all of this."
Head coach Doug Pederson sent the couple a personalized note, and the team provided a custom jersey to pair with the Wentz one.
The newlyweds are enjoying their honeymoon and moment of fame in Costa Rica and will spend some time in Miami before returning to their home in Conshohocken, Pennsylvania.