With 11:19 left in the first quarter of Thursday night's 48-20 shellacking of the Arizona Cardinals, fullback Kyle Eckel had his first carry as an Eagle.
It was just a 2-yard gain, but it drew a first down and a standing ovation.
"I noticed it, but the crowd was great for everybody (Thursday)," Eckel said. "It was just great to see the city rally around us while the national media seemed to be really down on us. It was great to see the city band together and support us."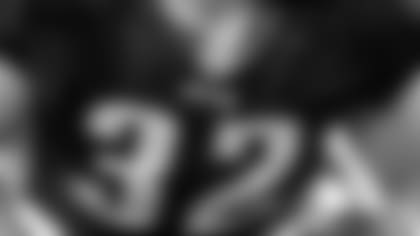 FB Kyle Eckel
Eckel finished the game with six carries for 27 yards, but perhaps more importantly it seems the Eagles have found an answer in short-yardage situations.
The Eagles were committed to the run against Arizona and it was something the offensive line noticed early in the game. Running back Brian Westbrook had one of his better rushing performances of the year, compiling 110 yards on 22 carries.
But over the final 9:11 of the contest with the outcome of the game no longer in doubt, Eckel helped the Eagles grind out the clock by gaining 25 yards on five carries, including a 14-yard scamper deep in Arizona territory.
"Eckel came up huge for us at the end. He added that power rush that we needed," tackle Tra Thomas said.
Eckel credited the offensive line with helping him get his job done.
"I knew every time the offense had the ball, I was standing right near the coaches getting ready, in case the call came," Eckel said. "I was just so fortunate enough that the offensive line played so well. I was so lucky to run behind them and get the handoff and fall forward."
The 5-11, 237-pound native of Haverford, PA - just outside Philadelphia - and product of the Naval Academy was signed on Oct. 21 to bolster the depth at the fullback position. He was inactive for his first five games as an Eagle. Eckel is earning the trust of the coaching staff and helping out in the short-yardage game only helped his cause.
Entering Thursday's game, the Eagles had only converted on 40 percent of their third-and-one opportunities (8-of-20). On Thursday, Eckel was 2-for-2 in third-and-one opportunities and as a team the Eagles were 10-of-15 on third downs.
"Kyle Eckel had a chance to get in there and do his thing," head coach Andy Reid said. "It was nice to get him on some of the short-yardage situations, and I thought he did very well there."
Apparently, the fan base agreed.
"It probably was the first time I ever got a standing ovation," Eckel said. "This was a great experience for everyone in this locker room. Everyone played so well."