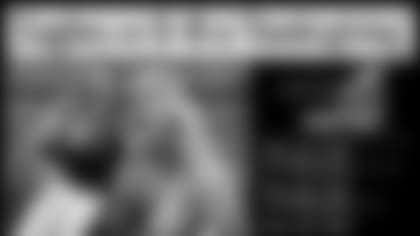 It's finally here. The game that has been circled on every Eagles fan's calendar since the schedule was released last spring, the Thanksgiving day showdown with the Eagles' most notorious rival, the Dallas Cowboys. And yet, the stakes are somehow higher than anyone might have expected before the first 11 games of the season took place. Now, with the Eagles and Cowboys both sitting at 8-3, tied atop the NFC East, Thursday's game takes on added importance. With another matchup just two weeks away, Thursday's game in the house that Jerry built begins an important 17-day stretch that will go a long way towards deciding the Eagles' playoff fate.
On one side, for the bad guys, there stands a team with a different identity than the ones from years past. Yes, Tony Romo is still the Cowboys' gunslinger, but no longer is the offensive success of the team placed solely on his shoulder. Buoyed by one of the league's best offensive lines, the Cowboys have turned to the running game more than ever, and the results have been a dominant season for running back DeMarco Murray, the league's leading rusher. For their part, though, the Eagles' defensive line has bristled all week at their relative lack of respect compared to the Cowboys' O-line. Both sides will have an opportunity to prove their dominance come late afternoon in Texas on Thursday.
For the Eagles offense, Mark Sanchez will once again be under a national spotlight as he hopes to grab hold of the quarterback position in his fourth start for the Eagles. Sanchez has been productive in the offense, having thrown for over 300 yards in three straight games for the first time in his career, but he also knows he has to be better. With six interceptions in four games, including the relief appearance at Houston, Sanchez will hope to protect the ball better for an Eagles offense that somehow leads the league with 27 giveaways after turning the ball over only 19 times in 2013. Meanwhile, LeSean McCoy has admitted this week that he may have to hand his rushing title belt over to Murray at the end of this season, but that could be the Eagles' running back playing possum. After a 130-yard rushing performance against the Titans last week, McCoy and the Eagles' ground game could be priming for an end-of-the-season sprint of their own. And then, of course, there are the Eagles' special teams, which have simply been the best in the league this season. But all the hype and all the prep will be forgotten on Thursday when the ball is kicked off and families across the country settle in for big-time game with big-time implications. For that, we can all be thankful.
Last Time They Met:
December 29, 2013 – Eagles 24, Cowboys 22
Speaking of big games with playoff implications, the last time the Eagles and Cowboys hooked up was the final game of the 2013 regular season when it was winner takes home the NFC East. With Tony Romo out, it was Kyle Orton's job to run the Cowboys offense and he performed admirably, throwing for 358 yards and two touchdowns. Of course, his most important pass of the night, though, was intercepted by Brandon Boykin on the Cowboys' final drive, icing a game for the Eagles that was probably too close for comfort. Nick Foles was 17-of-26 for 264 yards and two touchdowns in the win, while LeSean McCoy ran for a paltry 131 yards.
When The Eagles Have The Ball
The Cowboys' defense has been a pleasant surprise - for the team that is - so far this season, bucking preseason worries about a poor unit. Through 11 games, Dallas has allowed 21.8 points per game, ranked 14th in the NFL. They sport a bend-but-don't-break defense, but there are places where the Eagles can buckle the Cowboys' defenders.
One big place? Dallas allows opposing rushers to find the end zone. They've allowed 10 rushing touchdowns this season, 23rd in the league, which amounts to nearly one per game. Running back LeSean McCoy is coming off a big performance against the Tennessee Titans in which he rushed for 130 yards and a touchdown. With a short week and momentum rolling in his favor, look for head coach Chip Kelly to call McCoy's number early and often, especially when the Eagles get closer to the end zone. The Cowboys have a penchant for letting runners hit pay dirt, and McCoy's nose for the end zone has been on display as of late, with two scores in his last three games. Dallas has allowed at least 100 yards of rushing seven times this year. If McCoy, and running backs Darren Sproles and Chris Polk, get going, Thursday afternoon could easily become the eighth.
And if the run doesn't work - or, more ideally, if it does - quarterback Mark Sanchez can start attacking the Dallas secondary. Dallas' defensive backs embody the defense's willingness to give up big yardage, as they rank 19th in the league in passing yards allowed per game and sixth worst in net yards per attempt. Sanchez, meanwhile, enters Bird Day with three consecutive games of at least 300 yards through the air, a career-best streak that he's looking to extend against the division rivals.
If the Eagles decide to air it out against Dallas, Sanchez will have to beware the Cowboys' knack for snaring interceptions as they rank 11th in the league with 11 picks, led by safety Barry Church who has two. But no other defensive back has more than one interception, which means, if he picks his spots safely, Sanchez can sit in the pocket and hit his weapons all afternoon. The Cowboys' 18 sacks are the sixth fewest in the NFL through Week 12, which means the veteran quarterback should have ample time to find wide receivers Jordan Matthews and Jeremy Maclin, and even tight end Brent Celek, who's had one heck of a stretch in the last handful of games. The veteran tight end is averaging 3.6 catches and 58.3 yards per game in his last three outings.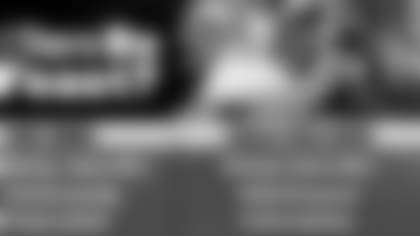 When The Cowboys Have The Ball
When the Cowboys have the ball, the Eagles' defense is going to have to be on top of its game. This is an 8-3 team for a reason, and there are weapons aplenty for Dallas on the offensive side of the ball.
For starters, they tote the leading rusher in the NFL, DeMarco Murray, into Thursday's matchup. Murray has piled up over 1,300 yards rushing and seven touchdowns in just 11 games this season, and he's showing no signs of slowing down. He's run for 100 yards in every game but one, the only game this season that Dallas quarterback Tony Romo didn't start. Murray has a powerful yet slicing running style, known to avoid backfield dancing in lieu of speedy, straightforward darting.
But the Eagles' defensive line enters the Thanksgiving throwdown with some serious confidence, and for good reason: the unit has allowed just one 100-yard rusher all season long - San Francisco running back Frank Gore in Week 4. That was almost two months ago to the date. Since then, the Eagles' defensive line has been rolling, limiting opposing starting running backs to 52.9 yards per game in the last seven outing.
The idea of limiting Murray to 52.9 yards in a game will be a challenge. What the Eagles' defense needs to focus on is containing the league's leading rusher on big runs. Murray has 10 runs of 20 yards or greater this season, and the Eagles' defense is still working to limit those types of plays. How the run defense fares against Murray in terms of big runs could make or break the game, depending on which side wins the battles in the trenches and on the ground.
If the defensive line and linebackers can plug up holes early and get Murray out of his rhythm, aggressively pressuring quarterback Tony Romo becomes a viable option. Romo has enjoyed good protection from a very talented offensive line this season, leading to 22 touchdown passes compared to just six interceptions in 10 games. But if the run game isn't operating at peak efficiency, the Cowboys could find themselves turning to the pass game more often. In that case, blitzing Romo - and pursuing him with controlled pass rushes - could lead to a less-effective Dallas offense. Romo has been sacked 20 times this, good for two per game he's started. If the Eagles' prolific pass rush, which ranks second in the league in sacks this season with 38, or 3.45 per game, can get to Romo more than twice Thursday night, it would be a boon against an offense that thrives when he has time to throw the ball downfield.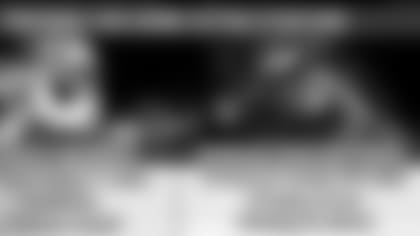 1. Will The Ball Be In Romo's Hands?
Yes, Cowboys quarterback Tony Romo engineered his 27th career game-winning drive last Sunday against the Giants. No quarterback has more since 2006. But what has been lost in the rise of running back DeMarco Murray this season is the amount of pressure that's been alleviated from Romo's shoulders.
Dallas has a near 50/50 run-pass ratio this season with a slight edge toward to pass game (51.2 percent pass/49.8 percent run). Romo has attempted 30 passes in a game just three times this season. He's completed 20 or fewer passes six times.
Since the return from his latest back injury, Romo has been outstanding. He's completed 38 of 53 passes (71.6 percent) for 521 yards with seven touchdowns and no interceptions in the two games.
All season long, Romo has been great against pressure. Per Stats Inc., Romo's 125.7 passer rating is second in the league versus the blitz only to Green Bay's Aaron Rodgers. Romo has been known for his ability to keep plays alive with his feet, but that's been a detriment at times in the past.
The Eagles need to find a way to get pressure and make Romo think it's December (48/27 TD-INT ratio) instead of November (71/18).
2. Isn't It Time Murray Fumbles Again?
Running back DeMarco Murray is in the conversation for MVP honors with his league-best 1,354 yards rushing this season, already a career high. He's gained at least 100 yards rushing in 10 of the Cowboys' 11 games and Dallas has no intention of lightening his workload.
However, Murray's one issue is his penchant for dropping the ball. He leads all running backs with five lost fumbles this year. Only one player in the entire league, Chicago's Jay Cutler, has more. Murray's fumble rate is the sixth highest among players with 250 or more touches.
In last year's NFC East title game, Murray lost his only fumble of the year on the opening drive. The Eagles recovered and scored on a field goal to take a lead that they never relinquished.
3. Where Will Dez Bryant Be?
As Fran Duffy astutely pointed out in his Eagle Eye In The Sky preview, the Cowboys have moved wide receiver Dez Bryant around the formation to get better matchups this season.
Bryant will line up to the left side of the formation which means cornerback Cary Williams will see him quite often. He's caught 22 passes for for 302 yards and four touchdowns this season to the left side, per Pro Football Focus. But Bryant will come out of the slot as well where Brandon Boykin or Malcolm Jenkins will be in coverage depending on the Eagles' defensive formation. Bryant has 13 catches for 224 yards and a touchdown from the slot this year.
Bryant is quietly on pace for 1,278 yards receiving this season and already has scored 10 touchdowns. It's going to take a team effort to recognize where he is on each play and to try and slow him down.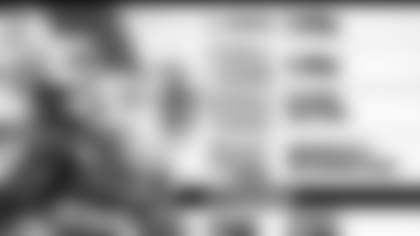 1. RB LeSean McCoy vs. LB Rolando McClain
LeSean McCoy is coming off of his second-highest rushing output of the season, a 130-yard performance against the Titans. He's bounced back from a season-low 19 yards against Carolina with 88 yards in Green Bay and now Sunday's game vs. Tennessee.
The offensive line is starting to get into a groove and its timing allowed McCoy to get to the second level with ease against Tennessee.
Rolando McClain was a former No. 8 overall pick of the Raiders in 2010. Off-the-field issues complicated his tenure in Oakland and he was released in April 2013. He signed with the Ravens, but retired not once, but twice. Dallas lost middle linebacker Sean Lee to a season-ending knee injury in the offseason and acquired McClain through a trade with the Ravens, who still held his rights.
Well, the move has paid off. McClain leads Dallas with 79 tackles and six tackles for loss. He also has a pair of interceptions and a sack this season. The Cowboys, thanks to a deep rotation up front, rank 13th in run defense.
2. WR Jeremy Maclin vs. CB Brandon Carr
Wide receiver Jeremy Maclin is on the verge of his first 1,000-yard season. He needs just 20 yards to reach the plateau for the first time in his career. Maclin is also one touchdown away from 10, which would tie a career high. Maclin has five games with at least 93 yards receiving this season, including the back-to-back 150-yard outputs against Arizona and Houston.
Quarterback Mark Sanchez could have his eye on Maclin early and often against Dallas as cornerback Brandon Carr has allowed 35 catches for 595 yards and four touchdowns this season. With a passer rating of 118.1 against Carr, that is the eighth-worst among cornerbacks who play at least 50 percent of the team's snaps, per Pro Football Focus.
3. LB Trent Cole vs. T Tyron Smith
The Cowboys have run a league-high 68 behind Smith in the ground game this season. Dallas has gained 5.78 yards per carry on those plays, the second-best mark in the league. Linebacker Trent Cole is going to be instrumental in sealing the edge and not allowing DeMarco Murray to run wild against the Eagles.
From a pass protection standpoint, Cole has 6.5 sacks on the year and is coming off a two-sack outing against Tennessee. Smith, meanwhile, has allowed two sacks, six hits and 11 quarterback hurries in 2014.
This is going to be a heavyweight showdown worth the price of admission.
4. LB Casey Matthews vs. TE Jason Witten
Yes, DeMarco Murray and Dez Bryant are having outstanding seasons for the Cowboys, but there's still tight end Jason Witten to contend with. Witten is among the all-time best tight ends in terms of production, but is still productive with 43 catches for 461 yards and four touchdowns this year. The Eagles allowed Titans tight end Delanie Walker to catch five passes for 155 yards last week. Walker was the second tight end to go over 100 yards in the last three games against the Eagles.