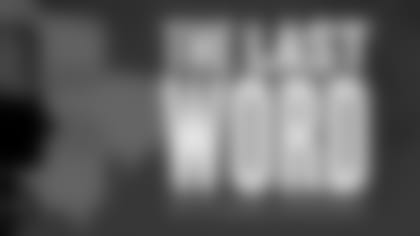 Welcome to The Last Word with Dave Spadaro, a question-and-answer feature that runs weekly and highlights some of the provocative players, coaches and faces who have shaped this Eagles franchise. Today: Eagles safety Malcolm Jenkins, the quarterback of the team's defense.
DAVE SPADARO: You were a track star back in the day, I understand ...
MALCOLM JENKINS: Let's be careful with the use of the word "star" (laughing). That's not entirely accurate (Jenkins won the New Jersey state title in the 400-meter dash in 11th grade).
DS: Do you flash back to those days when you have the ball in your hands?
MJ: No, I played wide receiver in high school as well, so when I have the ball in my hands, I've got a lot of confidence. I always think I can score when I have the ball. The tough part is finding opportunities to get the ball in my hands.
DS: Were you a fan of track and field?
MJ: Yeah, I'm a pretty good track and field fan. I've kind of gotten away from it recently, but I really enjoy watching track and field.
DS: Who is the greatest track star in American history?
MJ: American history? Jesse Owens.
DS: More than Carl Lewis?
MJ: I think so. I say Jesse Owens because he went to Ohio State.
DS: But Carl Lewis is local guy, lives in New Jersey now and he's a huge Eagles fan.
DS: Malcolm, I noticed in your bio that you met your wife on Facebook ... that sort of thing is not supposed to happen. Was there such a thing as catfishing at the time?
MJ: Catfishing wasn't a thing back then. So, here's how it happened: Back then on Facebook they had this little thing where you could "poke" somebody just to contact them. Then I sent her a message and we started talking. We talked for about three or four months – I was a senior at Ohio State and she was at Southern Mississippi. And then I got drafted in April by New Orleans, which was an hour and 20 minutes away from Southern Miss and so we started hanging out and that's when I knew, I guess, that I wasn't being catfished.
DS: Among your many claims to fame you can say that you were among those who invented Internet dating, no?
MJ: I don't know that I invented it (laughing), but I was one of the successful early stories behind it. I guess I was a pioneer of Internet dating.
DS: How is the bow tie business? I'm willing to give you a chance to plug the business right here, with the holidays and all upon us.
MJ: Business is doing very well. The post-Thanksgiving period obviously is huge for all retailers and we're doing well. We've had a lot of orders, mostly people who want cool gifts from neckties, bow ties and pocket squares. It's just a cool gift. People who want to prepare for the new year and the big plans they have to start the new year in style, hey, why not come to Rock Avenue Bow Ties (wearerockavenue.com)? And we also do a lot of business for Ohio State fans who have that special Buckeyes fan in their lives.
DS: Why is it cool to wear a bow tie?
MJ: Because most people are intimidated to wear them. You automatically stand out when you walk into a room wearing a bow tie. It's kind of style for people that don't mind being different, being that life of the party. That's why I wear them.
DS: Have you run across former Eagles linebacker, Dhani Jones? He had the bow tie thing going way back when here.
MJ: When I started my company, Dhani was somebody that I talked to to gain some ideas and get some wisdom. He's played in this league and he has his company as well. We did an event in New Orleans when the Super Bowl was down there and it was cool to become friends for a little bit.
DS: What do you think about on your drive to work every day?
MJ: I usually drive in silence and I think about the day and what I need to do, what I need to accomplish. I start to wrap my mind around the first two or three hours of the day that we go out to practice so that I'm not just wasting time.
DS: No music? No news? No radio talk?
MJ: I usually am in silence.
DS: Mindfulness kind of stuff?
MJ: Yeah, I'm usually always thinking. I can't turn my mind off. I don't do it on purpose. I get in the car and my phone might not be connected so there's no music and I look up and I'm riding by the stadium and I'm almost at the office.
DS: Are leaders made or born?
MJ: I think it's a little bit of both. I think you're born a leader, but you don't know how to lead until you follow. That's the way it was for me. I've always felt like a leader but I didn't know how to handle the responsibility or how to be a true leader until I followed leaders. Then I learned what the importance was, what the significance was. You can put a group of kids together and you see that someone always steps forward naturally. It's how we're wired.
DS: Did you tune into the Republican Debate on Tuesday night? Are you a political person?
MJ: I did not. I'm not really a political person. I like to watch the debates sometimes just to get some laughs, because that's how they come across with all of the shouting, but it's not something I really dig too deep into.
DS: How good are the Cardinals on offense?
MJ: They're really good, explosive, they score a lot of points. They lead the league in explosive plays down the field. They have three really good receivers and a quarterback who is playing at a Pro Bowl level. Larry Fitzgerald, for as long as he's been in the league, is the most productive player on their team. They create a lot of very tough matchups.
DS: What's with all of this jersey exchanging in the league and are you taking part?
MJ: People have done it over the last few years, but it's become an epidemic in the last two seasons. I've didn't do it until this year. I've exchanged with (Panthers safeties) Roman Harper and Kurt Coleman. Kurt played with me at Ohio State and Roman played with me in New Orleans and he's kind of been my mentor. I exchanged with them. I exchanged with (Giants linebacker) Jonathan Casillas who I've known since our Pop Warner days and we played together in New Orleans and won a Super Bowl. And then I exchanged with (Patriots safety) Devin McCourty who is a Jersey guy (Jenkins grew up in (Piscataway, New Jersey) that I've know for a while. I usually only trade with guys that I know and that I'm fond of.
DS: You've got to pay for them puppies, don't you?
MJ: Yeah, they're $500 a pop here. But, it's cool. Those are memories you talk about for a long time. They're game-worn jerseys from guys who you match up against and that you respect a lot. It's worth it to me.