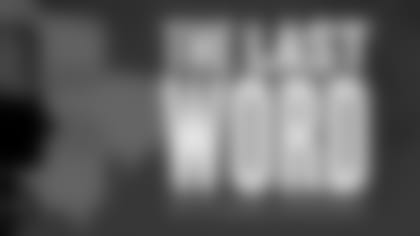 Welcome to The Last Word with Dave Spadaro, a question-and-answer feature that runs weekly and highlights some of the provocative players, coaches and faces who have shaped this Eagles franchise: Today, left tackle Jason Peters, who on Tuesday was named to his sixth Pro Bowl as an Eagle and the eighth in his NFL career.
Dave Spadaro: Congratulations on the Pro Bowl once again. Did you celebrate? What was the feeling? You've done it so many times?
Jason Peters: No, I didn't celebrate. We're looking at the Redskins. I took it in and I took it right back out.
DS: How about the first time it happened (in 2007, when he was a Buffalo Bill), way back when?
JP: The first time, the first couple of times, I celebrated with the coach (offensive line coach Jim McNally). We went out and had dinner and stuff.
DS: Is it still a special honor for you?
JP: Yes, it is, but right now I'm not looking at that. I'm looking at the Redskins.
DS: The career you have had is really remarkable. You weren't drafted, you signed for $5,000 after the draft with Buffalo (in 2004). I wonder: What did you do with that first paycheck?
JP: I sent it to my mom (Teledeo Simington).
DS: Nothing special? No gifts for yourself?
JP: No. I sent it straight to my mom. I didn't keep any of it.
DS: Have you ever splurged on something to reward yourself for an accomplishment?
JP: I've bought a couple of pairs of shoes, I have some cars, those sorts of things.
DS: I know you're into the Jordans. How many do you have now?
JP: It's hard to put a number on it. I have quite a few pairs. (According to the Eagles' media guide, he has over 2,500 pairs.)
DS: Have you ever thought about the Pro Football Hall of Fame and that someday you might be included?
JP: I haven't really thought about it. The reporters mention it to me, but I'm not thinking about it right now.
DS: What has been the key to your success?
JP:** Every year I try to be better than I was the year before. Good coaches around me, good players, a great organization. That ties all into it, too.
DS: As you play through the years does your body change a lot? I know you took invested a lot of time in the offseason to take care of your body.
JP: It changes, but you can dictate how much it changes as far as your work ethic in the offseason.
DS: What is the key as you get older? Do you have to get lighter? Stronger? More flexible?
JP: Just getting more light, more flexible. You don't want to put a lot of weight on and you want to stay flexible and light on your feet.
DS: I remember Jon Runyan lost a lot of weight toward the end of his career. He felt it made him quicker. Is that something you've felt you've had success with?
JP: Yes. I've always been quick and when you take the weight off it takes the pressure off of my knees. I always keep my quickness, no matter what size I am. Losing some weight just helps take some of that pressure off the knees.
DS: When you were asked to change from tight end to offensive lineman (in 2004 with Buffalo), was there ever any resistance on your part? Did you ever say, "Why am I doing this?"
JP: No, not at all. When it happened I took it with a full head of steam and I just wanted to perfect it. Even today, I'm still learning little tricks of the trade to perfect playing offensive line.
DS: What are the attributes needed to be a great offensive lineman?
JP: Quick feet and hips. Gotta have the quick feet and the hips.
DS: What do you mean by hips?
JP: Gotta have the flexibility in the hips to bend, get down and move side to side.
DS: Is that something that can be taught, or is that something that is born in people?
JP: You can teach some guys, but you gotta have it. You have to have some of it yourself.
DS: Who's the greatest offensive lineman you've ever seen?
JP: Walter Jones (former Seattle Seahawk, member of the Pro Football Hall of Fame). That's my opinion. He is one of the best I've ever seen play the position.
DS: You've said that Dwight Freeney is the best player you have lined up against. You still feel that way?
JP: I'd say so. He's still got a little juice in him. But back in his day, that guy was trouble on third down. You'd have to game plan him.
DS: What are you seeing from the Redskins as you study that defense?
JP: A lot of exotic blitzes. They like to run a lot of Cover Zero (no safeties in the middle of the field) and get after the quarterback if they've got a big lead or if they need to get off the field. We just have to execute. We know these guys. We know their personnel and we've just got to compete and execute.
DS: For an offensive tackle playing against that kind of defense, is it communication that makes it work?
JP: Communication is big. Any time you've got all these guys up on the line of scrimmage you don't know who is who. You've got to have the communication down. (Center Jason) Kelce points out the guy and it goes from there. It just trickles down from there. It goes from the inside out.
DS: Let's get back to the Pro Bowl. Not even a high five for yourself. A smile? A fist pump? Nothing?
JP: I mean, it felt good to make it and you don't ever want to skip a year, but right now I'm looking at something that's bigger than the Pro Bowl, and that's winning the division and getting to the playoffs.