Tonight's preseason finale against the New York Jets serves as the final audition for many member of the Eagles roster in their quest to make the team's 53-man roster. Save for a few exceptions in the secondary, most of the Eagles starters will be sitting out the contest while young players fighting for a foothold in the league get their opportunity to prove to head coach Chip Kelly and general manager Howie Roseman what they can do.
For some of the veterans on the Eagles roster, there are fond memories of past fourth preseason games. The unease of being on the roster bubble, though, is a feeling no player enjoys.
"I knew it was very important," said Trent Cole, a fifth-round pick who was fighting for a job during his rookie season in 2005. "I don't think I can speak for everybody, but when I got my fourth preseason game, it was more for me that I was just happy to be given the opportunity to play in the NFL. I was just going to go out there regardless if I was going to get cut or if I was going to make the team, I was going to go out there and play my heart out.
"This is their opportunity to get hired from other teams, not just the Eagles. There are other teams out there. This is their interview. This is their NFL interview. When you get the opportunity to go out there and play, give it all you got. Play for you, play for your family, play for your team. You have to go out there and show the world what you can do."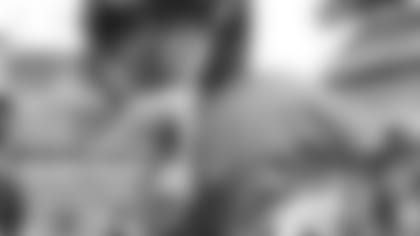 That is a common refrain. Whether or not a player forces himself onto the Eagles roster tonight against the New York Jets, the game tape will be available for every team around the league.
"There are some guys that will be right on the bubble and can earn their spot with their play in the fourth preseason game," said Evan Mathis. "It's a chance for them to get a lot of snaps and who you are in the NFL is what you put on tape. For most of these guys, this will be a big part of their resume and whether or not they're able to catch on here, it's going to be what other teams will look at to evaluate them for a potential spot on their team."
Two other major factors at play became a common refrain when veterans discussed the fourth preseason game. First, the element of fatigue. Many of the players who will play the majority of the game tonight have not played more than one quarter of a preseason game thus far. In this case, perhaps the relentless practices under Kelly will serve as an advantage for the Eagles.
"You've been given little bits and pieces all of Training Camp and then finally you get to go and you're getting basically a full game. A lot of the guys are going to play four quarters," said Todd Herremans. "I remember being pretty tired."
"The fourth preseason game is huge," said Cary Williams, a former seventh-round pick who has stared NFL mortality in the face at times during his career. "It's monumental for your career. You want to go out there and play the best game you possibly can. You may be exhausted, you may be on every special teams, you may be on every defensive snap, but your heart has to be big and your want-to has to be there. You have to have an undenying relentlessness about finishing this game and doing your job to the best of your ability. I think coach is going to look for that. That fearlessness, that tenacity. I think coach is going to look for guys going out there, despite whether they're tired or not, giving it everything they got. It's about effort."
Which brings up the final point. Because there is so much at stake for every player on the field tonight, the level of competition will be quite serious. The stars on the Eagles and Jets may not play any snaps tonight, but the effort level on the field is likely to be as high as any game this season.
"Only 53 guys are going to make the team," said tight end James Casey. "So for a lot of guys out there in the NFL, it's going to be the most important game of their lives so I'm always a big fan of the fourth game. I think it's one of the best games in the NFL. It's one of those things that not many people pay attention to. Even the people at the game, they leave early. But for the guys on the field, it means everything."