Thanks to last week's game against Dallas, the Eagles won't exactly have a trial by fire for the Pittsburgh Steelers' fire-zone blitzes, but don't expect a cakewalk either.
For the second consecutive week, Philadelphia will square up against a 3-4 defense, but the differences in Pittsburgh's scheme could still make things tricky for the Eagles.
"It's a much different style of 3-4. (Steelers defensive coordinator) Dick (LeBeau) does a heck of a job scheme-wise. They have excellent players over there. They rely on beating the man over them," offensive coordinator Marty Mornhinweg said. "And then, they rely on getting an extra guy schematically, whether it be in pass protection or the run game, they get an extra guy there, and they have excellent players at all positions."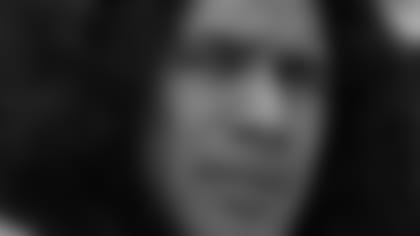 SS Troy Polamalu is usually the extra attacker the Steelers use in blitz packages
LeBeau's strategy is to disguise coverages to confuse the quarterback, oftentimes dropping his defensive linemen into coverage while rushing the linebackers, a typical zone blitz. The defensive linemen play a two-gap scheme, Mornhinweg said, making nose tackle Casey Hampton responsible, essentially, for all three interior blockers.
Hampton typically lines up over the center, giving him the option of exploiting a weakness in either A-gap. The thing about Hampton, a perennial Pro Bowl selection, is that he can handle it, and he does it well.
And the extra man Mornhinweg talked about is almost always safety Troy Polamalu, a veritable ballhawk who flows around the field about as much as his large coif does from the back of his helmet. The more aggressive scheme for Pittsburgh allows Polamalu to get involved with as many plays as possible, attempting to get to the ball and taking a few extra risks to force turnovers.
"(Polamalu) is a terrific player and that thing is built around a lot of guys because they have a lot of really good players, but (Polamalu) is all over the field, and he's a big cog in that defense," Mornhinweg said. "So it's a little bit different there. They move around much, much more than a typical 3-4 team."
The scheme is all about confusion and pressure, so the trick for the offensive linemen is to stay on their toes, keeping Donovan McNabb on his as well. Should McNabb have time to throw and make the accurate read on the coverage, the chances that his receivers will be able to find holes in the Steelers' zone increase, too.
Cornerback Ike Taylor is fantastic in man-to-man coverage, but with the Steeler scheme calling for mostly zone, he might be a bit misused. So the protection for McNabb is essential to take advantage of that.
"They're two different types of 3-4s, but our rules stay pretty much the same," guard Todd Herremans said. "You've just got to be set to play off of either the defensive lineman or the 'backer."
Another issue could be the back injury guard Shawn Andrews suffered in Dallas. Should Andrews not be ready to go, Max Jean-Gilles, who replaced Andrews in the second half Monday night, is confident he can fill in.
Jean-Gilles played well against the Steelers in the preseason, and he isn't exactly convinced that Pittsburgh's setup is all that different from Dallas'.
"It's perfect. We're doing the same thing we did last week," Jean-Gilles said. "It's way easier (for a guard) with a 3-4. We're just fanning out. Our technique is bumping everything out."