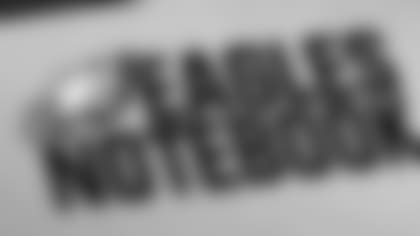 Thanksgiving Day Birds ...The Eagles improved their record to 5-0 on Thanksgiving and 9-2 on Thursdays overall. They have outscored their opponents, 111-34, on Thanksgiving, including three shutouts.
Breaking Out The Broom ... With a 48-20 win over the Cardinals, the Eagles swept the NFC West this year, going 4-0 and outscoring those opponents, 152-56. The Eagles also swept the NFC West in 2002.
Offensive Explosion ...The Eagles scored 48 points, their highest total since last September vs. Detroit, when they put up 56. Their 185 rushing yards was their second-best output of the season (192 on 10/26 vs. Atlanta) ... With 32 first downs, the Eagles tied the third-highest total in team history (34 vs. Colts, 11/15/81; 33 vs. Vikings, 11/11/01; 32 at Redskins, 9/17/89 and 12/2/51).
Record Setter ... Free safety Brian Dawkins registered his 34th career interception, tying Eric Allen and Bill Bradley for the franchise record. With 512 career return yards, he also trails Bradley by 24 for the team record. Dawkins also forced a fumble, his fourth of the season, marking the sixth time in his career (including one in the playoffs) that he forced a fumble and intercepted a pass in the same game. The Eagles are 4-2 in those games and have won 17 of the last 20 games in which he records an interception. Photo Gallery : ARI vs. PHI 11-27-08
B-West Touching Down ...Running back Brian Westbrook had a career-high four total touchdowns, becoming the eighth Eagles player to do so and the first since Irving Fryar on 10/20/1996 vs. Miami. With two receiving touchdowns, he now has 27 for his career, passing Timmy Brown for first place among Eagles running backs. Westbrook also rushed for two touchdowns, marking the sixth time in his career that he has done so. He has a career-high eight rushing touchdowns this season. With 64 career touchdowns, Westbrook owns the 4th highest total in team history behind Harold Carmichael (79), Steve Van Buren (77), and (67).
Hitting the Trifecta ... Westbrook became the first player to have 100 or more rushing yards, two rushing touchdowns and two receiving touchdowns in the same game since the Colts' Lydell Mitchell did so on 10/12/75 vs. Buffalo. It was Westbrook's 19th career 100-yard game, tying him for second place in team history with Steve Van Buren. They trail Wilbert Montgomery (26).
Five Alive ...Quarterback Donovan McNabb completed 27 of 39 passes (69.2 percent) for 260 yards and a season-high four touchdowns, marking the 11th time he has thrown four or more touchdowns in a game. The Eagles are undefeated in those 11 games. His passer rating of 121.7 was his second-highest of the season (131.0 on 9/7 vs. St. Louis). It was the 40th time he has registered a rating of 100 or higher. The Eagles are 38-2 in those games.
Green Akers ... Kicker David Akers went 2-of-2 on field goal attempts and 6-of-6 on extra points, eclipsing the 100-point mark for the season (107) and the 1,000-point mark for his career (1,006 career and 1,004 as an Eagle). He became the 40th player in NFL history to surpass 1,000 career points and the 15th kicker in NFL history to surpass 100 points in eight or more seasons. Akers has connected on 14 consecutive field goal attempts, marking the 3rd longest streak in Eagles history. He also has streaks of 17 (2001) and 15 (2004). With 41- and 42-yard field goals, Akers has now connected on six-of-seven field goals from 40-49 yards this season, which is tied for the highest percentage of his career from those distances (he also was six of seven in 2002).
Action Jackson ... Wide receiver DeSean Jackson led the team with 6 receptions for 76 yards and his second career receiving touchdown. Jackson now has 53 receptions and 775 yards this season, which both rank third in team history among rookies. However, the 53 receptions is a team rookie record for wide receivers.
Pick Three ...The Eagles defense posted a season-high three interceptions, which is the most since last season at Dallas, when they picked off Tony Romo three times in a win ... Cornerback Joselio Hanson registered his first-career interception in his 57th NFL game (10th start), which led to an Eagles touchdown ... Safety Quintin Mikell picked up his third interception of the season (fifth of his career), extending his career high. He is now tied with cornerback Asante Samuel for the team lead for the season.
Defensive Nuggets ... The Eagles defense allowed just 25 rushing yards, the lowest single-game total since 10/23/05 vs. San Diego ... Linebacker Akeem Jordan recovered a fumble, the first of his career ... The Eagles defense held the Cardinals to 3-of-10 on third down conversions. In the Eagles six wins this season, they have held opponents to 25.4 percent on third down conversions (17 for 67).
Birdseed ... Tackle Jon Runyan started his 140th consecutive game as an Eagle, passing Ken Clarke for the fourth longest streak in team history ... Wide receiver Hank Baskett caught 5 passes for 42 yards, surpassing the 1,000-yard mark for his career (1,015).