Linebackers Chris Gocong and Andy Studebaker have become fast friends.
After the Eagles selected Gocong, a quick defensive end out of Cal Poly, in the third round of the 2006 draft, the plan was to convert the undersized lineman into a speedy linebacker.
In just his second season, Gocong registered 92 tackles, including 49 solo, plus a sack in 16 games while playing SAM linebacker.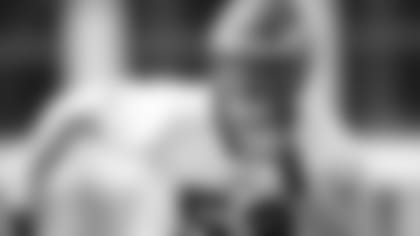 LB Andy Studebaker will see snaps at DE against the Jets
After the Eagles selected Studebaker in the sixth round of the 2008 draft, they saw another fast defensive end that could be converted into a linebacker. That means Studebaker has been bending Gocong's ear quite often during the preseason.
"Since day one, I've been kind of on (Gocong's) hip, watching him on the field and asking him for advice, asking him how the process went for him," Studebaker said. "He's just told me it's a learning process, it's not an overnight thing and to just keep plugging away."
But against the Jets at Lincoln Financial Field on Thursday, Studebaker, the first player in Wheaton College history to be selected in the NFL Draft, may just find himself back in a familiar place. After going through camp trying to learn a new position, Studebaker may see some action at defensive end.
"I'm looking forward to getting some reps in there," Studebaker said. "They have me playing in the nickel package and the dime package where I'm basically a rush end. My goal there is to get the guy who's throwing the ball."
While Studebaker welcomed the chance to perform his comfort zone, he also embraced the opportunity he's had to learn how to play linebacker. Now the goals are to settle into the system and try to find a niche.
"I came here never having played linebacker, never having (worked in) pass coverage," Studebaker said. "Coach (Jim) Johnson has a notoriously difficult playbook. It just took time and it took studying. I feel confident with that there. I guess there going to give me some chances at d-end this week as well as linebacker. I'm excited for that opportunity.
"You want do well at each thing. You don't want to be a jack of all trades and a master of none. But I think it's a good chance for me to show I can do some things and help this team out where they need me."
Whether Studebaker makes the team or not, he feels he's made the most of his big chance.
"That's all you can ask for," Studebaker said. "You never want to leave this place wondering if you could have tried harder, and I'm not going to. I have no regrets on how (hard I) worked. I think that's the best feeling."
Meanwhile, Studebaker's going to garner as much advice as he can from Gocong.
"(Gocong said) 'Keep plugging away and it will come,'" Studebaker said. "He said one day it just snapped and he got it. It takes time, it takes discipline and it takes some extra work. It'll come along. I feel like I've made progress so far and I feel like it will continue as long as I keep at it."