With the amount of scrutiny the defense was under after letting the Redskins convert 11-of-19 third down opportunities, head coach Andy Reid was sure to extol their virtues after the win over the Falcons on Sunday.
That third-down statistic is becoming quite glaring. In the Eagles' four wins this season, the opposition has converted 10-of-52, or 19.2 percent, on third down. In the three losses, opponents have converted 24-of-46, or 52.2 percent, on third down.
In other words, if the Eagles defense stops people on third down, more often than not they emerge victorious.
"Our third-down defense, I think was strong," Reid said. "The guys played well. (The Falcons) were 6-for-16, somewhere in that area there. I just thought we did a good job of getting off the field."
Reid was pressed to give specifics on why the Eagles struggle at times on third down and while he wouldn't go there, he clearly realizes that changes were, and still are, necessary.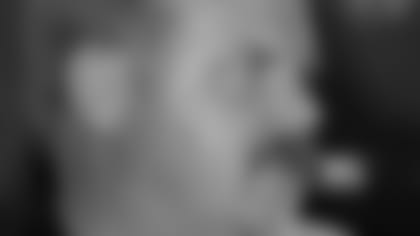 Andy Reid's day-after press conference after his first win in 1999
"Yeah, there are some things that we can do better there, strategically and play-wise," Reid said.
But it sure helps when the opposition's leading rusher gets stuffed. The Eagles' defense held running back Michael Turner, who came into the contest as the NFL's third-leading rusher, to just 58 yards on 17 carries.
In fact, only three of the Falcons' first downs came via the run.
"I thought the guys did a good job of that (Sunday)," Reid said. "They've got two good running backs, and I thought we did a pretty decent job there."
Turnovers have also helped the Eagles limit third down conversions. For example, cornerback Asante Samuel's interception in the first quarter came on a third-and-13 play. But that's one of the reasons the Eagles signed Samuel in the offseason – to get more turnovers. The Eagles only managed a league-low 19 turnovers last season.
"It's good to get the turnovers," Reid said. "We've struggled with that the past couple of years and we're doing well in that category and really can even improve on that. We had opportunities, Asante was around the ball all day (Sunday) and had a couple of opportunities that he would like to have back where he was able to get his hands on the ball and wasn't able to get it, but he sure played a good game."
On the play, Falcons quarterback Matt Ryan was trying to hit wide receiver Roddy White deep down the right side. While it seemed like Atlanta was throwing Samuel's way often on Sunday, it probably wasn't because it was picking on the Pro Bowl corner.
"I'm not sure they were going after him or whether it was the wide-side of the field that they were utilizing, but I know that he got his hands on the ball a few times if they were trying to go after him," Reid said.
All of which helped Reid earn his 100th career victory in the National Football League.
"I happened to see that list, which was more by accident than by direction," Reid said. "It is impressive. I'm honored to be with that group. I fully understand that you can't do it by yourself. It's not a one-man show as I think, probably, those other coaches felt (the same way), but that it starts with your ownership and your front office and your coaching staff.
"I have a handful of coaches that have been with me for 10 years here and then others that have been here for quite some time. Then, the ones that have left, they all had a piece of that. Then, the players, we have four players that have been here for all 100 wins. Then, we have about 400 other ones that have been through here that have helped with each one of those. It's not a one-man show, and even though the head coach kind of gets the accolades there, I think it can be sliced up and given to everybody."