There are a lot of scenarios being played out at the NovaCare Complex and the Eagles are going to maximize every minute they have between now and when they are on the clock for Round 1 of the 2023 NFL Draft on Thursday night. Draft meetings continue, General Manager Howie Roseman works the phones with his counterparts around the league, coaches keep an eye on prospects via reams of film, and lists are finalized for players who might make it through the seven rounds without hearing their names called.
It's the final, final, final stretch before the NFL Draft begins, and while I'm not here to tell you what the Eagles are going to do – because, frankly and honestly, I don't know – what we all must understand is this: Philadelphia has a chance to make a very good roster a lot better this weekend.
It really doesn't matter the position – the job for Roseman and the Eagles is to upgrade the roster. There aren't any glaring holes and Roseman won't be selecting for a "need" position, so taking players to upgrade position rooms is the objective. Here are some thoughts as the hours race away before the NFL Draft starts and Carolina is on the clock ...
1. It's fair to expect Roseman, historically a general manager who works deals, to try to increase the number of draft picks the Eagles have. They hold six at the moment, and they would love to have more, but it's also a cautionary tale here: He isn't going to make trades just to make trades. It has to benefit the Eagles. So, at the end of the weekend, if the Eagles have taken six – or even fewer – players, it's because the deals offered to them just didn't make sense.
2. How is it going to play out with picks one through nine? Four quarterbacks are generally mocked to be taken among those picks. That makes everything a wild card, which is why it's hard to put much stock in who might be on the board with the Eagles sitting at No. 10 overall. Are there teams so desperate for a young quarterback that they will overpay to move up in the top six, seven, or eight picks? I think that's what Roseman meant last week when he talked about the uncertainty of predicting who is going to go where.
"I promise you, when we come here next Thursday night late (when Round 1 is completed) and (Head Coach) Nick (Sirianni) walks in and says something like, 'Fire up,' or yells at all you guys like he yells at me sometimes, in a positive way, you guys will have probably five or six times when the commissioner announces a pick go, 'Whoa,' because at the end of the day, everyone sees things differently," the general manager said.
"Just like everyone sees people differently, just like everyone sees food differently. The things that we're seeing that we think are so clear and so transparent to another team are totally opposite. That's what makes the draft kind of fun. You see things and you go there and you go, 'There's no way that everyone is not going to see the first 10 picks exactly how we see them,' and there will be a difference of opinion."
3. If you're fixated on what the Eagles might do at 10, this is the most salient quote from last week.
"I think the most important thing when you're picking in the first round, certainly when you're picking 10, is that you get a unique player," Roseman said. "I think that there are so few unique players in any draft that if you start picking by position and not based on the quality of the talent, then you really get a chance – so if you pick by position and you pick a player who's not any good, then it's not a good pick anyway. I think the most important thing for us here is that we utilize this opportunity to get a unique player for our team.
"Certainly not planning to be picking at this point in the near future. That doesn't mean – obviously, things happen, but we're not planning for that. So, we understand how important it is to get this right, and how do you get it right is you make sure you get a unique player. I think that if you start saying, 'Hey, we can only get a unique player, but it's got to be this position,' you really narrow your options right there. So just trying to be as open-minded as possible about what that looks like and making sure that whoever we pick is somebody that we think can really impact the game."
4. What is a unique player, then? Will there truly be one on the board at 10? And if not, what do the Eagles do? That leads to another question ...
5. Just how much value does the No. 10 pick have for other teams? Are there teams that want to move up ahead of Tennessee, which picks No. 11 overall and could be in the market for a young quarterback? Or a team that knows it has to leapfrog over both Tennessee and Houston at No. 12?
6. How much does the growth of young players on the roster factor into the process for this weekend? The Eagles place a strong emphasis on player development. Players like Jordan Davis, Cam Jurgens, Nakobe Dean, and Reed Blankenship performed well last season when given an opportunity and are in position to earn larger roles this upcoming season. Plenty of other young players have been developing behind the scenes and will have an opportunity to compete for roles when the team hits the field. These are very important considerations and none of these "next steps" should be considered a "given." Players need to earn their playing time.
7. Is there a player the Eagles positively, absolutely have fallen in love with? There is no evidence of that, nor has Roseman divulged how many players have earned first-round grades from the evaluation process. And how much difference is there between a late first-round pick and a second- or third-round pick?
8. Are any positions locked in on the roster, meaning the Eagles absolutely won't use a draft pick on that position? I can't imagine that being the case ...
9. Keep in mind that, as we saw last year, the Eagles won't stop adding to the roster. Like, all season. NFL Draft weekend is the foundational piece, but Roseman is always working it.
"I'd look at our roster right now and I'd say there isn't a spot that we have to have," he said. "That doesn't mean that we can't get better, because we can definitely get better and our goal is to continue to improve our football team, and that's not going to end next weekend. That's not going to end – and I say this all the time – until the trade deadline and until even after that you have some cuts. Roster building is a year-round job for us, and so this is a big part of it.
"But I look at it like we've got to ensure that we're getting the right players and that we're not forcing anything, and the mistakes are made when you force and you try to make something out of nothing. We have barometers in place, I think, with the conversations that we have where we really try to test each other and try to play devil's advocate and make sure that we're not doing something just because we want to make something into something that maybe is not there."
10. One final, final thought prior to Thursday: Don't judge this draft on one night, or even two nights. Take stock of where the Eagles are on Sunday, after you've had some time to digest how the roster has changed. Even then, it won't be complete, but we will have a much better sense of where this team is after the weekend is over and we can size up the newest Eagles and how they might fit in.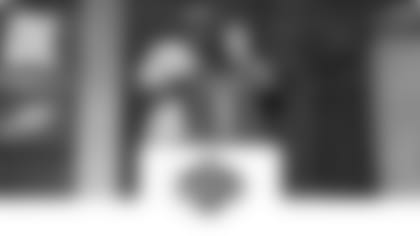 Eagles Draft Sweepstakes
Enter to win an autographed item from our 2023 NFL First Round Pick.