The last time Eli Manning visited Lincoln Financial Field, he was still just Peyton's little brother, with little to liken the two other than name.
Yes, his Giants did beat the Eagles on Dec. 9, 2007, and Eli did quarterback an efficient, if not dominating, game. But the jury, still, was out. And when Manning finished the 2007 regular season having only completed 56 percent of his passes and tossing nearly as many interceptions as touchdowns (20 to 23), there was little to suggest we'd have a definitive answer on the youngest of Archie's sons any time soon.
But something happened in January and February. Within those two months, Eli pulled off major upsets, manufactured the play of his life and made the Manning brothers winners of back-to-back Super Bowls.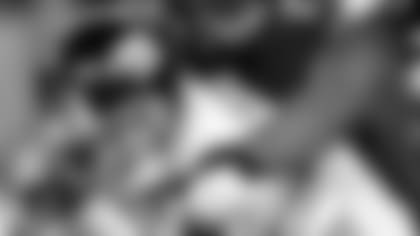 Look out Eli!
And now, all of a sudden, he's the confident captain of the NFL's most intimidating battleship, having lost just three times since that December game – only once since winning Super Bowl XLII in utmost drama.
Funny how quickly things change.
"That's the ultimate goal; why you play the game is to try to win a championship," Manning said. "We weren't the favorites by any means, but we had a belief in ourselves."
The little-brother syndrome won't be the easiest taunting point for the Eagle faithful anymore. Manning will still show up as the baby-faced, younger brother that he'll likely always be, but he'll also show up as a Super Bowl champion, something that can never be taken from him.
His team has seen the boost in swagger as well. If there is a Super Bowl hangover, it's for everybody else that's still numbed because the Giants took down the mighty, undefeated Patriots in February. And Manning's been exactly what his team needs.
He's improved his quarterback rating 16 points to 89.7, and he's only been picked off five times (three of them in the Giants' only loss, to Cleveland). He's taking the snaps for the fifth-best offense in football, impressive for a team that built its championship behind its relentless defense.
The offense's engine has been its running game (second best in football), but it also provides Manning the forum to open up should the situation arise. He hasn't gone over 200 yards passing for four straight games, but, for the most part, he hasn't needed to. And when he does, the Giants win. Big.
"It's just trying to take what the defense gives you, being patient," Manning said. "If a defense is playing outstanding and doing a great job, you're not going to have to force things. You don't have to force big plays. You got to try to control the clock with the run game, with the short passing game. Take your shots when they're there."
Eagles defensive coordinator Jim Johnson's job is to make sure those shots don't happen, or he knows Manning can beat him. Johnson's plan, likely, is to try to put as many guys in Manning's face as possible.
"I think he's still playing at a very good level. He's such a different quarterback than he was three years ago, and he has so much more confidence," Johnson said. "He sees things better, and he has a good surrounding cast."
That surrounding cast is now one of the most feared units in the NFL. The Giants have come a long way from being massive underdogs in February.
Still, according to the oddsmakers, they're underdogs on Sunday night. They still have a little bit to go.
"We knew as a team we had something to prove," Manning said. "We knew we could become a better team after last year."