It was, quite simply, one of the most memorable games in Eagles history. Joining the likes of the Fog Bowl, the Meadowlands Miracles and the rest, the Eagles' 34-20 victory over the Detroit Lions on Sunday will now forever be known as The Snow Bowl.
What made the afternoon all the more special was the unexpectedness of it all. There was no expectation that a ridiculous eight inches of snow would befall Lincoln Financial Field and there was no expectation once the game began that the Eagles would roar back from a 14-point deficit to score 20 unanswered fourth-quarter points on the legs of a record-setting day by LeSean McCoy.
But what was it like to actually play in a driving snowstorm? We'll let the experts take it from here …
Head coach Chip Kelly: You show up here this morning, and our weather report was it wasn't going to snow until halftime.
Right guard Todd Herremans: They said it wasn't going to snow until 2 to 4 PM and only an inch or something like that.
Right tackle Lane Johnson: I knew there was a possibility of snow, but I didn't think it would be anything like this. I thought it probably wouldn't stick and it might just be a little bit. I had no idea it was going to be like that.
Left guard Evan Mathis: My first impression in warm-ups was that it's really coming down. We're out there warming up, trying to see how to get our footing and that's when it was not that bad in warm-ups. But the snow kept falling down. the snow kept getting thicker and thicker and we didn't know if they were going to shovel the whole field or just shovel the lines.
Center Jason Kelce: When I walked out on the field for warm-ups, I think everybody kind of realized there. And then it got worse after warm-ups too. In warm-ups, I was actually to grab the ground pretty good. When we came back out, I remember they had only shoveled the lines and the numbers and I remember trying to run and cut on a patch where they hadn't shoveled and I just slid like three yards. 'Oh, this is going to be interesting.'
Tight end Brent Celek: For it to just, in pre-game, start snowing the way it did. That was some of the hardest snow I've ever seen and I've been around a lot of snow. It just kept coming and coming and coming and coming. And how fast it was accumulating on the field, all they could do was just brush off the lines. But the difference between running where the lines were and where the other stuff was. I mean, you had to kick the snow out of the way just to get lined up. It was crazy.
Wide receiver DeSean Jackson: When you are a kid in California, you dream about playing in weather like this. It's always sunny there and it barely rains. As a kid growing up, you dream about playing in snow and having fun and sliding around.
Linebacker (and snowboarding enthusiast) Mychal Kendricks: There was fresh powder. Fresh powder all day. I actually said when Nate (Allen) and I were running out. I was like, 'Man, fresh powder today.' He started laughing … When we first came out, the first thing I did was slide. I'm so comfortable in the snow.
Herremans: You just have to go out there and embrace it when it's something like that. I think a team starts thinking, 'Aw man, this is going to suck,' instead of, 'Oh man, this is going to be fun.'
Linebacker Connor Barwin: We said that from the beginning. We were out there before the game and we said, 'Let's make this a special one.' You're always going to remember this game because of the weather, so let's make sure we remember it being a win.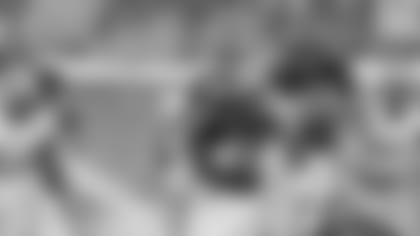 Barwin: You couldn't (see). (The Lions) had a little advantage wearing white jerseys because in that first quarter it was really hard to tell who was who, who had the ball when they ran the ball because the snow was coming down so hard.
Cornerback Cary Williams: I couldn't see (Lions quarterback Matthew) Stafford. You couldn't see him at all. You just kind of hope that you're close to the receivers when he throws the ball … I missed a tackle because I wasn't able to see the guy. The snow was in my face and I just naturally kind of panicked because there's water rushing in your nose.
Kendricks: I kept telling guys, 'Look, after every play you need to click your cleats.' I don't think people understand how quickly snow, the molecules, how they stick together so fast. That can become cake underneath your shoe and essentially you're snow on snow. Basically, you have skates on. So I kind of overemphasized the fact that we have to keep clicking our cleats. We might have gotten on their nerves a little bit with that.
Celek: The hardest thing was to see the sideline. It was just kind of hard to see the sideline and what we were doing. But it wasn't that bad. It wasn't as bad as we thought it was going to be.
Mathis: You just had to find your signaler, your play-caller, and everyone kind of looked the same. We figured it out. You hope that one of the five offensive linemen, or anybody on the team, you hope that somebody saw the call and they could echo it to you. There was never a play where somebody didn't know what was going on. Communication is huge.
Offensive coordinator Pat Shurmur: We could see the game, but as far as the pictures, we weren't getting pictures. This was old school. There was really not much electronic help there.
Kelly: That grounds crew, as much as they could and for what they did get done, they did an unbelievable job, and I think I'd like to thank them for what they did. It was a very, very difficult day and a lot of people contribute to it.
Kelce: I've played in snow games, but never where it was that hard to grab the ground. Really to just see five yards in front of you in the first half was tough. It was a good job by everybody staying locked in, and really pushing throughout the game.
Quarterback Nick Foles: I was seeing a lot of white, a lot of snow coming down, but you try to zone all of that out and focus on the team and what is going on.
Johnson: What was funny is we would kick snow towards them and clear a hole and they would just kick the snow right back. It was pretty funny.
Wide receiver Riley Cooper: How could you be prepared for this? It was fun. It was a fun football game. Everybody thought it was so wild and crazy. We just had fun with it. It was like I was a little kid.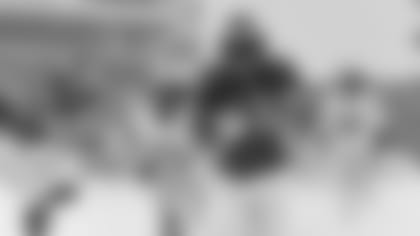 Kelce: Some guys (changed their cleats at halftime). I didn't. I kind of went to enough guys to see if I should switch to seven studs, which are screw-ins, and they were like, 'We're not really grabbing the ground either.' So it was kind of one of those things where I felt it didn't really matter what shoe you were wearing. It was more about staying under control, keep your feet under you and that was the biggest thing.
Running back LeSean McCoy: I've actually played all of my football in Pennsylvania, and this is the worst game that I've ever played in weather-wise. It's my best game too.
Kendricks: It was definitely a fun game. This went down in history. I think so. You've got two of the best offenses in the league as of right now and no one wants to lose. You know our situation, us being a new program and everything. I think it's Kelly's first time in the snow too. Play calls changed. We can't run the same plays that we called in practice. Everyone is affected by this weather and it's just fun to see how things turn out … Everything went out the window and we played a completely different game than what we practiced for.
Jackson: Never played in anything like that. I've never seen anything like that. Honestly, it was a great way to go out and play together as a team. We did some great things. We came back in the second half. I credit everyone in this locker room. We kept fighting all game long.
Herremans: Any time you get down 14 points, it's a tough deficit to come back from, especially in weather like that because you're not really airing the ball out that well. I think it shows a lot of character from our team that we're able to stay pretty calm and collected throughout whatever happens in the game.
Jackson: From the start of the game to the end, it was crazy. We were able to weather our own storm and get it done. Everyone in this locker room deserves credit for this win. It's a great, well-deserved and much needed win.
Mathis: It's a completely different situation. That kind of weather doesn't happen often and most of us have never played in anything close to that. It was quite the experience. It's easy to say it's quite the experience after getting a win, obviously.
Barwin: That was crazy. I've played in some snow back in Detroit, but nothing like that. Not that much snow. Not that kind of snow that piles up on the field. It was crazy. It was a great game. It was a lot of fun.
Celek: I'll never forget this game.
The Lions visited the Eagles at Lincoln Financial Field in a battle of teams looking to make a playoff push in December ...