In the first season under head coach Chip Kelly and offensive coordinator Pat Shurmur, the Eagles offense set a number of franchise marks. As a team, the 2013 Eagles set franchise records for points (442), total net yards (6,676) and touchdowns (53). They accomplished all of that while turning the ball over just 19 times, the lowest amount in franchise history.
With the season now over, Shurmur took time to look ahead to the offseason and beyond, explaining what comes next for the coaching staff.
"We're done playing, of course, and that's a hard pill to swallow," Shurmur said. "We're all looking around saying that we should be getting ready for another game, so that's kind of what we're going through. We spent the past week evaluating our players, going through each player with a fine-tooth comb, talking about what they are as a player, where they need to get better, so on and so forth.
"We also sat down and we made a list of critical factors that we're looking for in players as we get ready to embark on free agency and then the draft, and then starting when we get back to work here, we're going to go down to Mobile, or course, for the Senior Bowl, and then when we get back from the Senior Bowl we're going to really dig into what we call scheme evaluation.
"We'll spend our mornings working on football. We'll look at all the things we did and we'll emphasize all the things we did well and we'll de-emphasize the things we didn't, and we'll also look at new ways and new ideas to make our offense better. That's what we'll do in the mornings and then in the afternoon, as coaches, we'll spend a lot of times on player evaluations, whether it's free agent players or guys who we could potentially draft."
Although Shurmur and the rest of the coaching staff are looking ahead to what should be a promising 2014 season, he also took time to discuss the year that was at the NovaCare Complex, explaining that the foundation of the offense has been put in place.
"Now that we have a few minutes to reflect, we did some really nice things," Shurmur said. "Unfortunately, there were some games and parts of games where we need to play better. We have the system taught. We have what we want to do in place. We'll go back and do more of the things we did well, less of the things we didn't do well and we'll get some new ideas and just keep building it. I think that's the important thing, but we taught the fundamentals of what we want to be as an offense, we've got the system taught, most of the players will be back next year, so we just have to get better and build on it.
"I think there was a lot of parallel learning. Chip was getting to know the players, we as coaches were getting to know the players, the players were getting to know the system, and then you match it up with our opponents each week and I think our guys just did a great job of fighting through it and we found a way to find some success, although we're not playing anymore, so we have to find a way to keep that going."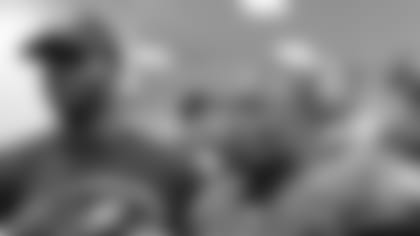 The Eagles offense found ways to be effective in both the passing and running game, but it's no secret that the offense was built to run, and run they did. LeSean McCoy, en route to a first-team All-Pro selection, captured the Eagles' first rushing title since 1949, as he ran wild for 1,607 yards. According to Shurmur, there is no question that McCoy had an amazing year, but it was the depth at the position that has the Eagles set up for success moving forward.
"That's a really good crew. In my two former lives (as an NFL head coach), I wish we had a crew of running backs like that. I'll call them a crew because obviously LeSean is our starter and he's done outstanding in terms of what we ask him to do, but then behind him I really feel like Bryce Brown improved. He was probably the slowest to get going, but by the end he was playing extremely well. Chris Polk got in there and he had some explosive runs and scored some touchdowns, and then (Matthew Tucker) behind the scenes, I'm really looking forward to see how he does in the offseason, but we got to the point where it really didn't matter to us who was in there."
The success of the league's top rushing attack started up front. A group comprised of both veterans like Jason Peters, Todd Herremans and Evan Mathis and young players like Jason Kelce and Lane Johnson, the offensive line was able to stay healthy all season, which Shurmur credits to the unit's success.
"That group is the engine that drives the car," Shurmur explained. "It's been said frequently and in a lot of different places, but they played together all year. They did an extremely good job of blocking for the run. They were very good pass protectors, and I'm looking forward to having as many of those guys back next year, because continuity is what really starts things.
"It's important as an offensive lineman that you can win your matchup, but it's equally important that you play together. These guys came together and played well. We have a very fit group - they're not sloppy guys, they're very fit. They can run well, they do a lot of things well, and I think that is partly why we were better in the screen game. We're obviously an inside zone running team, and then they do everything that they need to do as pass protectors. They're multiple and they played well together."
Of course, a recap of the Eagles offense in 2013 would not be complete without noting the emergence and overall stellar performance of Nick Foles this season. After starting out the season on the Eagles bench, Foles was ready to step in when the situation called for him. According to Shumur, Foles' ability to stay prepared went a long way in his success. 
"He did an outstanding job of just kind of staying the course," Shurmur said. "Even when he wasn't starting, he was preparing like he was going to play, so then when he was ready to go, he was in that battle rhythm, which was very important, and he had a really good feel of what we were trying to do on offense.
"He understands how important it is to take care of the football, and that's why even though he was aggressive with his decision-making, he had very few interceptions. As we look at the offseason and we start evaluating players, guys that don't throw many interceptions are good decision-makers, and that's really first and foremost for a quarterback."
To most Eagles fans, the 2013 season was a successful one. The team came together quickly under a new coaching staff and captured the NFC East title in their first year under new leadership. Records were broken, foundations were set and the future seems bright. Shurmur knows that there is always more work to be done, and he's looking forward to whatever comes next.
"There is only one team this year that is going to win the Super Bowl, and we're not that team so each person, each player, each coach, everybody in the organization has got to look at ways to be better, and for him to say that tells me even more that he's on the right track.
"It's a full-time job, but it's something that we love. For football coaches to come to work and work on football, that's what makes this job special."