You never know when your big break is going to come.
For Jordan Roberson, the owner and founder of the clothing line She's Seaux Sporty, it came when she was working in the Hyundai Club at Lincoln Financial Field prior to the October 14 game this past season against the Tampa Bay Buccaneers.
As a seasonal in the Eagles' Premium Services Department, Roberson was engaging with clients when she received a message on her phone. It was a picture of a television with quarterback Jalen Hurts wearing a lavender hoodie that had the statement "Women in Sports Social Club" on it. Hurts wore the sweatshirt designed by Roberson for the national pregame interview on FOX with reporter Kristina Pink. Roberson immediately ran to look for a television in the club lounge.
"I wanted to cry. It was crazy. I just couldn't believe it," she said.
Even though she worked for the Eagles, it was a mutual connection who knew Hurts from Alabama that contacted the quarterback about the hoodie. Roberson sent Hurts the hoodie earlier that week with no guarantee that he'd ever actually wear it, let alone for a nationally televised interview. It should not come as a surprise as Hurts later in the year promoted the Women's Sports Foundation during the NFL's My Cause My Cleats initiative.
Images of Roberson's sweatshirt circulated on social media and traffic flooded her website. The 24-year-old Houston native – another coincidence since Hurts hails from Houston as well – was at the center of a booming business.
"It's been a journey for sure," Roberson said.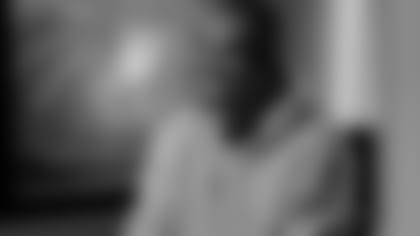 She's Seaux Sporty might have become an instant sensation, but it certainly wasn't built overnight.
Back in November of 2019, Roberson was traveling to Cleveland for a diversity and inclusion career networking event, and she wanted to have something "cute and trendy" to wear at the airport. Unable to find what she was looking for, she finally decided in July of 2020 to just do it herself.
"I love streetwear. My first thought was how can I take a streetwear brand and turn it into something to promote women in sports," she said.
Originally the name of the apparel line was going to be just "Seaux Sporty," with the Cajun ending a nod to her extended family from Louisiana. Her grandparents, who helped instill a love of sports in her, live on the Texas/Louisiana border. Her mom added the "She's" for good measure. Her best friend, Carly Newton, offered advice and served as a sounding board. The logo for the company was finalized last February and the first product was ready in May. On June 18, 2021, the website finally launched.
A sport management major at Temple who will graduate this year, Roberson was selected to participate in the inaugural Virtual Diversity Development Series hosted by the Eagles last year. This five-week informational series provided an opportunity for selected entry-level diverse candidates to learn more about the organization, potential career opportunities, and the career paths of front office executives. Additionally, managers were provided a platform to network and connect with high potential candidates which helped Roberson land the position with the Premium Services Department.
"There's a lot of things that happen behind the scenes," Roberson said of what she learned through her experiences with the Eagles. "You have to put the work in to get to where you want to be."
What's next for Roberson? On Wednesday, she's launching a new line to coincide with National Girls and Women in Sports Day. Even with a foothold in the fashion industry, Roberson wants to continue to carve out other niches in the sports landscape. The most rewarding part of the process for her has been her peers who have been inspired to take that all-important leap of faith. "It's a movement," Roberson says.
"I want to work in sports, and I know there's a ton of other women who want to as well," she said.