Steve Smith and his son Matt attended their first game together at Veterans Stadium back in 1996. That single experience convinced Matt, who was just 6 years old at the time, to follow in his father's footsteps as an avid Eagles fan.
The two sat behind the end zone at the Vet during the 2000 NFC Wild Card playoff win against Tampa Bay – an unforgettable moment for Matt. When Steve was able to purchase season tickets at Lincoln Financial Field, Matt was adamant that they chose seats in the end zone.
That's where they sat for "fourth-and-26" and where they watched the Eagles dismantle the Vikings in this year's NFC Championship Game. Name the moment, they were there, Steve says. And over the years, those great memories stuck with Matt.
A little over a year ago, Matt was deployed to a military base in Taji, Iraq. During his entire time there, he kept his Eagles flag waving over his blast barricade as a symbol of his passion for the team back home.
"His barracks looked like an Eagles locker room," Steve says. "There were a lot of days when he was young sitting out at games in some pretty cold weather but he loved every second of it."
Matt was recently named a captain in the Army and is stationed at Fort Campbell in Nashville, Tennessee. He was inspired to serve his country as a 12-year-old after watching his grandfather's funeral at Arlington National Cemetery. His grandfather had also served as a captain. As a junior in high school, Matt told his father he desired to pursue a similar path.
After attending the United States Military Academy Preparatory School in Fort Monmouth, New Jersey, he graduated from West Point University in 2014. He completed his BOLC (Basic Officer Leader Course) training at Fort Benning in Georgia and was sent to be with the 101st Airborne Division in Fort Campbell, Kentucky in the early part of 2015. About a year later, Matt was deployed to Iraq where he spent a year defending his country before returning to Fort Campbell.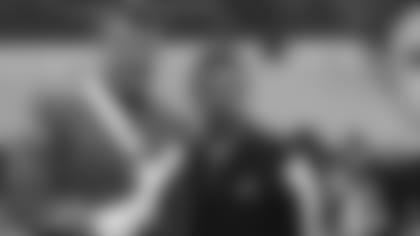 Steve, a Season Ticket Member since 1993, flew his son home for the NFC Championship Game and the two were shocked when the Eagles organization awarded them two tickets to this year's Super Bowl late in the fourth quarter.
"I had no idea that our invitation to go on the sidelines at the two-minute mark of Sunday's game had anything to do with Super Bowl tickets," Steve says. "We just thought that the bonus was we were going to be allowed to come down on the field and celebrate with the team and enjoy the trophy ceremony.
"When we were pulled aside and presented the two tickets, I fell out. I had no clue that was coming, not even a hint."
The gift was monumental for Steve who was in the stands during the Eagles' previous Super Bowl appearance in Jacksonville, Florida back in 2005. The Smith household is packed with lifelong Eagles fans. Steve's daughters - Lauren, Megan, and Lindsey - have all attended plenty of home games. While Matt was away, Steve and Megan made a tradition of going to either an NFC or AFC Championship Game every year. Steve and Matt will be accompanied to Minneapolis by Matt's wife Amy, who is also a West Point graduate and 1st Lieutenant in the Army; Megan, and her husband Will Greenberg, the assistant strength and conditioning coach of the Buffalo Bills.
"My immediate reaction when we saw the Super Bowl tickets was, 'Oh no, my son's going to get to go to the Super Bowl and not my daughter who does all these games with me," Steve says.
"Fortunately, it's all worked out storybook."