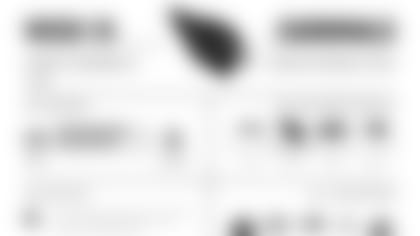 The Eagles will play the Arizona Cardinals for the fifth straight season in 2015, making Arizona perhaps the Eagles' biggest non-divisional rival. The Eagles will be looking for revenge for a couple of reasons this time around. The Cardinals have taken four of the last five matchups with the Eagles (six if you include the 2008 NFC Championship Game), and last year's meeting was particularly tough to swallow. The Eagles had their fair share of chances to put more points on the board and win the game on the final drive, but they couldn't get it done.
The Cardinals made the playoffs in 2014 and owned one of the best records in the NFL throughout most of the season. In early November, Cason Palmer suffered a knee injury and things quickly began to spiral downwards for the team. They went 3-4 in their final seven games after starting out 8-1, and lost in the first round of the playoffs to Carolina. Drew Stanton and Ryan Lindley did their best to keep the offense afloat, but they ultimately couldn't guide Arizona to a championship. Palmer has said that he'll be ready for Training Camp, but there's no doubt that the Cardinals' chance at success in 2015 is reliant on Palmer's health.
One of the biggest reasons why the Cardinals beat the Eagles in 2014 was their outstanding receiving group. Perennial Eagles-killer Larry Fitzgerald returns with a cap-friendly deal, joining Michael Floyd and the rising John Brown. Eagles fans may well remember Brown's 75-yard touchdown, which proved to be the game winner in last season's meeting. The Cardinals have not been very reliant on the ground game the past few seasons, as evidenced by Beanie Wells being the team's last 1,000-yard rusher (2011), but the Cardinals passing game should once again be one of the best in the league if health issues aren't in the picture.
The Cardinals roster hasn't seen much turnover since last season, but there are a couple of notable additions and subtractions. Coming in to Arizona is Mike Iupati, one of the top guards in the NFL who switched NFC West allegiances in 2015. First-round pick D.J. Humphries should also help upgrade the offensive line. On the other side of the ball, the Cardinals lost defenders Darnell Dockett and Antonio Cromartie to free agency, but for the most part, the Cardinals should look very similar to the way they did this past season.
The Eagles seem to catch the Cardinals at a good point in the season. It will be the second of three straight home games for the Eagles over the final quarter of the season, and the warm weather Cardinals will have to play in the cold December Philadelphia weather.