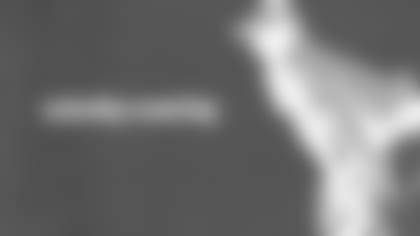 One of the first things NFL scouts do when looking at draft prospects in the spring in preparation for the NFL Draft is watch them against the best competition they faced in the previous season. How did a wide receiver fare against the best cover corner on his schedule? How did a pass rusher do when he faced a top-flight left tackle? How did "Quarterback X" perform against the best defenses he faced? This fall we're going to take a look at the best head-to-head matchups in each week's slate of college football games, and give fans a preview of the top names around the country in the process.
Another week, another set of matchups as the college football season continues. With a number of high-profile matchups on this weekend's slate, a number of prime-time players will have one-on-one battles that will help evaluators place grades on them in the offseason. This week on the Eagle Eye In The Sky Podcast, I spoke with LSU beat writer Randy Rosetta about some of the top players on the Tigers' roster after their huge win over Mississippi State last week. On the College Draft Podcast with Ross Tucker, we were joined by NFL Network's Charles Davis to discuss the top quarterbacks in the country before I previewed the top matchups in Alabama vs. Ole Miss and USC vs. Stanford. So, what are the other matchups to watch? Let's take a look.
1. Auburn QB Jeremy Johnson vs. LSU Defense
Tiger Stadium, Baton Rouge, LA - 3:30 PM - CBS
One of the most hyped quarterbacks throughout the offseason in a conference starving for the next star signal-caller, Jeremy Johnson's 2015 campaign hasn't started as cleanly as he would've liked. The Tigers squeaked by FCS opponent Jacksonville State a week ago, after nearly giving away a huge lead to Louisville in the season opener. Johnson is big, athletic, a quick release as well as a strong arm, but turnovers have been his major issue. Three interceptions in Week 1 and two more against Jacksonville State have brought up questions regarding his decision-making and ability to read defenses, particularly underneath zone defenders. Still just a junior, a strong outing against LSU would quiet doubters quickly.
Moving the ball against LSU will be no easy task, however. While the defensive line experienced a lot of turnover over the last couple of years, the unit is led by linebacker Kendell Beckwith as well as junior cornerback TreDavious White, who dons the heralded No. 18 formerly worn by Bennie Logan. White is big, smart, athletic and a ballhawking cornerback who has all the skills to be an effective player in any scheme at the next level.
2. Arkansas RB Alex Collins vs. Texas Tech DE Mike Mitchell
Razorback Stadium, Fayetteville, Arkansas - 7 PM - ESPN 2
Last year, both Alex Collins and Jonathan Williams ran amok over the Texas Tech defense. With Williams, a player whom I viewed as maybe the best returning senior running back in the country, out for the season, it'll be up to Collins to shoulder the load. Arkansas is hurting after a loss to Toledo last week when they were forced to throw the ball to win the game. I would expect Collins to be much more of a factor in this game. At 5-11, 216 pounds, he's got good size, a very strong burst in a short area and can pull away from defenders in the open field. He features good make-you-miss ability, and he's a competitive runner. I questioned Collins' vision a year ago, but if the Tech defense fails to show up again, he could have a huge day as the former five-star recruit continues to build on his résumé.
The Red Raiders have a five-star recruit on their side of the ball as well in Mike Mitchell. The former Ohio State Buckeye came home to Texas two seasons ago, and in his first season in Lubbock he was forced to redshirt. After being moved to defensive end from linebacker this offseason, Mitchell has registered just two tackles on the season. Saturday would be a good opportunity for the former blue-chip prospect to take the next step against this hungry Arkansas team.
3. Auburn WR Duke Williams vs. LSU CB TreDavious White
Tiger Stadium, Baton Rouge, Louisiana - 3:30 PM - CBS
Billed as one of the top returning wideouts in the nation, Duke Williams has had a pretty rough start to 2015. After missing part of preseason camp due to a suspension, and more time due to injury, the senior has just five catches 62 yards on the season. Now, part of that may be due to the up and down play from the quarterback position, but many expected bigger numbers from the 6-2, 224-pound receiver. Williams uses that size to his advantage, showing the ability to box out at the catch point and create separation at the last second between himself and the cornerback. Much like Jordan Matthews, he sees a lot of reps inside in the slot, where can be a mismatch for smaller corners and safeties. Unlike former teammate Sammie Coates, no one questions Williams hands or ball skills, though he's nowhere close to the explosive athlete that Coates was during his time with Auburn.
I've made it no secret on the College Draft Podcast this summer that I have a bit of a man crush on LSU cornerback TreDavious White. At 5-11, 191 pounds, the junior cornerback is instinctive, athletic and has the ability to play in any scheme at the next level because of his combination of size and movement skills. He's a very tough run defender, has good ball skills and his awareness in coverage (whether he's in zone or man) were all very impressive based off his sophomore tape. When the team needed a play last week against Mississippi State late in the game, it was White who came up with the pass breakup in the red zone. Off the field, he brings great character as he dons the coveted No. 18 for the LSU Tigers (a number formerly worn by Bennie Logan).
4. Pittsburgh WR Tyler Boyd vs. Iowa CB Desmond King
Kinnick Stadium, Iowa City, Iowa - 8 PM - Big Ten Network
There aren't many receivers in the country who are as physically gifted as Tyler Boyd. The true junior has been a star since he set foot on campus at Pitt, causing a lot of people to compare him to former Top 5 pick Larry Fitzgerald. At 6-2, 190 pounds, he has the size to out-muscle defenders at the catch point, and with speed reportedly in the 4.4s he can run by people as well. As a route runner, he has improved and his quickness in and out of breaks gives him the potential to be great in this area moving forward. Boyd's biggest strength, however, are his hands.
He makes things look very easy at the catch point, consistently plucking the ball out of the air away from his frame. He's got a "my ball" mentality in contested situations, and - at times - his play is almost reminiscent of someone like Odell Beckham Jr. With Heisman Trophy candidate James Conner out for the season after tearing his MCL, Pitt's offense is likely to funnel through Boyd in 2015, so expect big numbers from the junior receiver this fall.
Boyd will face one of his stiffest tests of the season tonight against Iowa and cornerback Desmond King. One of the top defensive backs in the Big Ten, King has the size (5-11, 200 pounds) and quickness to match up with Boyd. The junior has seven tackles and an interception on the season, with the pick coming against intrastate rival Iowa State last weekend. King is extremely physical, and his competitive nature will serve him well this weekend against Boyd. He can play press. He can play off. He plays both spots on the outside and has played a lot of slot corner in the past. While it won't help him specifically in his matchup defensively, King also doubles as an effective punt returner. This matchup will be one of the ones I watch very closely this weekend, with two of my favorite players I watched on tape going head to head.
5. South Carolina LT Brandon Shell vs. Georgia EPs Leonard Floyd/Jordan Jenkins
Sanford Stadium, Athens, Georgia - 6 PM - ESPN
At 6-6, 327 pounds, Brandon Shell certainly has the size to play tackle in the NFL. He's got the genes too, as he's the great nephew of the late Hall of Famer Art Shell. After moving from right tackle to left this season, Shell is seeing the best pass rushers in the SEC week after week now that the conference schedule has started, and it kicks off with a bang this week in what may be his toughest test of the fall. While Shell may not have the lightest feet in the world for a blindside protector, he gets great movement in the run game and has very strong hands. His ability to jar opposing linemen on contact, along with his natural feel for the zone run game, make him a good fit for a lot of teams.
I mentioned that Shell will have a tough task ahead of him on Saturday night, and that may be an understatement. One of the most talented pass rushers I've watched in college football is a player who doesn't even line up on the outside! Junior linebacker Leonard Floyd, at 6-4, 230 pounds, was moved to inside linebacker in the Bulldogs' 3-4 scheme this summer due to an embarrassment of riches at outside linebacker. When I watched him in 2014 as a redshirt sophomore, I saw a player with true first-round potential as a pass rusher because of his combination of length and athleticism. He was a dynamic threat off the edge last year, and when he lined up in those situations last week against Vanderbilt he was incredibly effective, especially using his arm-over move to beat tackles inside. As an inside linebacker, he's asked to do more from a coverage perspective this fall, and watching him at his size run down the seam with slot receivers against the Commodores last week was truly something to watch, as he even broke up a pass 20-plus yards down the field.
Alongside Floyd, senior Jordan Jenkins continues to thrive as an edge rusher for Georgia. Jenkins already has 18 tackles, 6.5 tackles for loss and three sacks through two games, and his ability to play with power and leverage as well as flexibility turning the corner make him a tough player to block. A three-year captain in the SEC, Jenkins brings everything you want off the field as well, and will be a player to watch in 2015. I mentioned the embarrassment of riches at that position, so you may see some of the younger players stand out as well, including sophomores Lorenzo Carter and Davin Bellamy.
Fran Duffy is the producer of "Eagles Game Plan" which can be seen on Saturdays during the season. Be sure to also check out the "Eagle Eye In The Sky" podcast on the Philadelphia Eagles podcast channel on iTunes. Prior to joining the Eagles in 2011, Duffy was the head video coordinator for the Temple University Football team under former head coach Al Golden. In that role, he spent thousands of hours shooting, logging and assisting with the breakdown of the All-22 film from the team's games, practices and opponents.