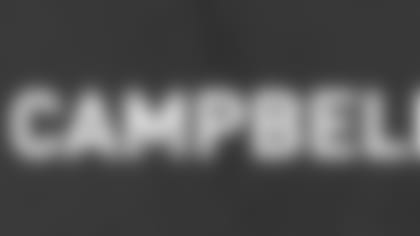 You know the joke where parents will say that they would want to have five kids just so that they could field a basketball team. Well, Ibraheim Campbell came from a family that did exactly that ... only for a football team.
Campbell was the youngest of 11 children - nine boys and two girls. Raised in the Germantown section of Philadelphia, Campbell has a strong support system to lean on as he embarks on his NFL journey.
"I was the youngest, so I was always competing with them, but at the same time, they were extremely supportive of me. They were always looking out for my best interests," Campbell said. "That's made this whole process, and anything I've gone through that was tough in life that much easier, because I knew that I had that support and that foundation to fall back on."
The former Northwestern safety earned his degree in economics, but now wants to provide a return on investment for the team that selects him in the upcoming draft.
"At Northwestern, we played right and left safety, so I could be the strong safety position or the free safety position," Campbell said. "I feel like I'm pretty rangy as a free safety, and as a strong safety, I feel like I embrace the physicality of the strong safety position well."
Campbell was a late invite to the Senior Bowl, but earned a spot on NFL Network analyst Mike Mayock's "made money" list for the week. The 5-foot-11, 208-pound Campbell was a second-team All-Big Ten selection by the coaches. He finished his career with 316 tackles, 24 pass breakups and 11 interceptions which tied for third place in Wildcats history.
-- Posted by Chris McPherson, 5:11 PM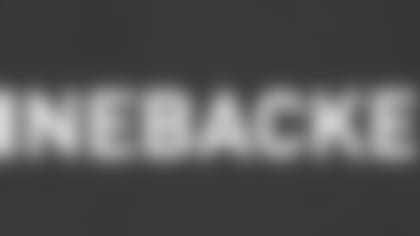 What position will Shaq Thompson play in the NFL?
He had 51 tackles and an interception as a linebacker in 2014. He gained 456 yards rushing and scored two touchdowns as a running back. NFL Network Mike Mayock deemed Thompson as the second-best safety in this year's draft class.
In Thompson's mind, the answer is simple - outside linebacker.
"I'm going to put it out there that I want to play linebacker," said the 6-0, 228-pound winner of the Paul Hornung Award as the nation's most versatile player. "That's where I feel most comfortable. I like to be up on the line of scrimmage. Physical. I'm not the biggest, but I'm physical enough. I feel like size doesn't matter."
Thompson compared his game to Tampa Bay linebacker Lavonte David. Thompson will be helped by the fact that Washington plays a hybrid defense with both 4-3 and 3-4 looks.
It was reported that Thompson would do running back drills, but on Saturday he was meeting with the media and not on the field at Lucas Oil Stadium.
Before his football career blossomed at Washington, Thompson was in the Boston Red Sox organization. In 13 minor league games, Thompson was 0-for-39 with 37 strikeouts.
"I met this thing called failure," Thompson said of his brief time in pro baseball. "I learned how to overachieve it and move on."
Thompson is projected by some mock drafts to be a first-round selection in April.
-- Chris McPherson, 4:00 PM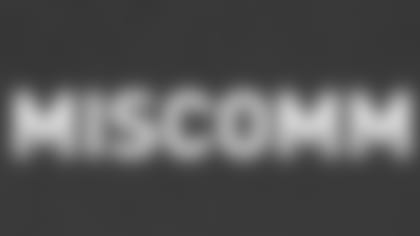 Marcus Peters led the Washington Huskies in interceptions this past season despite playing in only eight games. He was named to NFL.com's Midseason All-America Team. But Peters didn't finish the year with the Huskies after he was dismissed from the program for repeatedly clashing with the new coaching staff.
Peters claimed that it was "just a miscommunication" on his behalf. He admitted that he didn't take the transition from Steve Sarkisian to Chris Petersen well.
"I just learned from my mistakes," said Peters, who spent the time away from the program with his newborn son, Carson. "I made some immature decisions at the University of Washington and it hurt me, truly. I just have to learn from my mistakes and go from there."
Peters has been linked to the Eagles in mock drafts and is widely considered by draft experts as a first-round pick. The 6-0, 197-pound cornerback had 11 interceptions in three seasons with Washington. The challenge for teams is to figure out whether Peters is truly sorry or not worth the potential headache. A positive sign is that Peters will be allowed to work out at Washington's Pro Day. He was also willing to help teammates out with the defensive playbook despite not being able to suit up.
"I never figured I lost my chance. There are a lot of people that make mistakes and I am blessed to have a second chance with me being able to be at the Combine and I go in these interviews and I go in and accept full responsibility for what happened and I just take full ownership of it," Peters said.
-- Chris McPherson, 3:30 PM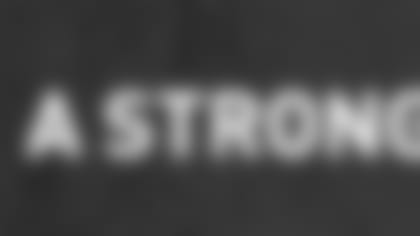 With 17 touchdowns over the past two seasons, this Philadelphia native has a strong nose for the end zone. At 6-2, 217 pounds, former Arizona State wide receiver Jaelen Strong further helped his draft stock with an unofficial 4.44 time in the 40-yard dash.
It was at West Catholic Prep where Strong developed the confidence that has put him on the doorstep of making his NFL dream a reality.
"Even at West Catholic, I knew I had the chance to play at this level if I just put my mind to it and work hard enough," said Strong, who still visits Philadelphia multiple times a year. "I'm going to work hard every day. The thing about me is I haven't reached my peak yet. I know I have a lot of coaching left in me. I'm going to bring it every day. I'm a quick learner, eager to get out there and compete."
Strong went to Pierce College and became one of the top junior college prospects before making the leap to Arizona State. In two seasons with the Sun Devils, Strong caught 157 receptions for 2,287 yards. He averaged 97 yards per game in 2014.
On Saturday in Indianapolis, Strong proved he has the speed to play in the NFL, but he was already known for his proficiency in the red zone.
"The red zone is somewhere big, physical receivers love to be in, go up and get the ball, box them out," Strong said. "I was watching film on Jimmy Graham. I know he's a tight end but he loves to box the cornerbacks out and go get the ball. That's just something I look forward to adding to my game as well."
-- Chris McPherson, 1:25 PM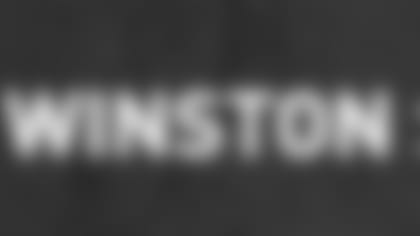 Forget being compared to Marcus Mariota. Former Florida State quarterback Jameis Winston wants his name to be mentioned along with the game's elite players.
"This is no competition between just me and Mariota, because one thing about me, I plan on winning the Super Bowl next year so it's going to be me vs. Peyton Manning and Jameis vs. Tom Brady," Winston said at the NFL Scouting Combine. "I want to be viewed like that. After all this combine stuff, you're not going to hear no more about Jameis Winston and Marcus Mariota. I want my name to stay relevant for the next 15 or 20 years of my career."
Winston led the Seminoles to the National Championship two years ago and into the first-ever College Football Playoff this past season. Physically, Winston is gifted. He is expected to perform well in the position drills. He's played in a pro-style offense. He was engaging and charismatic during his press conference.
However, there are off-the-field concerns ranging from a shoplifting incident at a grocery store to a sexual assault allegation. He was suspended for the first half of a game this past season for making indecent remarks on campus.
"It's not time to explain about what I'm going to do, but when I do get to a city and a team I plan on getting involved in the community and create an image, a positive image, and put everything else behind me," Winston said.
Winston also had an MRI done on his shoulder at the NFL Scouting Combine, but said that his shoulder is "great" and it's the "same shoulder I had the past two years at Florida State."
NFL Network analyst Mike Mayock said prior to the NFL Scouting Combine that Winston was "the face of the Florida State franchise and that didn't stop him from making bad decisions."
Tampa Bay Buccaneers head coach Lovie Smith said earlier this week that he didn't have any issue with Winston's off-the-field questions, so there is a very good chance that the quarterback will still be the No. 1 overall pick.
-- Chris McPherson, 11:50 AM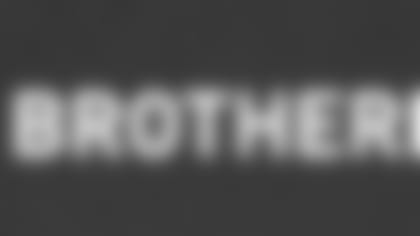 Eric Kendricks has no problem being referred to as Eagles linebacker Mychal's little brother.
"I'm going to keep getting the questions and I don't mind them," Kendricks said at the NFL Scouting Combine. "I think he's a great guy. He's a great football player. I love to talk about him."
The former UCLA linebacker checked in at 6-0, 232 pounds. Mychal is listed at the same height and just eight pounds heavier. The younger Kendricks won the Butkus Award as the nation's top linebacker and potentially could be selected earlier than Mychal, who was the Eagles' second-round pick (No. 46 overall).
"He works so hard. I'm not even joshing you. He's the real deal," Mychal said during the season. "He's going to put in that work; he doesn't just rely on his athletic ability, like a lot of guys do. He puts in that work.
"Words can't even explain how proud I am of that man. I've got to say man now, you know? I can't even say boy, or kid. That's a man now."
The two played together a Hoover High School in Fresno, California. Eric has allowed himself to think about the possibility of reuniting in Philadelphia.
"Man, that would be crazy. I played with my brother in high school and I took it for granted at the time," Eric Kendricks said. "That would be unreal to say the least."
Mychal has made his mark as a playmaker with a knack for sacks and forcing fumbles. A self-described film junkie, Eric prides himself on being able to track the ballcarrier and take him down, but would like to develop the blitzing aspect of his game that his older brother flourishes in. Eric wants to be the best and in his mind he'll do everything possible to become better than his brother.
"We are 17 months apart so we fought all the time," Kendricks said. "We competed getting the remote to the television. Competition was something I was born in that environment and to this day I still crave it. I crave competition and I find it in every aspect of life. Competition is in my blood."
-- Chris McPherson, 10:20 AM