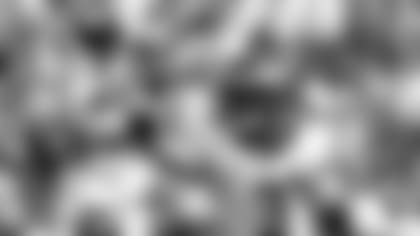 Like a lot of NFL players, Eagles quarterback Mark Sanchez was a multi-sport athlete growing up. Aside from an illustrious football career in high school, Sanchez was also an accomplished basketball player, winning a state championship his junior year at Mission Viejo in California.
So when he was asked after Thursday's practice about being ready for whenever he is called upon in Saturday night's game against the Baltimore Ravens, it's not surprising that he used a term from his days on the hardwood.
"Just be ready to come off the bench, and with Coach (Chip) Kelly, you have to be ready to come off the bench shooting three- pointers," Sanchez said. "When I came in against Houston (last year), the first play we had was a deep play-action pass. Don't think he's just going to ease you into the game. Maybe it happens like that, and maybe it doesn't, but you've just got to be ready at the drop of a hat. I'll be ready to go."
Kelly and the Eagles have yet to name a starting quarterback for Saturday's game. Sam Bradford is expected to make his return to the playing field, but Sanchez knows he could get called into action at any time.
Sanchez started against Indianapolis last Sunday, and while he led the Eagles to a touchdown in his second and final drive of the afternoon, he's looking to find his groove a little bit quicker this time around.
"I just want to get off to a little bit of a faster start," Sanchez said. "I left a couple throws out there that I know I can hit. That's the way it goes sometimes. You go out for your first game and you're not as sharp as you want to be. That's what preseason is for. I felt like I had a good week here, and I feel good going into the game."
As Sanchez prepares to face the Ravens on Saturday, he has the advantage of seeing the Baltimore defense throughout this week of joint practices, and if history is any indicator, Sanchez might be in for a good game this weekend.
After the Eagles trained with the New England Patriots last season, Sanchez had a masterful game to close the week in Foxborough. He completed 11-of-12 passes for 117 yards and two touchdowns, and on Thursday he recalled feeling comfortable after the days of practicing together.
"Any kind of reps and experience you get can only help," Sanchez said. "I don't know if it makes all the difference, but it's good. I felt good. I enjoyed it and I thought (New England's) players did a good job. They brought a lot of energy and a tough, physical defense, and that's good to see for us."
The story is much the same for Sanchez during the ongoing practices with the Ravens, as the Eagles quarterback finds solace in the subtle intricacies of practicing against an unfamiliar opponent.
"I think it's good for both sides," Sanchez said. "It's a nice change-up during camp to face a different front, get a different look and just different jersey numbers and the little details that you don't even think about. A different facemask color, a different jersey color – that stuff really opens up reads and makes things easier to see … It's great. We love it."