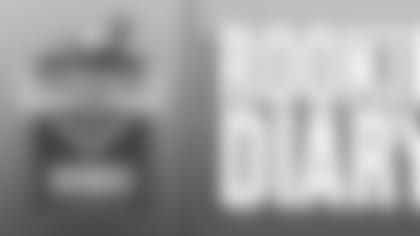 In the second edition of the Rookie Diary, running back Raheem Mostert wasn't drafted out of Purdue, but he's done enough to garner the attention of the coaches early in Training Camp ...
This is my first NFL Training Camp, so I've been coming out here each and every day and trying to learn the offense. It's been great for me to be around a bunch of guys who just want to win and really push themselves day in and day out. It's helping me out and making me push myself to be the ultimate player.
All the running backs have been getting some extra reps since DeMarco Murray was sick, but it's our job to go out there and just do what we have to do no matter if there's one person down, two people down. Obviously DeMarco isn't down, but if you ever get a situation where a player can't do his job we all have to just hold each other accountable. That's what we've been doing. I just love getting out there, competing and playing.
I've been learning a lot from the other running backs here too. Guys like Murray, Ryan Mathews and Darren Sproles have all played at least five years in the league, so that alone is something great. Running backs don't get a lot of credit nowadays, so for them to last that long in the league shows they're doing something right. I try to soak in everything they're telling me day in and day out because I know they can help make me a better player. It's definitely helping me already.
This Training Camp is completely different from college. In college, practice was not as hard. In the NFL, you really have to step your game up because everyone is great around you. You just have to really step it up, make big plays and just keep pushing yourself.
Speed is my number one attribute. I also ran track in college, so it's a part of my game I'm really confident about. I try to focus on different aspects of my game, whether it be my catching, my route running, running the ball low. I know I have to focus on a lot of other things to be the master of a certain craft. For me, speed is already the craft that I've mastered. I just have to focus on actually being a complete running back and making the plays out there.
During Training Camp, I've been rooming with Rasheed Bailey, the rookie wide receiver. We really have a good combination going, just trying to make plays and step out of our comfort zone. We've been trying to meet each other, get to know each other. Rasheed is a really, really great guy. He's from Philly and he understands the culture here. I'm trying to learn from him and he's trying to learn from me.
Overall, being in Philadelphia is great. I love it. When I first stayed here for Rookie Camp, I stayed downtown, which I really loved. The food is great, the people are great and I'm just happy to be with the Eagles. !