Robert Irvine has crafted exquisite dishes for movie stars and heads of state. His gift for turning simple ingredients into works of art led to fame as a television host, author, and philanthropist.
Of the thousands of meals he's prepared in his stellar career, there is one that clearly stands out as the most difficult he's ever made.
Just after 9/11, Irvine flew out to the Twentynine Palms Marine Corps Air Ground Combat Center in California to prepare a Warrior Meal for about 1,000 Marines. A Warrior Meal is the final one a soldier has before being deployed for combat.
Irvine could have simply prepared the MRE – meals ready to eat – that were available on the base but that didn't sit right with him. He wanted to do something above and beyond knowing what lied ahead of them. Irvine spent thousands of dollars and served up a feast of 22 dishes. Irvine was incredibly emotional in the days after preparing that Warrior Meal. And for good reason. Half of those Marines who were deployed to Iraq never returned home.
"I want the men and women to know that we care about them," Irvine says. "There's a big disparity between the American public and our military and for me. There's one percent of people that wear the colors of our nation. They choose to put their right hand up and wear that."
Born in England, Irvine enlisted in the Royal Navy at the age of 15. He learned to cook in his 12 years of service and embraced the challenge of making meals for 240 fellow sailors utilizing savory items such as dried cabbage and egg powder.
Most of all, though, Irvine cherished the camaraderie and loved being a part of something that was bigger than him. The lessons learned shaped his worldview.
"I run the same principles when I was a leader in the military that I do today," Irvine says. "I run my companies the same way. Delegate, hold people accountable, and see results. And that's what we've done."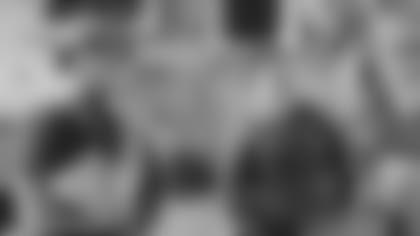 Irvine came to the United States in 1997 and his first sporting event was, believe it or not, an Eagles game. A friend of his had box seats and took him to a game and he was hooked. He remains a die-hard Eagles fan to this day.
As 52 years old, Irvine is built as if he could still be on the front lines if needed. He's tough, hard-nosed, and blunt as he guided struggling owners on the acclaimed show Restaurant: Impossible. But Irvine always gave all of himself. He never short-changed those in need. He continues to do that in his charitable work with the military. Irvine and his wife, Hall of Fame wrestler Gail Kim, are on the road almost the entire year with many trips set aside to help the members of our Armed Forces and their families. Irvine recently completed his 15th USO tour. The two have spent holidays overseas, including one Christmas in Iraq and Afghanistan.
"As long as I have breath in my lungs I will dedicate my life to supporting our military and their families," Irvine says. "If it can help raise awareness about the needs of our veterans and the urgency required in tending to those needs, then I am very happy to do it."
Irvine started The Robert Irvine Foundation, a non-profit organization that honors the men and women who defend our country. Over 181,000 people have benefited to date. Just before Halloween, Irvine cooked for nearly 7,000 guests at the 16th annual American Airlines Sky Ball gala, known as the largest military support event in the nation. Irvine will be making appearances at other military fundraisers through the rest of the year. He was recently presented with the Angel of Honor Award from the Armed Services YMCA for his years of dedication to service members and their families.
"If every one of us out there did one good thing to one person that they don't know every day, our world would be an amazing place," Irvine says.