INDIANAPOLIS -- Defensive end Trent Cole didn't make the trip to Indianapolis because of a shoulder injury, but he kept an eye on how his teammates were doing. In fact, he was so impressed by his new teammate and longtime hunting buddy, Jason Babin, that he sent him a text message immediately after the game.
Cole wasn't the only one impressed. Babin was one of the bright spots on defense in Thursday's 23-15 loss to the Colts with four tackles, a sack and a forced fumble.
Just over a week ago, the former first-round pick posted four tackles and a sack against the Patriots. But it was against the backups. This time, he started at right defensive end with the injuries to Cole, Darren Howard (groin) and Bryan Smith (concussion). Even if he wasn't making the tackle, Babin was pushing his way into the backfield on what seemed like almost every play against a quality offense.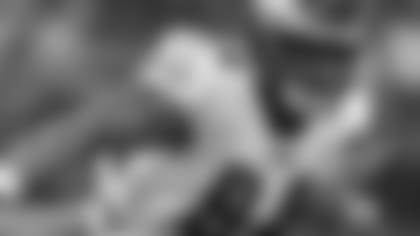 DE Jason Babin
"When you get an opportunity like that, you have to take advantage of it," Babin said. "I was going to play just as hard regardless. It was good to get out there and play against the ones."
If you don't know the story of Babin, he was the first first-round pick in the history of Western Michigan. The 27th overall pick in the 2004 NFL Draft was shifted from defensive end to 3-4 outside linebacker. He had some success, notching 13 sacks in three seasons with Houston. However, he lost his starting job after his rookie year. He spent time with Seattle in 2007 and '08 and Kansas City last year as well before being signed by the Eagles on August 4. Could it be a perfect marriage of Babin's size (6-3, 267 pounds) and high-motor with the Eagles' aggressive style of defense?
"I've been in love with the Eagles defense for a while," Babin said. "They're fast. They fly to the ball. They get up the field.
"I'm just trying to show everybody what I can do. It's been a pretty bumpy road trying to get back to the defensive end position."
But Babin has been in the league long enough to realize that as good as any individual performance is, it comes down to the end result. And the loss to the Colts, a team Babin admitted he is very familiar with from his time in Houston, left the end with a "bittersweet" feeling.
There are still two preseason games left and the Eagles have to figure out what to do with the end rotation. Is Babin legit? Or is he going to shine in the preseason like Jerome McDougle did last season, only to not be productive once the games counted? Out of football just weeks ago, Babin isn't taking anything for granted.
"People that know me know how I practice, how I work," Babin said. "I'll go 100 MPH all day long. It's just me."