When the Eagles signed cornerback Asante Samuel in the offseason, defensive coordinator Jim Johnson couldn't help sporting a Cheshire cat-like grin.
Not because Samuel brought something to the table that Lito Sheppard or Sheldon Brown didn't, but because of the impact Samuel would have on the entire defense.
"We have guys that can really cover, that's the biggest thing I see," Johnson said Monday at the NovaCare Complex, a day after the Eagles' 38-3 win over the Rams. "The linebackers and our secondary, I really feel good about our cover skills."
Johnson feels good about those cover skills because he loves to blitz. Therefore, if Johnson has three players he feels can handle one-on-one matchups, that should free another player or two to get after the quarterback.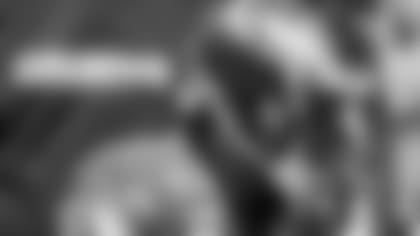 CB Lito Sheppard followed Owens all around the field in last year's win
The fact that some fans thought three cornerbacks equaled a crowd never dawned on Johnson.
"When you have three good players, you've got to get them on the field," Johnson said. "It's like if you have three good tackles or three good linemen, you rotate those guys. Linebackers, same way. I want to get guys on the field. We have to rest someone once in a while. That's good. I'm going to get Lito on the field. He's a good player and he's going to make plays."
According to Johnson, when the corners know the quarterback will most likely have to get rid of the ball quickly, they can play tighter and not have to really worry about getting beat deep.
"(When) you get that coverage and get that good blitz going, it's a good combination," Johnson said. "Plus the fact they know they're going to get pressure they can play a little tighter too, so it's a happy combination. I think the biggest difference, with the addition of Asante, there are so much more cover skills back there with those three corners and our linebackers."
That's one of the dilemmas facing Terrell Owens and the Dallas Cowboys on Monday night. Last season, the Eagles had success when Sheppard covered Owens.
"The thing we did last year, we really felt like Lito could run with T.O. because T.O., he is fast, there's no question about it," Johnson said. "Just the speed. Not that Sheldon's not fast, Lito's a little quicker. Sheldon could cover him anyway, but we just thought it was a good matchup. It worked out good."
Not that Johnson doesn't have confidence in Brown's or Samuel's ability to cover Owens.
"I think all three of our guys can," Johnson said. "It was one of those games we just felt we were going to match up Lito. That's about the only time we do it, with T.O. But I think all three of those guys can cover (him)."
That said, Johnson realizes that Owens is someone for whom the Eagles need to be prepared.
"I haven't studied Dallas yet," Johnson said. "Just going by last year, T.O. is a guy you still have to pay attention to because he has great speed. I can't imagine him not being the same player. I know he's gotten a year older (and) I haven't watched the game from (Sunday) yet, but he's still a guy you have to care of. We still have a lot of respect for him."
As Johnson said, covering and blitzing go hand-in-hand. Therefore, he stressed the importance of getting after Cowboys quarterback Tony Romo. In last year's game in Dallas, the Eagles forced three turnovers and sacked Romo four times.
"Oh, big time, especially in the second half," Johnson said. "When we had the good pressure, we had turnovers. Lito came up with a big interception. The second half is where we got the best pressure.
"It's important for us every week to get in the quarterback's face. Especially when we're on the road, set the tempo. It'll be important to get up in (Romo's) face."
That is where the Eagles' new-found weapon will come into play.
"I just think I see more speed out there," Johnson said. "I think in the secondary and the linebackers – that's the biggest thing I see – a lot more speed. You want that speed. It starts with that. You have a better chance."