Against his will, Andy Reid now has a lot of time.
The Eagles head coach is detailed and deliberate, and his offseason, which started Monday, will involve going over anything and everything in review of the 2008 season. With as much of a rollercoaster as the season was, especially late, Reid can now take his time with his offseason review.
What's clear – there will be change in Philadelphia. What will change, Reid doesn't know. That's for time to decide.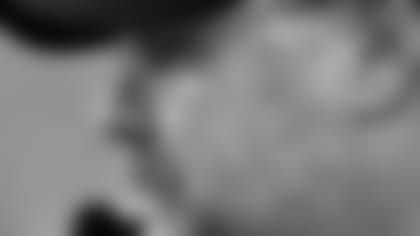 Head coach Andy Reid
"These playoffs are very final. You obviously have a bitter taste in your mouth right now, but I don't want to take away, also, the good things that this team accomplished and the personality they developed this season," Reid said. "Next year will be a new year and new roads to travel as we put together a football team. This was a special football team, doing the things they did."
Reid held his final Monday press conference about an hour later than usual – he said he had to finish meeting with "every player on the team." With some players, it's natural to assume what was discussed.
Mainstays Jon Runyan, Tra Thomas and Brian Dawkins are free agents approaching the twilights of their careers, but all have expressed a desire to continue playing in Philadelphia, but would play elsewhere if the opportunity arises. Still, Reid said nothing has been decided with any of his 10 free agents in terms of the 2009 season.
With players under contract, quarterback Donovan McNabb expressed a desire to meet with the front office during the offseason to discuss his future with the team. On Monday, team president Joe Banner said in a statement that he fully expects McNabb to be an Eagle next season. But then, there's the possibility of Reid's assistant coaches going elsewhere to take new jobs.
Reid admitted that looking to the future is difficult with how much Sunday's loss in Arizona still stings, and things will need to take time to settle down before any major decisions are made. But there will be turnover.
"Again, I haven't gotten there yet. I'll evaluate, like I always do, what we have here," "Again, this is all too fresh right now. We will see how (things go) in the next day or so."
The disappointment for Reid is in how many times he's had to hold this press conference after the NFC Championship Game – four times in five appearances. And the next chance to rectify the errors made Sunday come 12 months from now, with 11 months of hard work in between and at least 18 more games.
For Reid, the time for evaluation started Monday. That's when he will decide what changes the Eagles make to try to get back to this point.
"You have to take a little time. You have to go back and look at the film. You have to communicate with the personnel department, you have to look at the contract side of things and how that fits in," Reid said. "You have to look at everything; it takes a little time. It's just not as cut and dry as people might want to make it."