The Eagles are heading to California this weekend to play the Chargers. The game will be in a soccer stadium outside Los Angeles, the Chargers' home for the time being. The Eagles are hoping it changes their luck because they didn't have much of it playing in San Diego.
The Eagles played the Chargers six times in San Diego but they only beat them once, a 13-7 snoozer in 1974. They dropped the next five, including a 13-10 loss on October 18, 1998. That day the Eagles managed to lose to Ryan Leaf, the colossal bust who won just four games in his NFL career. That was one of them.
"Embarrassing," said former defensive tackle Hollis Thomas. "I still get mad when I think about it."
Let's start with the good news. Hugh Douglas tied a club record with 4.5 sacks that day. He matched the mark set by Clyde Simmons in Dallas on September 15, 1991. Of course, Simmons got those sacks against Troy Aikman, a future Hall of Famer. Douglas sacked Leaf so maybe the record should have an asterisk. Thomas claims he was in on at least three of those sacks but he was credited with just half a sack.
"Two or three guys get there at once but it's the guy coming off the edge that everyone sees," Thomas said. "Inside guys like me get lost in the crowd. Yeah, Douglas had a good day. We all did. We were all over his butt. (Leaf) was ticked off at me, I know that."
"He told me," Thomas said. "I was on top of him one time and he said, 'Get off me, fat boy.'"
Thomas, now a talk show host on SportsRadio 94WIP, laughed at the memory.
"I told him, 'Shut up, rookie," Thomas said. "Then I told him, 'You suck.' He did, too."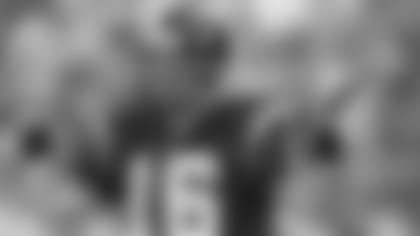 Thomas was a smart player. He was always looking for clues, little tendencies that would help him beat an opponent. He saw one early in Leaf.
"When he took the snap if he was gonna hand off, he held the ball in one hand," Thomas said. "But if he was gonna fake a handoff and run play-action, he kept both hands on the ball. Every time I saw it I knew what he was going to do. This one play he had both hands on the ball so I went right past the blocker and went for (Leaf). I took him down. That's when he called me 'fat boy.' I laughed at him. I said, 'I'll be back.'"
When you look at the stats for the game, it is hard to figure out how the Eagles lost. They had 21 first downs to the Chargers' 11. They converted nine of 17 third downs; the Chargers converted just three of 13. But the Eagles turned the ball over four times. That was the difference.
Leaf finished the game with nine completions on 19 attempts for a grand total of 83 yards. He was sacked six times for minus 55 yards so if you do the math, the Chargers had 28 yards net passing.
"Natrone Means ran the ball well," Thomas said, referring to San Diego's star running back who had 112 yards on 21 carries. "He was a good back, ran hard. He won the game for them, not Leaf. He was God awful. He didn't know what he was doing. He never figured it out either."
Leaf was the second pick in the 1998 NFL Draft. Peyton Manning went first overall to Indianapolis and had a Hall of Fame career. Leaf, from Washington State, went second to the Chargers and won just four of his 17 starts. He lasted three seasons in San Diego, then bounced from Tampa Bay to Dallas and finally to Seattle before ending his career in 2002. He went to prison for stealing prescription drugs but claims he now has his life under control. Leaf works as a spokesman and advisor to a drug-recovery program.
"I just remember flying home from that game thinking, 'How did we lose to that guy?'" Thomas said.
An award-winning writer and producer, Ray Didinger was inducted into the Pro Football Hall of Fame in 1995. He has also won six Emmy Awards for his work as a writer and producer at NFL Films. The five-time Pennsylvania Sportswriter of the Year is a writer and analyst for Comcast SportsNet. Didinger will provide Eagles fans a unique historical perspective on the team throughout the year for PhiladelphiaEagles.com. You can read all of his Eagles History columns here.